Professor Takes Part in Food Justice Project for Local High School
Posted in GUMC Stories
MARCH 14, 2014— Fifty high school students from Capital City Public Charter School (new window) in Washington had the opportunity to interview a Georgetown professor about an array of food-related issues as part of a long-term school research project.
Tom Sherman, PhD (new window), associate professor of pharmacology and physiology at Georgetown University Medical Center (new window), served as the subject matter expert March 12 on eight different topics ranging from hunger and obesity to the meat industry to genetically modified and processed foods. Sherman's research interests include the biochemistry of metabolism, the science of nutrition and food as medicine, and the control of body weight, exercise and appetite.
The 11th graders were separated into small groups, each of which had 20 minutes to discuss their topics with Sherman. Their interviews are part of a long-term research project called "Food Justice for All," which centers on food as it relates to history, policy and social justice.
"The students had really good, very appropriate topics on contemporary issues within food justice," says Sherman.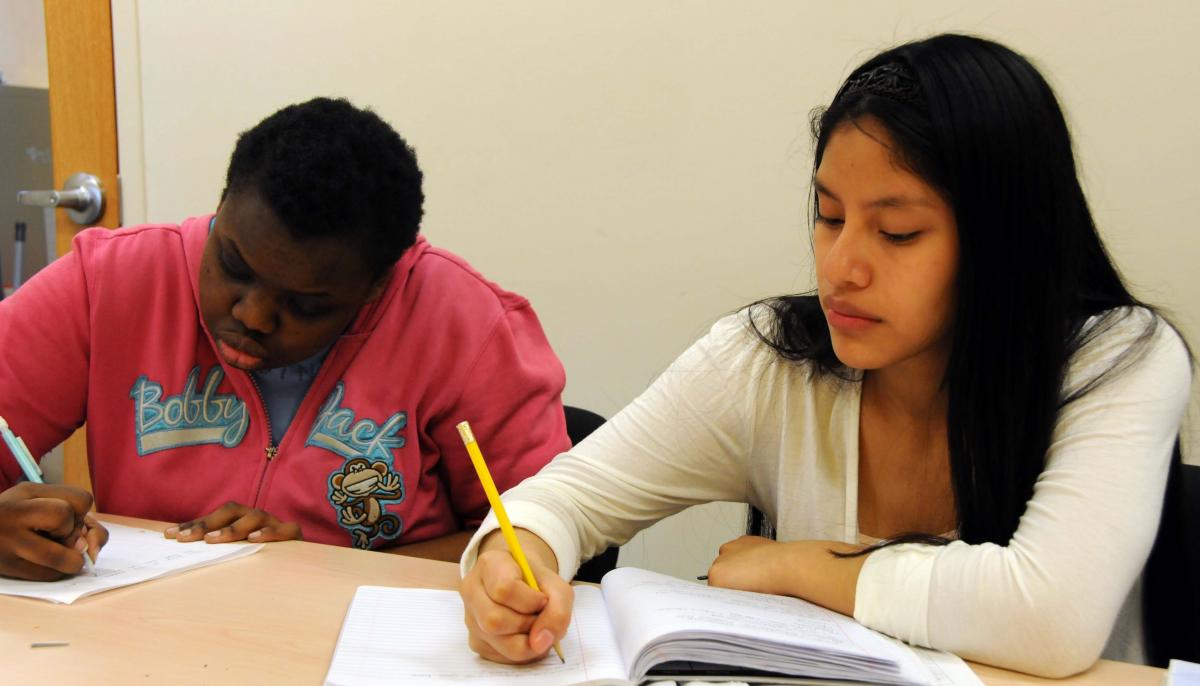 One group of four students is researching working conditions for fast food employees. They started out wanting to learn about the corn industry and who controls most of the companies, but as they got deeper into their subject matter, they got pulled into the fast food industry.
"We also thought that fast food factory workers and the conditions they work in was very interesting. So we chose to do that but with a hint of corn monopoly because it deals with the businesses and the workers who work in those factories," says student Antoinette Wimbish.
After spending several hours with the students, Sherman says the insightful nature of their questions indicated they grasp the complexity of food justice issues. 
Gaining Extra Skillsets
The interviews with Sherman present an opportunity for students to learn about their research topics, and new skills.
"For a lot of the students, this is the first time they are conducting an interview," says Jill Weiler, an English teacher at Capital City who coordinated the visit. "They've had to formulate their own questions and they did some background research on Dr. Sherman."
The interviews also provided students the opportunity to learn how to take away key information from an interview and incorporate it into their final product.
In addition to gaining interview skills, Sherman says he hopes the students learned that they shouldn't be afraid to approach a professor for information.
"Hopefully I was a good introduction for them to college faculty and will help them realize that professors are approachable just like high school teachers," says Sherman. "I want them to feel like they can go up to their professors someday and be comfortable with asking questions."
According to Weiler, Sherman's visit was a success.
"The students emerged from their 20 minutes with Professor Sherman quite animated and appreciative of the insights he shared," she says.
Expeditionary Learning
The interview sessions with Sherman are one component of a long-term ongoing learning expedition program at the school.
"Capital City is an expeditionary learning school," says Weiler. "Expeditionary learning means students learn one topic or one theme with an integrated approach."
Students learn pieces of the topic in each of their different classes. They do field work, talk with experts within the community and some students Skype with people around the country to become more knowledgeable on their topic.
This year's topic for the 11th-grade class is "Food Justice For All." They focus on three guiding questions as they explore the expedition: What is the historical connection between food, culture and identity? Where does our food currently come from? How do policy decisions and our personal choices affect the future?
In addition to interviews and field research, the students have done projects with family recipes, visited museum exhibits about food and read multiple books about food policy, including "The Omnivores Dilemma" by Michael Pollan and "Fast Food Nation: The Dark Side of the All-American Meal" by Eric Schlosser.
Using information gleaned from Sherman and other sources, the students will present their final research papers during a Food Justice Teach In at a March 19 event at their school.
"The students will use their persuasive writing to try to make the visitors change an attitude or belief or make a commitment to take action that will move them towards a healthier life style and ultimately a healthier planet," Weiler says.
By Sarah Reik
GUMC Communications