Preventing Birth Defects
Posted in GUMC Stories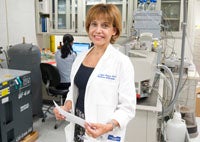 As the nation commemorates National Birth Defects Awareness Month in January, Georgetown University Medical Center's efforts in researching the causes of birth defects and educating expectant mothers continues. Offie Soldin, Ph.D., associate professor of oncology and medicine, whose research interests are in maternal exposure to toxins as well as nutritional, hormonal, and pharmaceutical factors that can affect the fetus, has dedicated herself to preventing birth defects.
With her research, Soldin has demonstrated an association between acute lymphoblastic leukemia, the most common cancer in young children, and pesticides. She has also warned physicians focused on reducing dietary sodium not to overlook the prenatal importance of iodine, an important source of which is iodized salt. Iodine deficiency during pregnancy is the single greatest and most preventable cause of congenital mental retardation.
As a member of the Organization of Teratology Information Specialists, an international entity dedicated to providing accurate evidence-based, clinical information about exposures during pregnancy and lactation. Soldin has founded a GUMC node called PregnaTox to link clinical research with maternal and fetal health. Also, Christine Colie, M.D., assistant clinical professor of obstetrics and gynecology at Georgetown's School of Medicine, is working with Soldin and PregnaTox to collect data from women who have been exposed to various medications, chemicals, or drugs in early pregnancy.
"Medications and other substances can be metabolized quite differently in pregnant women, and adversely affect the fetus," says Soldin. "Anything we can do to increase the knowledge of these differences is advantageous in preventing birth defects."
This data is an invaluable source of information for birth defects prevention efforts. Soldin is grateful for the willingness of so many women to give their consent for the research. "I can't stress enough the importance of participating in any study that can help the health of other women and their infants," she says.
(Published January 30, 2012)