Pre-Orientation Program Introduces Incoming Students to Pursuing Health Care with a Social Justice Focus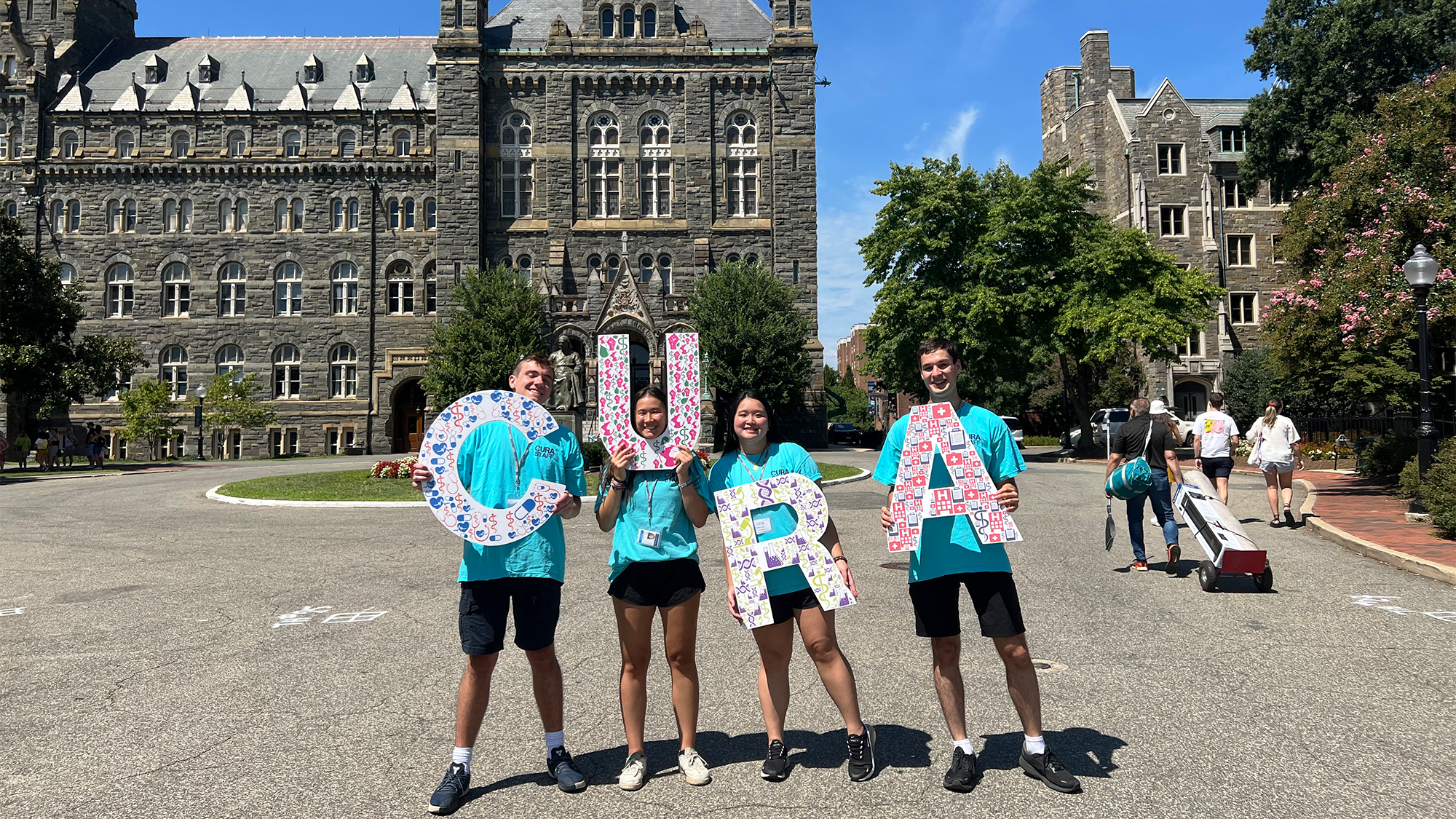 Posted in GUMC Stories | Tagged CURA, School of Health, School of Nursing, social justice, student experience, student pre-orientation
(August 19, 2022) — CURA, the only pre-orientation program at Georgetown focused on health, immerses incoming students in the Jesuit values of community and service and sets out to imbue students with the knowledge that a person cannot be healthy without addressing underlying social determinants.
"CURA welcomes students to Georgetown and builds a sense of community through a shared interest in health and social justice," said Diane Davis DNP, RN, PMHCNS, CNL, director of the Clinical Nurse Leader Program at the School of Nursing and faculty advisor for CURA.
From August 14 to 19, the 15 students selected for this year's CURA cohort spent the week visiting community health sites in DC and discussing social determinants of health. Meals and housing were provided free of charge through the generous support of Dee Harrison-Garvin (NHS'75, P'14) and Mark S. Garvin (F'74, P'14).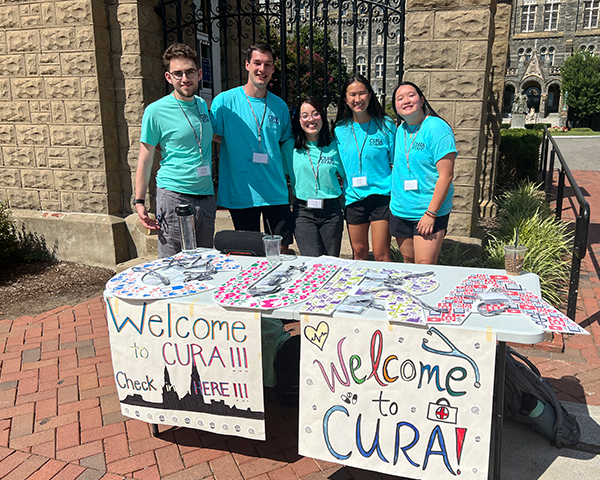 The cohort included students from the School of Health, School of Nursing and the college. The idea for CURA originated from a final project in the human science course Health Promotion and Disease Prevention, taught by Joan Riley, FNP, associate professor in the School of Health and School of Nursing. Riley served as CURA's first faculty advisor before Davis.
Although CURA is small in comparison to other pre-orientation programs, it remains one of the most popular.
"Our program is smaller, but also more competitive," said Karina Han (N'23), one of CURA's student coordinators. "Each year, we receive 60 to 70 applications for a few slots," she added.
Han noted that the smaller cohort size allows CURA to feel more intimate. "You really get to know each other and build community," she said.
"CURA was so transformative for me as a freshman," said Turner Clark (H'23), a human science major and fellow CURA student coordinator with Han. "I want other freshmen to have the same transformative experience that I had."
Viewing Health Care Through a Social Justice Lens
The student leaders present to the incoming students on social determinants of health, with a focus on specific wards in the District that have worse health outcomes. The presentation touches on the wide health disparities across the city and how this is tied to social determinants such as racism, housing, food security and income.
"You can't provide health care without working on the social determinants — [how] food insecurity and being unhoused are connected to health," explained Davis.
After making the causal links between social determinants and health, CURA immerses students in the District to work for change within their community. Students provide meals to the unhoused in the city and spend time with clients at Mary's Center, a nonprofit community health center.
Conversations about social justice and health care continue beyond the site visits through daily evening reflections led by Rev. Jerome Thomas Hayes, SJ, director of Ignatian programs. These evening sessions further ground students in Georgetown's Jesuit values of service and community.
S'mores and Site Visits
Han and Clark began planning the week's program seven months in advance. They also helped manage the program's budget and organized food for the group for the week.
"CURA also provides leadership development training for the coordinators and the student leaders, who are selected by the coordinators," said Davis.
Along with Han and Clark, four additional student leaders mentored the incoming students each day, guiding them through their daily site visits and other activities.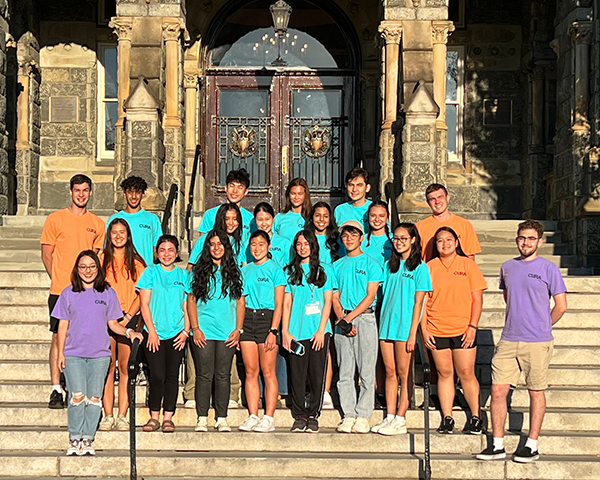 Most days started before 8 a.m. and concluded at 10 p.m. or later after evening activities that included s'more-making and late-night volleyball games.
"This is their first time in college, and for many of them it's also their first time being in DC, so we do icebreakers and a scavenger hunt around campus to help them transition," said Han.
The first two days focused on introducing incoming students to Georgetown and acclimating them to DC. CURA leaders ensured a warm welcome to the Hilltop — in addition to helping the arriving students move in, the student leaders decorated their dorm room doors with personal messages and items the leaders gleaned from the application essays.
Davis says the warm reception to Georgetown is intentional. "Decorating the dorm room doors shows the personalized approach of CURA, and the decorations are meant to say that we know you and you belong with us.
"Students who have gone through CURA say that it helped them feel like they had a community at Georgetown, and that they made friendships that continue throughout their time on the Hilltop," said Davis.
"CURA becomes a family that you keep coming back to," summed up Clark.
Heather Wilpone-Welborn
GUMC Communications