Pre-Med Pipeline Program Infuses Students with Cura Personalis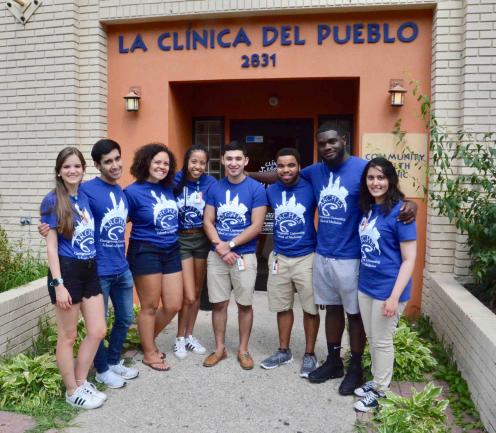 Posted in GUMC Stories | Tagged School of Medicine
(July 27, 2018) —Eight college students from around the country arrived on Georgetown's campus in June, many of them trailed by suitcases and surrounded by picturesque buildings they had never seen before.
It was move-in day for the students selected for the Academy for Research, Clinical, and Health Equity Scholarship (ARCHES), a rigorous six-week program for rising juniors and seniors interested in the health professions. The program was launched last year by the Georgetown University School of Medicine's Office of Diversity & Inclusion. In addition to living on campus, students receive a stipend and have complete access to campus facilities, including the libraries and Yates Field House.
To prepare to pursue careers in health and medicine, ARCHES fellows participate in clinical observation of family medicine physicians, research bootcamps and service learning at local non-profits. The three-pronged approach incorporating research, clinical shadowing and service is what Susan Cheng, EdLD, MPP, senior associate dean for diversity and inclusion at the School of Medicine, believes makes the program unique.
"With the ARCHES program, fellows take into account holistic aspects of being well-rounded physicians who practice patient-centered care, engage in medical research and are closely embedded in the communities they serve," Cheng said.
Using Communication to Promote Health Equity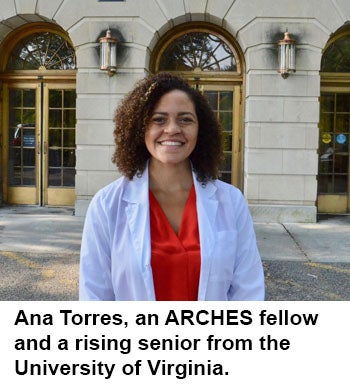 By incorporating health equity and service learning elements into each week of ARCHES, fellows get a sense of what kind of skills they might need to successfully work with and treat underserved populations. While volunteering at La Clinica del Pueblo, a non-profit health center that serves Latino and immigrant populations, the fellows learned about how the health of the clinic's patients is often impacted by their socioeconomic status.
In addition, many patients face language barriers that could impede the quality of their care. "Even just knowing a couple of words in the patient's language can be comforting for them," said Ana Torres, an ARCHES fellow and a rising senior from the University of Virginia.
"La Clinica's focus on a community-based approach to health care ties seamlessly to Georgetown Medicine's ideals around cura personalis because caring for the whole person includes caring for all aspects of the person, including the community in which they belong," said Kimberly Walker, director of diversity and inclusion for the School of Medicine.
Effective communication is an important feature of ARCHES, specifically its role in advancing health equity in patient groups whose cultural differences may not be aligned with those of local clinical providers. Juan Castillo, a rising senior at Texas State University, believes the Diversity in Dialogues workshops he and other ARCHES fellows attended have helped put things into perspective for him.
"Now I can check myself and ask whether I'm biased toward someone and ensuring that I'm capable of serving everybody, regardless of who they are, where they come from, or what they believe in," he said.
ARCHES fellows also visited Whitman Walker Clinic, a non-profit community health center that specializes in LGBT and HIV/AIDS health care services, which deepened their understanding of the complex factors, such as differences in sexual orientation, that contribute to health disparities.
Understanding Cura Personalis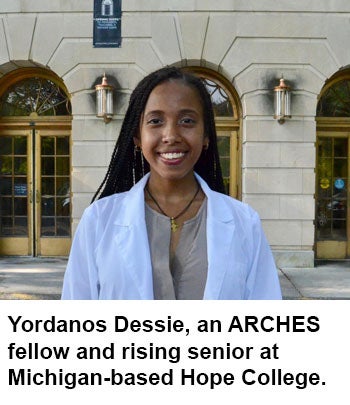 At Georgetown, many ARCHES fellows have developed a more expansive understanding of the social determinants of health, which has moved them to take into account the whole person—avoiding health care delivery that uses a disease-specific approach.
"It's about recognizing that patients are all very different and come from different walks of life," said Yordanos Dessie, an ARCHES fellow and rising senior at Hope College.
"Since I got here, I've been thinking about cura personalis and how that transfers to health care and beyond," she said. After graduating college, Dessie plans to earn an MD/MPH and use her training to help build trust between health care professionals and minorities.
The ARCHES fellows will present their health equity research at the ARCHES 2018 Poster Presentations and Closing Ceremony on August 9.
Seren Snow
GUMC Communications