Pictures of Need
Posted in GUMC Stories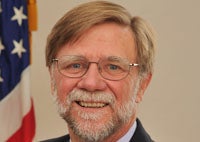 A group of medical students, graduate students, undergraduates, and faculty gathered on Monday, March 12 to listen to Nils Daulaire, M.D., discuss his experiences working in global health. Daulaire is director of the Office of Global Health Affairs for the United States Department of Health and Human Services, a position he has held since March 22, 2010.
At the seminar, audience members were captivated by Daulaire's remarks and amazed at what he has accomplished throughout his career. Many present at the event were inspired to follow a similar path, approaching him after to find out steps they could take to help advance global health.
When he began his studies at Harvard Medical School, Dr. Daulaire intended to become a "country doctor," hoping to practice medicine in his rural home state of Vermont. In 1976, nearing the end of his final year, he was given the opportunity to complete his training abroad. Daulaire decided to go to Bangladesh. Although today it is common for students to participate in health work abroad, it was unusual at that time. And, the oversease trip had a profound effect on the young Daulaire, focusing his career on global health.
Throughout his presentation, Daulaire showed photographs of the people he worked with around the world. He accompanied each photograph with a story about the person from midwives he helped train in Afghanistan to a child in Africa that died just hours after the photo was taken. While some of the photos, especially those of young children, were difficult to see, they emphasized the need for action. Dr. Daulaire even included a photo of his family when they moved to Nepal. He was dedicated to improving global heath but also to being a father for his own children. When he and his family made the transition to Nepal, he could even do what is unthinkable for most physicians, come home for lunch to eat with his young children.
Daulaire discussed the different diseases that affect people in the developing world from malaria to tetanus. Most of the technology intensive diagnostic tools we are used to in America are unavailable in the rural areas where Dr. Daulaire worked. For a disease like pneumonia, which affects about 3.5 million children a year, the high-tech ways to diagnose, such as X-rays, are not available. In order to diagnose people so they could be given medication as soon as possible, Daulaire developed a diagnostic system that any community health worker would be able to perform. The two-step process, looking for lung consolidation and counting breaths, can diagnose approximately eighty-five percent of cases.
The Georgetown audience was left to consider the staggering statistics and thought-provoking images provided by Dr. Daulaire. The insightful questions and thoughtful discussions at the reception showed those in attendance, especially the students, were inspired to consider how they can make an impact in global health.
Senior Georgetown student, Stephanie Grice, who is studying Health Care Management & Policy at the School of Nursing & Health Studies, attended the recent Seminar in Global Health.
(Published March 26, 2012)