Partners in Research Program Announces Newest Grantees
Posted in GUMC Stories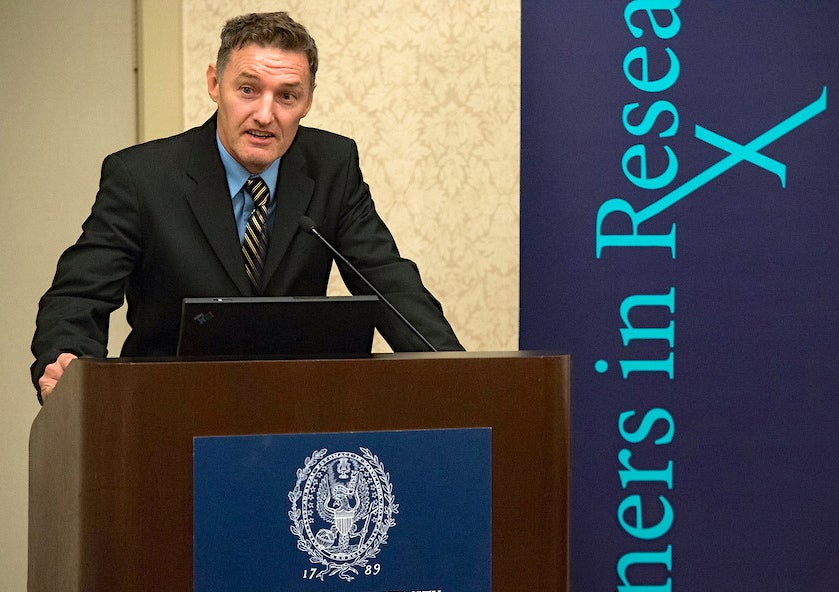 Partners in Research, a group of community members who are passionate about advancing biomedical research at Georgetown University Medical Center (GUMC), has announced the proposals that will be awarded the group's third round of funding. 
Two projects each will receive $35,000 to support laboratory research that both the grantors and the grantees believe has strong potential to eventually be translated to clinical practice.  This year, the funding will accelerate research in traumatic brain injury (TBI) and osteoporosis. 
The two funded proposals are:
"Protecting Our Brains from Ongoing Trauma After Injury" Juan M. Saavedra, MD, professor of pharmacology, Mark Burns, PhD, assistant professor of neuroscience
"Improving Prevention and Treatment Strategies for Osteoporosis" Gerard P. Ahern, PhD, associate professor of pharmacology and physiology
A Rigorous Selection Process
On Oct. 16, the Partners in Research members gathered at Georgetown to select the awardees out of four finalist proposals. The proposals had been narrowed down from the initial pool of a few dozen by scientists who looked at the overall significance and impact of the research, the qualifications of the research team and the experimental design. 
Each application received a score, and the best-scored proposals were selected to go forward to be voted upon by the Partners. Each of the four finalists had the opportunity to present research proposals directly to the assembled Partners in lay-friendly language.  After hearing all four presentations, the Partners voted to select the two winning projects. 
"At a time when the external funding climate for biomedical research is increasingly competitive, it is heartening to see this level of engagement and excitement from our community partners," says Robert Clarke, PhD, DSc, dean for research at GUMC. "The success of this program is a model philanthropic effort — these donors really are partners with us in every sense of the word."
Advancing Important Science
Saavedra and Burns propose to focus their research on a group of FDA-approved compounds called sartans that are widely used to treat hypertension, heart failure, diabetes and renal disease. Recently, they discovered that some sartans also have powerful neuroprotective properties and may reduce brain inflammation, neuronal death, brain bleeding and swelling and improve cognitive function in animal models of stroke. 
They will investigate whether a specific sartan, telmisartan, could prove to be an important new therapeutic option for patients who have suffered TBI. 
"Traumatic brain injury is a common disease in civilian and military life that frequently leads to long-term disability and to this date does not have effective treatment," Saavedra says. "Our research is of clinical relevance, since it may provide scientific support to immediately start clinical trials. Once these trials are complete, we expect that approval for the use of telmisartan in TBI will be fast-tracked, since this compound is a widely used, safe, FDA-approved drug for the treatment of cardiovascular disorders." 
Ahern, the other grantee, will pursue a research project to improve treatment and prevention strategies for osteoporosis, the leading cause of bone fracture. 
His project will test novel roles for at least two proteins in regulating bone mineral density and osteoporosis.
"We are excited to receive feedback from the partners; their involvement will be a real stimulus," says Ahern. 
True Partners in the Community
The Partners in Research program, now in its third year, is an outgrowth out of GUMC's Doctors Speak Out (DSO) series. This quarterly community education program invites leading Georgetown thinkers to participate in a panel discussion and question-and-answer session about hot health topics of the day with members of the community. 
It was DSO regular attendees –increasingly engaged with the research taking place at Georgetown – who first proposed the idea forging a direct partnership with researchers by hand-selecting which proposals to fund and move forward. This idea became Partners in Research, and the first round of competition was launched in fall of 2011.  Since the group's inception, the Partners have raised more than $220,000 to support biomedical research at Georgetown. 
"Scientists are rock stars and should be considered by our society as such for the tremendous contributions they make on behalf of health and science advancement," says Caroline Alexander, one of the principals of Partners in Research. "To know that every dollar raised is purely for the research project presented is a great opportunity to support these professionals in their endeavors. It also offers the opportunity for the researchers to get more connected with their communities and … to bring attention to the great work being conducted at GUMC."
Each year, the donors follow along with the grantees' project through lab tours and regular updates. The funding cycle culminates with final presentations each spring at which the researchers outline what their proposal has yielded. 
"Without the Partners' generous support, this research would not be possible," Saavedra says. 
By Lauren Wolkoff, GUMC Communications
(Published October 18, 2013)