One Step Closer to Medical School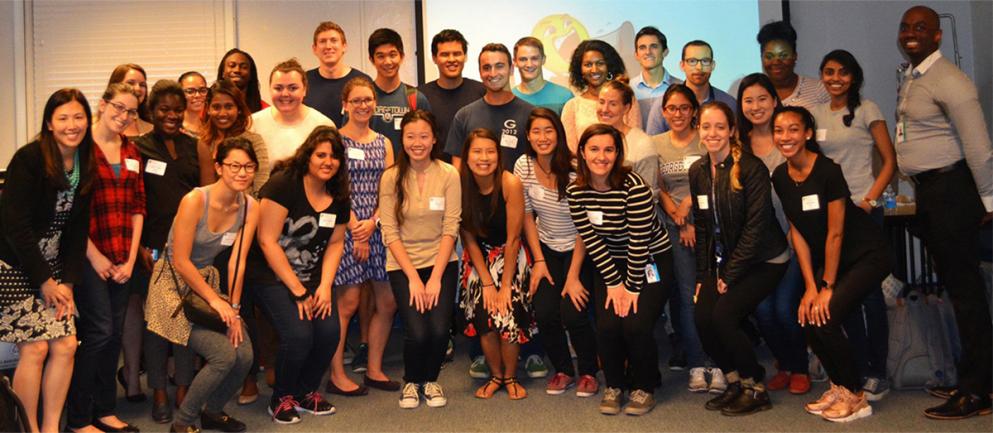 Posted in GUMC Stories | Tagged School of Medicine, student mentoring
(September 21, 2018) — Applying to medical school can be a long, overwhelming process. Luckily, pre-med students in the Biomedical Graduate Education (BGE) programs don't have to go through it alone.
Caroline Goon, director of recruitment and partnerships for BGE, and Susan Cheng, EdLD, senior associate dean for diversity and inclusion at the Georgetown University School of Medicine (GUSOM), joined forces in October 2015 to create the Medical School Interest Group (MIG) connecting pre-med students and current medical students for peer-mentoring.
"I knew there would be a missed opportunity for us if we didn't partner with GUSOM, because so many of our BGE students want to go to medical school," Goon said. "I approached David Taylor [associate dean for student learning at GUSOM] and Susan Cheng about it, and they loved the idea."
Since starting with a group of six BGE students in the Hoyas for Science scholarship program and six GUSOM medical students in October 2015, the program has grown exponentially and evolved into the One Step Ahead Mentoring (OSAM) program under the leadership of Caleb McKinney, PhD, assistant dean of graduate and postdoctoral training and development in BGE's Office of Career Strategy and Professional Development.
"This is the third cohort of OSAM since it started [in 2016], and we now have 43 pairings," McKinney said. "[The students] have started telling each other about it and they're all very excited."
"GUSOM attracts a certain type of person," he added. "It's natural for them to want to be mentors because they're community-focused and development-focused. Those are the people we love having in OSAM."
Support Through Diversity and Shared Experiences
When applying for the program, both the pre-med and medical students fill out an application that emphasizes their background and challenging experiences or obstacles they've faced. Those experiences help determine how the protégés and mentors are matched, McKinney said.
The application is open to everyone in BGE, and OSAM often ends up with a "diverse pool of mentors and protégés" based on the questions they ask in the application.
The diverse pairings appear to be quite successful.
One protégé in the OSAM program wrote, "I was not expecting to connect so well with someone from this [program], but [my mentor] has inspired me, taught me and helped me grow throughout this year and I could not be more thankful to know such an intelligent and captivating individual."
Similarly, a medical student and OSAM mentor shared, "I loved getting to know my protégé. I felt I learned just as much from her as (I hope) she was able to learn from me."
Bridging the Gap for Graduate Students
Every year, the program starts with an official kickoff event where the pairs meet each other for the first time. Once the students find each other at the event, the mentors receive Starbucks gift cards to take their mentees out for coffee.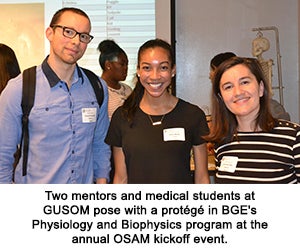 "At the event, we set the ground rules for professionalism, have them decide on their first meeting and let them go," McKinney said. "Sometimes they meet again a few times after the first meeting and become close. Other times, they only meet once and the protégé gets what they need from the first meeting. It really depends."
However, the mentor-mentee relationship is not the only one that can develop after this initial OSAM event.
"The kickoff event is a great time for everybody to talk to each other," McKinney said. "Some of the protégés end up talking to med students that aren't necessarily their assigned mentor, which is great too."
"Having our BGE students and medical students in the same room is not something that happens often," he added. "The fact that we have a forum where they can talk to each other and have those informal interactions in the same space is really special."
"My original goal for this program was for us to help facilitate productive, sustainable relationships between our mentors and mentees," Goon said. "I'm proud of what our team at BGE has been able to accomplish and I'm privileged to work with talented colleagues who are like-minded in our priorities. We want to make sure that the needs of our students are met and that we do what we can to help them succeed."
Giuliana Cortese
GUMC Communications