NHS Launches New Web Site in Dynamic Platform
Posted in GUMC Stories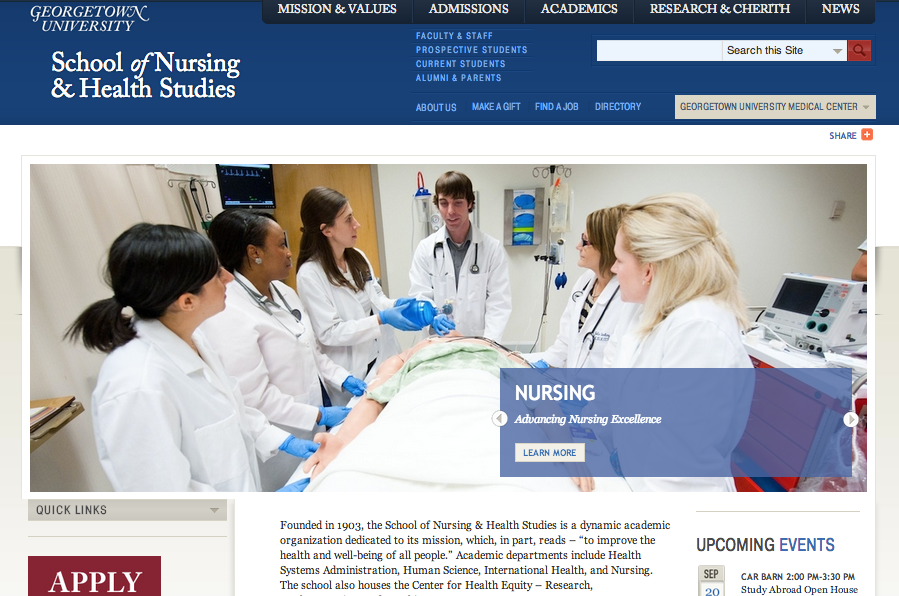 Georgetown University School of Nursing & Health Studies (NHS) has launched a brand new Web site featuring more dynamic content and multimedia capabilities. 
It is the first site at the university to adopt Georgetown's new design templates using Drupal, an open-source content management platform.
"We are very pleased with the look of our new site and the technology behind it," says NHS Dean Martin Y. Iguchi, PhD.  "It aligns with the university's graphic identity and anchors us in our academic home within the medical center.  I am grateful to Bill Cessato, our director of communications, and colleagues at University Information Services and Georgetown University Medical Center for their hard work in bringing this site to life."
NHS launched its previous Web site on October 1, 2010.  Since that time, it has received millions of page views from users all over the world.  Expected to build upon that success, the new site includes dynamic features for content organization and syndication, as well as photo and video display.
(Published September 17, 2013)