NHS Grad Thanks Faculty for Teaching Her to Deliver a Breech Baby with Confidence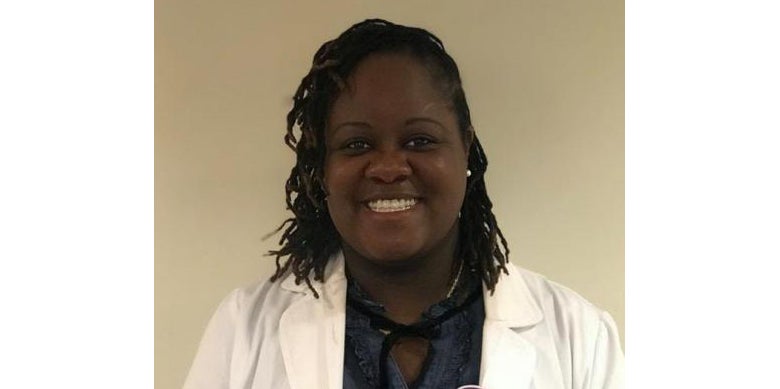 Posted in GUMC Stories | Tagged nurse midwifery, nursing, School of Nursing & Health Studies, women's health nurse practitioner program
(September 8, 2018) — Most babies are born head first, but about one in 25 births involve breech babies, meaning the baby is in a position where its feet or buttocks may emerge first. Because there's a higher risk of complications, a cesarean section is often performed when a pregnant woman is in labor with a breech baby.
Veniese Lawrence (G'17), MS, CNM, was recently delivering a baby when the mother felt an uncontrollable urge to push. "As she could not stop the urge to push, I saw toes, knees and then a whole leg," Lawrence said. "It was definitely a surprise."
However, the training that Lawrence received through the Nurse Midwifery/Women's Health Nurse Practitioner program at Georgetown gave her the skills to deliver the breech baby without surgery.
High Potential for Complications
Babies can move from the head first position to a breech position during labor, which is what happened with Lawrence's patient. One reason that complications can arise with breech births is because the biggest part of a newborn's body is the head.
"When you're having a baby who is head first, you're getting the biggest part of the baby first, so you're likely to get the rest of that baby out," said Julia Lange Kessler, DNP, CM, FACNM, director of the nurse midwifery/women's health nurse practitioner program. "But if the baby is breech, you're getting the tiniest parts of that baby out first."
Because there's a chance that a breech baby's head could get stuck during a vaginal delivery, most breech babies are delivered by c-section, but Kessler stressed that not all breech babies need to be delivered surgically.
"Don't automatically think, my baby is breech, I have to have a c-section," Kessler said. "We can put a risk-benefit ratio on it. Then that mom doesn't have to go through major surgery and all that goes along with that."
Learning Clinical and Communication Skills
Faculty members in Georgetown's Nurse Midwifery/Women's Health Nurse Practitioner program can show students how to deliver breech babies with a computerized high-fidelity simulator or a low-fidelity simulator, which involves them pushing on the breech baby and talking the student through the delivery, Kessler explained.
Lawrence learned how to deliver a breech baby from a simulation exercise during one of the program's three on-campus intensives (OCI). "The memory of the maneuvers was tucked far back in my mind," she said. "However, in the excitement of the moment, every maneuver came back immediately. I was surprised that I knew exactly what to do."
"She remembered what she was taught," Kessler said. "It all came back to her. She learned what she needed to learn to do that delivery, which is pretty incredible and wonderful."
After the delivery, Lawrence reached out to her Georgetown instructor, Cindy Farley, CNM, PhD, FACNM, an associate professor at the School of Nursing & Health Studies. "Her passion for midwifery, care of the woman and midwives in general provided great faith that she would understand my excitement that I just delivered a breech baby," Lawrence said.
Kat Zambon
GUMC Communications