NHS Alumna Earns John Carroll Award
Posted in GUMC Stories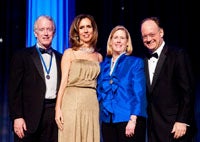 Colleen Scanlon (NHS'76, H'00), J.D., RN, senior vice president for advocacy at Catholic Health Initiatives, received the award at the 2012 John Carroll Weekend. Hosted in Chicago, the Windy City carried sweeping blue and gray hues throughout the weekend as accomplishments of alumni were showcased and the Jesuit-traditions exemplified through service and dedication to Georgetown University and the community.
"There's a sense of desire to not only be proud that I went to Georgetown, but to make Georgetown proud that I was their student," Scanlon said in a special video aired during the awards banquet. "I am enormously grateful and humbled."
The John Carroll Award, a tradition started by the Georgetown University Alumni Association 60 years ago, honors alumni whose achievements exemplify the ideals and traditions of Georgetown University and Georgetown's founder Archbishop John Carroll.
Awardees represent a lifetime of achievement and outstanding service to their alma mater.
After Georgetown, Scanlon went on to earn her law degree. She previously served as director of ethics and human rights at the American Nurses Association and chair of the Board of Trustees of the Catholic Health Association of the United States.
Scanlon has also remained active in the Georgetown University and NHS communities. She served as clinical scholar at Georgetown University's Center for Clinical Bioethics and is currently a member of the NHS Board of Advisors.
"People have invited me to stay involved and participate in the Georgetown community. I want to help it continue to grow and be as meaningful a community as it is," Scanlon said.
Scanlon also received an honorary degree from Georgetown in 2000, a testament of her passion for Georgetown University and furthering the strength of the institution.
"Colleen is a person who dedicates pretty much everything she does to somebody else and luckily for Georgetown, Georgetown is one of those places," explained friend Eileen Brennan Ferrell (NHS '75, G'83), RN, director of nurse recruitment and retention at MedStar Georgetown University Hospital.
Additionally, four other alumni received the award in 2012. They are:
• Michael E. Karam (F'72, L'76, L'81, Parent'07) – Bethesda, Maryland
Former Senior Trial Attorney, U.S. Department of Justice
• Lee I. Miller (B'69, L'73) – Deerfield, Illinois
Joint Chief Executive Officer, DLA Piper
• Thomas A. Reynolds III (B'74, Parent'03) – Winnetka, Illinois
Partner, Winston & Strawn LLP
• L. Edward Shaw Jr. (C'66, Parent'94, '98, '98) – Greenwich, Connecticut
Attorney and Corporate Director
Watch the John Carroll Award Video – The Men and Women of Georgetown
By Katherine Brazauskas, GUMC Communications
(Published May 07, 2012)