NHS Students Receive Landegger Awards
Posted in GUMC Stories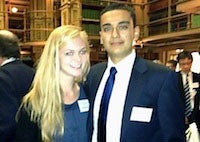 On Saturday, April 14, School of Nursing & Health Studies students Breanna Donald (NHS'12) and Alberto Morales (NHS'12) were honored for their commitment to community service at the 2012 Lena Landegger Service Awards Dinner.
Recognized for their distinguished contributions to the Georgetown University community, the NHS students were two of the 20 recipients of the Lena Landegger Service Award.
Driven to Nurture Jesuit Values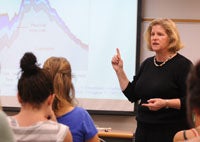 Donald, a human science major, received the award for her work with the Georgetown University Farmers' Market – an idea she developed with Melissa Gadsden (NHS'12) in a course taught by Joan Burggraf Riley, MS, MSN, RN, FNP-BC, FAAN, assistant professor of human science and nursing.
"Receiving this award is an enormous honor," said Donald. "I am very humbled to share the award with other Georgetown students who have impacted the world in incredible ways."
Donald's motivation to serve comes from a connection to Jesuit values and a drive to apply classroom learning to real-life situations.
"My initial and continued involvement in community-based organizations stems from an observation that Georgetown students are collectively challenged to look beyond the classroom and translate academia into service initiatives that have a lasting impact," said Donald. "It is through these observations as well as through the living examples provided by NHS professors that I was driven to nurture Jesuit values to fruition in the form of the Georgetown University Farmers' Market."
Serving the Latino Community
Morales, a health care management & policy major, was pleasantly surprised when he found out he was a 2012 award recipient.
"I read and re-read the email and once I verified it several times, I immediately called my parents," said Morales. "It was the same level of excitement that I felt when I first opened my acceptance letter to Georgetown."
Inspired by his parents, Morales has shown a commitment to serving the Latino community through his co-chair leadership position with Movimiento Estudiantil Chican@ de Aztlán (MEChA) de Georgetown.
"My parents' journey has brought unwavering motivation into my life," he said. "They left Mexico, their home country, for my brother and me. Their journey always inspires and motivates me to serve others. Through MECha, I've dedicated myself to building a stronger Latino community at Georgetown."
The Award
Established in 1995, the award commemorates the memory of the late Lena Landegger by honoring students committed to serving others with a grant for $2,500.
By Alicia Lee, NHS Communications
(Published May 2, 2012)