NHS Student Delivers Keynote at New Student Convocation
Posted in GUMC Stories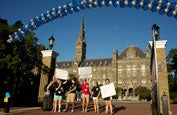 Georgetown officially welcomed more than 1,700 first-year and transfer students during its New Student Convocation Aug. 25 in McDonough Arena.
The class of first-year students hails from all 50 states and 44 other countries that include the United Kingdom, South Korea, China, Canada, Italy, Turkey, Columbia, Venezuela and France.
This year's McTighe Prize winner, Freeman Condon (NHS'14), shared his experiences and accomplishments as a Georgetown student with the newcomers.
The human science major from Salisbury, Mass., is a fourth-year cadet in the Army Reserve Officers' Training Corps and will be commissioned as a second lieutenant in May. He hopes to one day get accepted to medical school and then become a military physician.
"Take everything with grain of salt and know that you alone are in charge of your coming years [at Georgetown]," he told the new students. "Make them amazing."
The convocation marks the first bookend of the Class of 2017's academic career, which closes four years later with Senior Convocation during the class's commencement weekend
(Published September 03, 2013)