New Master of Science in Global Health Launched
Posted in GUMC Stories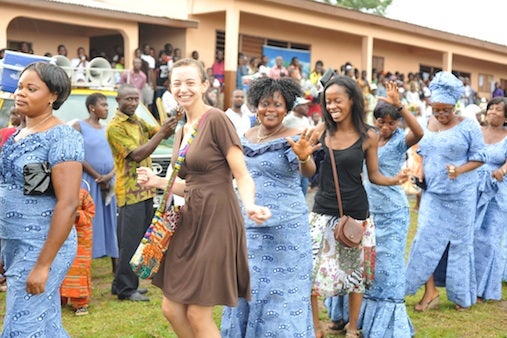 Georgetown will offer a new multidisciplinary Master of Science in Global Health (MSGH) this fall that features a strong focus on applied social sector research in developing countries.
The university-wide program will include courses taught by faculty from the College, School of Nursing & Health Studies (NHS), the School of Foreign Service, the Medical Center, the Law Center and the Georgetown Public Policy Institute.
"This will be the first university-wide degree at Georgetown based on a multidisciplinary, development-oriented approach to global health," says Bernhard Liese, MD, DSc, MPH, chair of the Department of International Health at NHS. "Georgetown has academically superb faculty across its campus with many years of experience in leadership positions related to policy and development practice."
Liese will direct the new program, which is housed in the university's Graduate School of Arts and Sciences and administered by the Department of International Health.
Career Preparation
"Those who graduate with the new degree will be prepared for careers as program managers, policy analysts, health administrators and in research positions in development agencies, government agencies and consulting organizations," he says.
The program gives students a choice of five concentrations – disease prevention and control; health policy and financing; health and development in Africa; demography and reproductive health; and trade and health.
Students will participate in field experience and be required to produce a scholarly paper that enhances the academic field of global health.
Mid-Career Professionals
Liese has more than 30 years of experience in the field of health and development, with a concentration in globalization and health and tropical diseases.
"Both mid-career professionals from the United States and abroad involved in the field of global health will benefit from the systematic, evidence and research-based approach to this complex field," Liese explains. "But it will also benefit recent graduates who wish to deepen their knowledge and skills in empirical or policy-based research for positions in global health organizations."
He says Georgetown's proximity to so many development-related agencies – including the U.S. Agency for International Development, the Pan American Health Organization, the World Bank, the Inter-American Development Bank, the Population Reference Bureau and others, provides "unparalleled professional networking opportunities."
A number of Georgetown faculty have served such agencies and will teach in the new program.
Global Challenges
"The possibility of completing the three-semester degree, if necessary using the summer, in one calendar year is very attractive," Liese adds, "particularly for mid-career professionals."
The curriculum includes 17 credits in global health courses, nine credits in concentration-specific courses and 10 credits that comprise the field research module and the scholarly paper.
Liese says the program owes Georgetown President John J. DeGioia, PhD, who has often noted Georgetown's efforts to address the globe's most pressing challenges, a "big thank you."
"It was the president who suggested and facilitated the necessary arrangements for the MSGH to be offered as a universitywide degree," Liese explains.
"We are grateful to Dr. Liese and all members of our community who have worked together to develop this new university-wide program," DeGioia says. "Across our campuses, Georgetown has made a strong commitment to improve health around the globe. This new program will draw on our considerable academic resources to prepare the next generation of leaders to tackle the most pressing health challenges facing our world."
By Georgetown Office of Communications
(Published January 09, 2013)