Mitchell Delivers Traditional Ruggles Lecture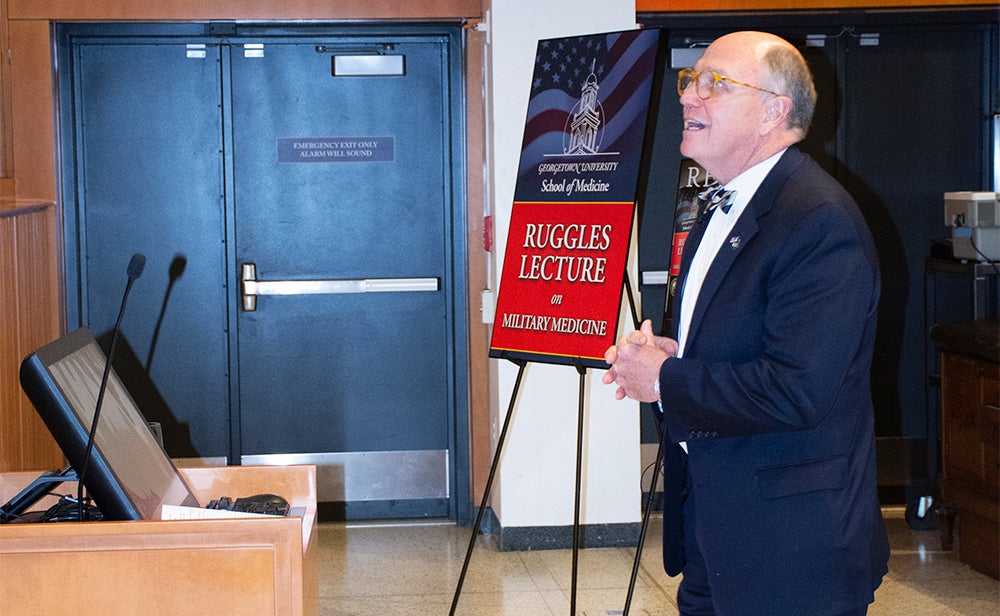 Posted in GUMC Stories | Tagged military medicine, School of Medicine
(November 22, 2019) — A group of medical students, most dressed in military uniform, gathered November 18 to hear this year's seventh-annual Ruggles Lecture on Military Medicine delivered by student-invited U.S. Air Force veteran Stephen Ray Mitchell, MD, MBA, MACP, FRCP, Dean for Medical Education.
Mitchell gave a detailed recounting of his experience as a military physician during the gathering in the W. Proctor Harvey Clinical Teaching Amphitheater.
For seven years, Georgetown University has hosted the annual lecture, designed for military students — those who have or are serving, and those in the Health Professions Scholarship Program (HPSP), who will enter service after graduation.
"I am so proud of each and every one of you in the audience for what you do, what you are going to do, what you've already done for our country and for this school," Mitchell began. "Our HPSP students are a big part of our leadership."
Proud of the Blues
Mitchell joined the HPSP when entering medical school at the University of North Carolina in 1976, following in the footsteps of his father, who enlisted in the Army Air Corps on Dec. 8, 1941. Mitchell's first academic appointment was at the Uniformed Services University before being supported by the USAF through his adult and pediatric rheumatology fellowship at Georgetown in 1986.
His first assignment after completing his training was at Malcolm Grow Medical Center, at what is now Joint Base Andrews. Later, he served as the physician for many legislative flights to foreign countries, always ready for each congressman's medical needs. The assignment took him on long trips to the Soviet Union, India, Pakistan, Jordan and the Philippines, among other locales.
In the summer of 1981, Mitchell was assigned to 44th Medical Brigade's M.A.S.H. (Mobile Army Surgical Hospital) in the Egyptian desert as the U.S. and Egypt began conducting joint exercises as part of Operation Brightstar just prior to the first Gulf War.
One of the more notable happenings, Mitchell recalled, was an outbreak of shigellosis, believed to be caused by infected drinking water used by the 82nd Airborne Division conducting exercises nearby.
While others concluded the men had heat shock, Mitchell was quick to point out that the symptoms being observed appeared to be something else, and he made the diagnosis.
"One-quarter of the 82nd Airborne got shigellosis," Mitchell recalled.
"I'm proud of my time in blue. I didn't come into harm's way, but it was an important relational role," Mitchell said.
The Lecture's Namesake
The Ruggles Lecture is endowed by a gift made by Robert and Francine Ruggles, longtime supporters of the School of Medicine who have also endowed two scholarships that support four to five medical students each year. Robert Ruggles served in the U.S. Navy during the Korean War. Since then, he has had a strong desire to educate physicians on how to care for veterans and their families.
According to Mitchell, the School of Medicine's relationship with the military has deep roots, dating back to its founding in 1851. A decade after the school was founded, the Civil War broke out; 124 students and faculty served.
In World War II, Georgetown was the first school to create a three-year curriculum to send physicians to war in 1944.
"Georgetown is still the number one allopathic medical school other than the Uniformed Services University's medical school that creates military physicians," Mitchell said proudly.