Congresswoman Speaks to Minority Health Initiative Council
Posted in GUMC Stories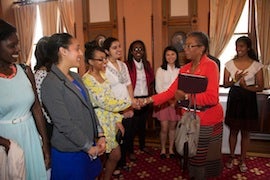 The first female physician to serve as a member of the United States Congress came to Georgetown April 24 to speak with students in the Minority Health Initiative Council.
Del. Donna Christensen (D-Virgin Islands), MD, told members of the council – based in the School of Nursing & Health Studies – about her experiences in medicine and her efforts to ensure that measures related to minority health and health equity are a part of health care legislation.
"The bio you have written in your program is probably not even half of what Congresswoman Christensen has done," council co-chair LaMar Holmes (NHS'14) (new window) said during his introduction.
'Well on Your Way'
Elected to Congress in 1996, Christensen attended the council's year-end dinner, where graduating seniors and new members were recognized, a year's worth of accomplishments were celebrated, and a leadership award was given.
"The fact that this organization exists, I think you're probably well on your way to figuring out how you can use your skills – in whatever field you are in – to advance…health equity," she said to the undergraduates.  "You've already begun to do it by reaching out into the communities."
Dinner attendee Scott Fleming (F'72) (new window), associate vice president for federal relations at Georgetown, echoed Holmes' sentiment.
"It's always amazing to me how someone who doesn't have a vote can get so much done," he says. "But I have seen Congresswoman Christensen in action over the years of her service. She is respected because of her knowledge and understanding of key issues. She is persistent in pursuing her objectives. Those are qualities that have made her so effective."
Advancing Health Equity
Through the 2012-2013 year, as Holmes and co-chair Juan Dent (NHS'14) (new window) noted, the council has worked on several initiatives, including co-hosting a spoken word poetry event on World AIDS Day, co-sponsoring the school's values based lecture, participating in AIDS Walk Washington, and completing a community service project at the Town Hall Education Arts Recreation Campus.
"These unique experiences have provided you with the opportunity to design and implement health strategies that move us one step forward towards the advancement of health equity," said council staff advisor Brian Floyd, MS (new window), associate director of student academic affairs at NHS.
Honoring Senior Leaders
Floyd and council faculty advisor Edilma L. Yearwood, PhD, RN, PMHCNS, BC, FAAN (new window), associate professor of nursing, recognized graduating seniors for their many contributions to the council and Georgetown.
The students include Dale Batoon (NHS'13) (new window), Natasha Bhatia (NHS'13) (new window), Rex Huang (NHS'13) (new window), Ayesha Ibrahim (NHS'13) (new window), Justin Jones (NHS'13) (new window), and Nancy Oduro (NHS'13) (new window).
Alumnus Michael Leavell (NHS'11), a former council member who now works at the U.S. Agency for International Development, also attended the dinner to help recognize Jones, who earned the Minority Health Initiative Council Leadership Award.
The award honors Jones' many accomplishments, including his leadership in Georgetown's chapter of the NAACP and the Georgetown Scholarship Program, his volunteer work, and his internship experiences locally, nationally, and internationally.
"Volunteering is an important component of Justin's experience at Georgetown," Leavell said.
By Bill Cessato, NHS Communications
(Published April 26, 2013)