MGUH Achieves Third Consecutive Magnet Designation
Posted in GUMC Stories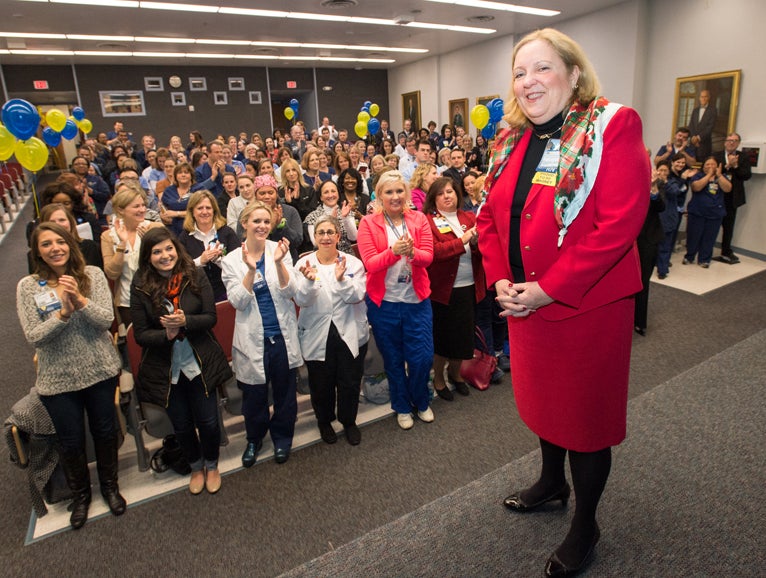 January 28, 2014 - For the third consecutive time, MedStar Georgetown University Hospital (MGUH) has been designated as a Magnet hospital by the American Nurses Credentialing Center (ANCC)—the highest accolade a hospital nursing system can achieve.
Of the more than 5,000 hospitals in the country, MGUH is one of only 71 that have achieved a third consecutive Magnet designation. MGUH was the first hospital in Washington, D.C., to achieve Magnet status back in 2004.
MGUH President Richard Goldberg, MD, expressed great pride in this achievement.
"We are honored to be acknowledged by the ANCC's Magnet Recognition Program and to achieve this prestigious designation for a third time," says Goldberg. "Our nurses at MedStar Georgetown exhibit the highest of standards when it comes to professionalism and excellence in caring for our patients. I know I join all of my colleagues in expressing how proud we are to work with them each day and how grateful we are for their role in taking their profession to such a high level of quality and distinction."
MGUH Chief Nursing Officer Eileen Ferrell, MS, BSN, RN, an alumna of the School of Nursing & Health Studies and the Graduate School of Arts and Sciences, led the extensive redesignation effort.
"Receiving this national designation by the Magnet Recognition Program points to the excellence of our nurses and all their hard work," says Ferrell. "It means our nurses are high-performing professionals who are committed to delivering extraordinary care to our patients and their families. It also means our nurses are involved in clinical research and performance improvement, all in the best interests of our patients."
A 'Magnet' for Excellence
ANCC bestowed its first Magnet designation in 1994 with the idea that the honor would act as a "magnet" for excellence by promoting professionalism in nursing. Magnet recognition is seen as the highest accolade a hospital nursing system can achieve.
"Magnet status is reflective of a rather profound respect for the direct care givers and their ability to govern their practice environment," says MJ Mastorovich, MS, RN, assistant professor of health systems administration at Georgetown's School of Nursing & Health Studies and a former chief nurse executive.
Currently the ANCC asks each institution applying for Magnet status to submit a plan on how the organization will ensure that at least 80 percent of nursing staff have a baccalaureate degree in nursing.
This target is consistent with The Institute of Medicine's 2010 report on "The Future of Nursing" that recommends an increase in the number of nurses with baccalaureate degrees to 80 percent by 2020. MGUH has already met this goal. Magnet recognition is bestowed upon an organization for a four-year time frame, after which time an organization must re-apply.
By MGUH staff, with contributions from GUMC staff