'Melanin in Medicine' Reinforces Importance of Diversity in Medicine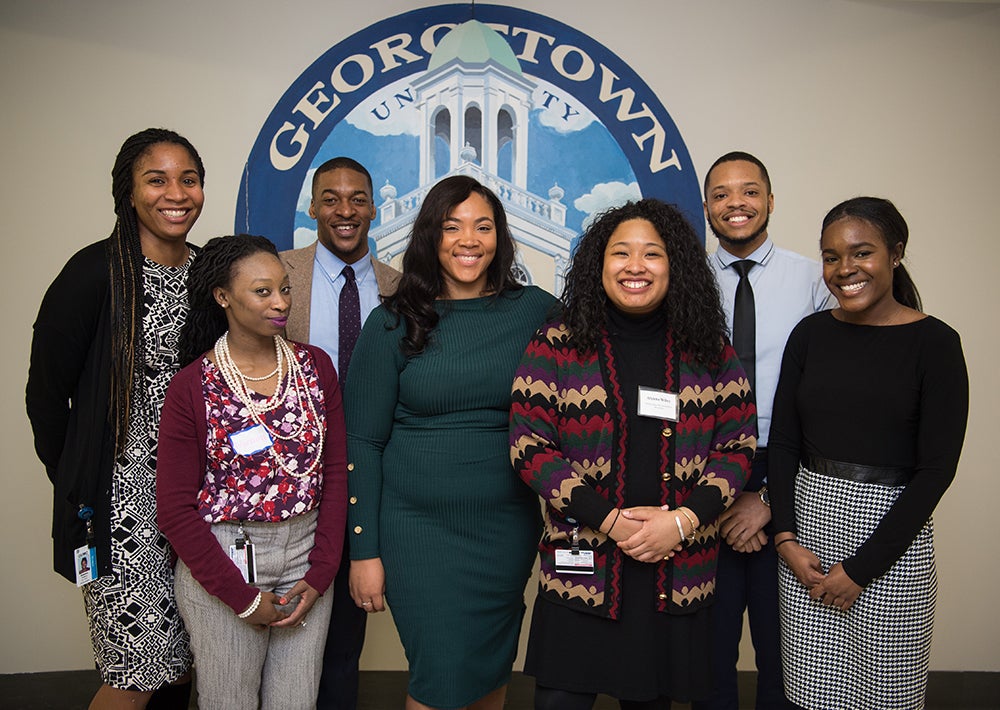 Posted in GUMC Stories | Tagged diversity, School of Medicine
(March 2, 2019) — Organized by the Student National Medical Association (SNMA) chapter at the School of Medicine (SOM), "Melanin in Medicine: Dissecting Diverse Experiences" encouraged attendees to discuss the marginalization and inequality experienced by patients and practitioners in medicine, and the inclusion and success of medical students.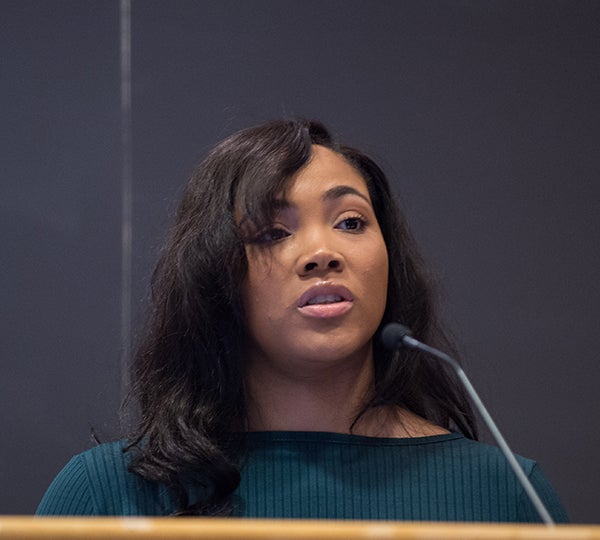 Held through a partnership with the MLK Initiative: Let Freedom Ring! by the President's Office with support from the Office of Diversity & Inclusion, the event also offered an opportunity to recognize the contributions and legacy of African-Americans in medicine.
"Black people have often served as unsung heroes in the medical field," said Courtney Reynolds (M'21), SNMA chapter president, during opening remarks at the February 13 event.
Some of these unsung heroes include "Henrietta Lacks and Anarcha Westcott, women whose bodies have literally birthed medicine, to Dr. Daniel Hale Williams, a pioneer of cardiology, and Dr. Joycelyn Elders, the first African-American surgeon general," Reynolds said.
'What Does a Doctor Look Like? You!'
Attendees included pre-medical undergraduate and medical students from both Georgetown University and Howard University, and alumni and applicants to Georgetown's undergraduate and post-baccalaureate pipeline programs, which strive to increase the number of underrepresented students in medicine.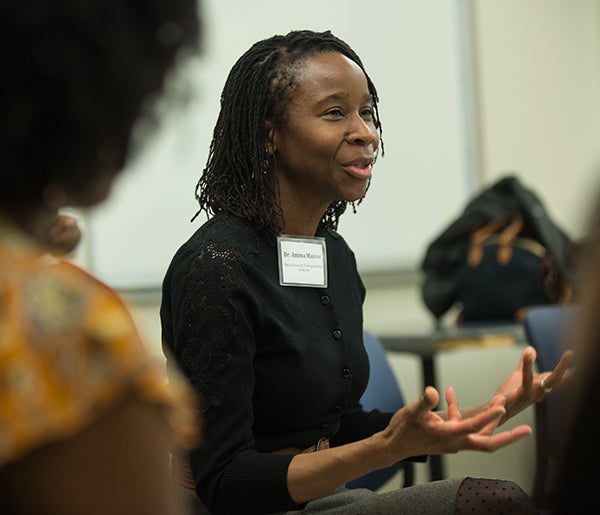 Physicians led discussions that explored issues affecting both them and minority and underserved patients.
Both the first in their immediate families to become physicians, Amma Maurer, MD, an assistant professor of radiology, and Jamie Hill-Daniel, MD, assistant program director of community medicine for the residency program in the department of family medicine, facilitated Playing Dress Up: Treating Imposter Syndrome.
During the discussion, medical students shared situations in which they avoided wearing their Patagonia jackets bearing the SOM seal in their hometowns due to deep feelings of doubt about belonging to what friends and family back home view as a revered institution, and being on track to enter such a selective profession.
Drawing on stories from their own experiences, Maurer and Hill-Daniel suggested that students seek mentors and build connections with other minority medical students and physicians to help counter those feelings.
"What does a doctor look like? You and you and you," said Maurer, pointing to every student in the room.
Primary Care Debated as Solution to Disparities
Focusing on the patient perspective, students in Prescribing Affluence: Social Determinants of Health and Barriers to Treatment discussed ways to combat health disparities facing the black community.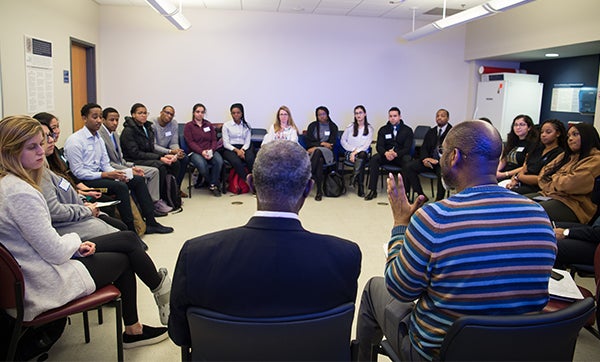 Richard Benson, MD, PhD, associate professor of neurology, and Earl Harley, MD, a professor of otolaryngology, said that promoting careers in primary care may help improve health equity. However, the higher salaries offered in specialized fields of medicine discourage some students from pursuing primary care, especially those who have significant student loans.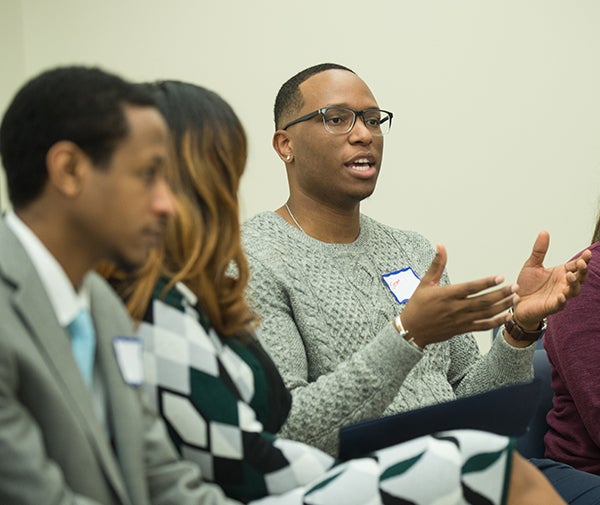 "The problem is multifaceted, so just increasing the number of physicians who are present won't be enough," said Jerome Murray (M'22), a recent graduate of the GEMS program.
"We need to increase the number of physicians in all fields who are aware of the disparities affecting minority communities and who feel empowered to change the treatment guidelines based on how those disparities are affecting those communities."
Supporting the Interests of Minority Medical Students
After completing the GEMS program, Anthony Jourdan (NHS'17, M'22) and Alynna Wiley (M'22) welcomed the opportunity to join SNMA as first-year medical students. In addition to helping increase the number of minority physicians and ensuring medical education is conducive to their needs, they feel the community SNMA provides is important to their success and that of their peers.
"It's about creating a community for students of color in the medical school so they understand that times will get tough throughout the semester but you have people here you can rely on," Jourdan said.
In addition to hosting events throughout the year, including a poster campaign showcasing black physicians during Black History Month, SNMA members mentor undergraduate pre-medical students in the SHAPE program through a partnership with the Georgetown University Minority Association for Pre-Medical Students (MAPS).
The program was founded based on a belief in mentorship as an important factor in the success of minority students from college through medical school and residency.
"I've been extremely blessed to have black faculty mentors like Dr. Roett, who gives me a hug every time I see her and tells me I belong here," said Wiley, referring to Michelle Roett, MD, MPH, chair of the department of family medicine.
For both minority and non-minority attendees, Jourdan and Wiley feel strongly that events like Melanin in Medicine can foster more empathetic and effective physicians.
"When people have open minds and hearts, they're able to better evaluate the whole person — cura personalis — resulting in more trust in the relationship between physicians and African-American patients," Wiley said.
Seren Snow
GUMC Communications