MedStar Health-Georgetown University Partnership Grants Awarded
Posted in GUMC Stories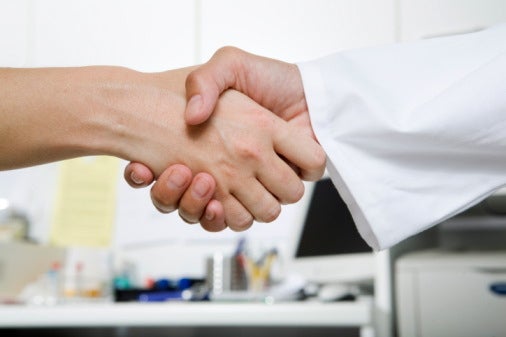 GUMC and MedStar Health Research Institute announced the first recipients of the MedStar Health-Georgetown University Partnership Grants on Feb. 19.
In their announcement, Robert Clarke, PhD, dean for research at GUMC, and Neil J. Weissman, MD, president of MedStar Health Research Institute, described the grants as "a demonstration of how important clinical research activity can be enhanced by building research partnerships across the institutions."
Clarke and Weismann said the overall goal of the intramural grants is to foster new MedStar-Georgetown collaborations that will lead to increased external grant funding.
The idea for the intramural grants came from MedStar Health and GUMC researchers attending a fall retreat. After a peer-review process of submitted proposals, four grants were selected.
"These intramural grants mark an important next step in the growing collaboration between MedStar Health and Georgetown University," Clarke and Weissman said.
The Spring 2013 grants were awarded to:
Medullary Thyroid Cancer Conditionally Reprogrammed Cells: Molecular Characterization and Drug Screening
Matthew Hardwick, PhD
Director, Laboratory of Clinical Investigations
MedStar Health Research Institute at MedStar Washington Hospital Center
Xuefeng Liu, MD
Assistant Professor, Department of Pathology
Georgetown Lombardi Comprehensive Cancer Center
Georgetown University Medical Center
Characterization of the Stability and Chemosensitivity of Human Melanoma-Initiating Cells in Culture and Xenografts
John L. Zapas, MD
Chief, Division of Surgical Oncology
The Harry and Jeanette Weinberg Cancer Institute
MedStar Franklin Square Medical Center
Dean S. Rosenthal, PhD
Associate Professor, Department of Biochemistry and Molecular & Cellular Biology
Georgetown University Medical Center
Role of Immune Dysregulation in Aging and Ovarian Hormone Loss
Jason G. Umans, MD, PhD
Scientific Director, Penn Medical Lab, MedStar Health Research Institute
Director of Research Education, Training, and Career Development
Georgetown-Howard Universities Center for Clinical and Translational Science
Kathryn Sandberg, PhD
Professor and Vice Chair of Research, Department of Medicine
Director, Graduate Studies in Physiology
Georgetown University Medical Center
Director, Center for the Study of Sex Differences in Health, Aging and Disease
Georgetown University
Understanding Readmission after Major Cancer Surgery in Older Adults
Waddah B. Al-Refaie, MD, FACS
Chief of Surgical Oncology, Department of Surgery
MedStar Georgetown University Hospital
Surgeon in Chief, Georgetown Lombardi Comprehensive Cancer Center
Nawar M. Shara, PhD
Director, Department of Biostatistics and Epidemiology,
MedStar Health Research Institute
Director, Biostatistics Core
Georgetown-Howard Universities Clinical and Translational Science Center
By Karen Mallet, GUMC Communications
(Published February 20, 2013)