MedStar Health-Georgetown University Symposium Illustrates Emphasis on Community Care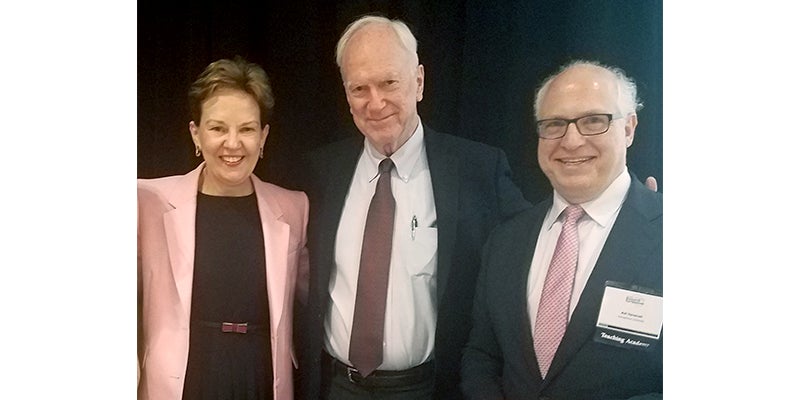 Posted in GUMC Stories | Tagged biomedical research, CENTILE, MedStar Health
(June 2, 2019) — Since its founding, Georgetown University Medical Center has committed itself to the principle of cura personalis, caring for the whole person. However, based on the recent MedStar Health—Georgetown University Research Symposium, cura communitas, or care for the whole community, may be an equally good fit.
Each year, the joint research symposium attracts researchers, residents, academics and collaborative partners from across the region to showcase the cutting-edge research being conducted across Georgetown and MedStar.
This year's one-day conference was attended by more than 1,000 participants and featured over 400 presentations. Speakers included Stephen Evans, MD, executive vice president and chief medical officer for MedStar Health, Edward Healton, MD, MPH, executive vice president for health sciences & executive dean at Georgetown University School of Medicine, and Holly J. Humphrey, MD, president of the Josiah Macy Jr. Foundation.
From Humble Beginnings to a True Partnership
Like many great collaborations, however, this research symposium had more humble beginnings. When MedStar Health first launched this initiative eight years ago, they were surprised and delighted by the 150 attendees. What started as a small grassroots initiative is now an integral date on the academic calendar.
At last year's event, Healton suggested the name change, recognizing the unique partnership between the health system and Georgetown University.
"It was great," said Neil Weissman, MD, chief scientific officer for MedStar Health. "It was a spontaneous thing, but it was right on the mark.
"This is even stronger than a collaboration," Weissman added. "It's a true partnership. What started as a health-system-wide research symposium is now marrying with our academic partner, and it's part of us."
Wide Range of Research

The scientific content of the academic research submissions varied from clinical to translational and from epidemiological to health services. It also showcased the eclectic range of work being conducted across the Georgetown-MedStar community.

"It's great for many of our trainees, at whatever level they are at," said Robert Clarke, PhD, DSc, dean for research and professor of oncology at Georgetown. "Some of them have never been to a national meeting before and, in real terms, this is as big as and structured the same way as many national meetings are. So it gives folks who have never been a safe place to put up a poster or give a talk for the first time. That's a great experience, and it makes it a little less daunting when it's finally their turn to go out and do it somewhere external."

The event started with the 6th Annual Colloquium for Educators in the health professions, hosted by the Georgetown University Medical Center's Center for Innovation and Leadership in Education (CENTILE). Formerly a standalone event, the colloquium was an opportunity for those across the system focused on education and educational scholarship to converse, share ideas and learn together.

"By bringing the CENTILE-sponsored Colloquium for GUMC Educators in the Health Professions to same day and venue as the MedStar Health Research Symposium, we created a unique opportunity to seamlessly link reports on innovations in education, in the morning, with presentations on new discoveries in research, in the afternoon," said Aviad Haramati, PhD, director of CENTILE and professor of integrative physiology at Georgetown. "What emerged was a synergistic experience, which also resulted in more participants being exposed to both programs."

Building Connections to Support Communities

Representing the Josiah Macy Jr. Foundation, the only national foundation dedicated solely to improving the education of health professionals, Holly Humphrey commended the efforts of the Georgetown-MedStar community, stating that she was impressed by the efforts to create positive learning and working environments, as well as learning opportunities for all staff.

This reflects the Georgetown mission of caring for the entire community, where every person is a valued person, and every person deserves what others deserve. Weissman acknowledged the challenge this presented in D.C., which has the worst health statistics in America, but said that it represents an opportunity for Georgetown-MedStar.

"That's the big, hairy, audacious goal," said Weissman. "Here are the ways that we do it. First, we've got to come together. We've got to act as one. And second, we've got to start doing things together and learn what each other is doing so we can bring people together.

"That's what the research symposium does," Weissman added. "It helps bring people together. It shares information. It makes us feel and then act as one community."

---
Awards
CENTILE Colloquium for Educators in the Health Professions
Best Oral Abstract
"Furthering the Discussion on Racism, Implicit Bias, and Health Equity" Sarah Kureshi, MD, MPH, Kenny Lin, MD, MPH, Andrea Cammack, and L. Tamara Wilson, BS
Best Poster Abstract
"Movement for Multiple Sclerosis: Using Dance to Foster Wellness, Build Community and Shake It Shake It!" Julia Langley, MA and Erika Mitchell, DNP, FNP-BC
"Improving Residents' Communication Skills Using Patient Feedback" Louis Saade, MD, Hunter Brooks, Stephanie Detterline, MD, FACP, Eskandar Yazaji, MD, FACP, Heather Hartman-Hall, PhD and Stephen Fernandez, MPH
SELECT Grant Awardees 2019
Standing for "Scholarly Excellence in Leadership, Education, Curriculum and Training," these grants are intended to support and stimulate educational scholarship throughout MedStar Georgetown, supporting the vision to advance health.
Elizabeth Cilenti, MD, and Sarah Thornton, MD
Lauren Drake, MD
Sumeet Gopwani, MD, and Lauren Scher, MD
Hunter Groninger, MD
Heather Hartman-Hall, PhD
Leon Lai, MD
Mihriye Mete, PhD
Jack Sava, MD
Residents and Fellows Who Received the Highest Scores for Their Research Abstracts:
Residents
Kelly Sutter, MD
Angela Hsu, MD
Michael Yang, MD
Afroditi Boulougoura, MD
Chisom Ikeji, MD
Fellows
Michele Zerah, MD
David Weiner, MD
Arash Hassantoufighi, MD
Research Fellows
Robert Ball, MD
Alexandre Kajita, MD
Yuichi Ozaki, MD, PhD