Medical Student Presentations Cap Health Justice Week Events
Posted in GUMC Stories | Tagged health equity, health justice, LGBTQ, medical education, School of Medicine
(April 18, 2020) — Georgetown University School of Medicine students in the Health Justice Scholar (HJS) Track celebrated Health Justice Week 2020 from April 6 to 8 with events — held virtually this year — designed to uphold the program's mission to empower student physicians to be advocates for health justice.
The HJS Track is a longitudinal four-year program that integrates instruction, mentorship and advocacy experience that includes direct lobbying and research projects.
The three days of events included a special focus on health justice for incarcerated people. Marc M. Howard, JD, PhD, founding director of Georgetown University's Prison and Justice Initiative, spoke about "The Forgotten Humanity of Prisoners." Hunter Fraker, MD, an HJS alum, and student Eric Nieto (M'22) led another session addressing correctional health. The week concluded with the health justice scholars presenting their advocacy capstone projects.
"What is justice?" asked Stephen Ray Mitchell, MD, MBA, dean for medical education at the School of Medicine, as he opened the capstone presentation event with a vibrant spring portrait of the Med-Dent building as his Zoom background. "Justice is that which is just, or impartial, or fair and, I would add, righteous. It is the right thing for everyone. The right thing doesn't always happen. It doesn't happen spontaneously. Justice, sadly, isn't always driven by the laws of gravity. It doesn't fall equally on everyone."
And for that reason, many of the health justice scholars' research projects were grounded in advocacy for underserved populations.
Drawing Attention to LGBT Health
Joseph White (M'20) focused on one of his clinical interests, LGBT health, in his project titled "Coming out to Medicine: Examining the LGBT Experience with Providers and PrEP."
"Individuals who identify as lesbian, gay, bisexual and transgender experience disparities in access to and receiving health care, historically rooted in discrimination. LGBT patients are at increased risk of worse health outcomes, in general," said White.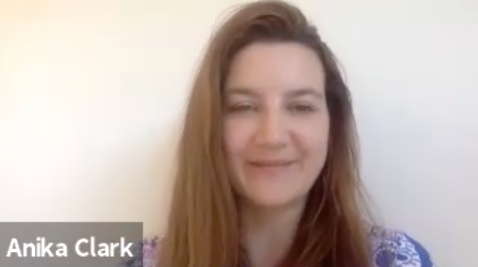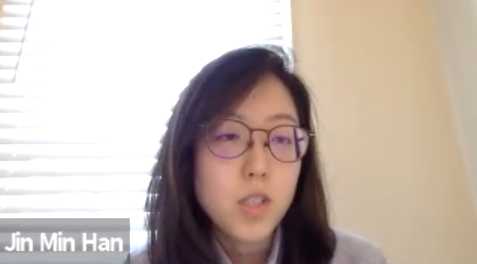 White's findings from an inclusive survey disseminated among active, social LGBT groups in the Washington, DC, area acknowledged that there is social progress in attitudes towards LGBT individuals. However, mistrust still builds between medical providers and LGBT patients when providers do not ask about sexual orientation or gender identity and place the burden on LGBT patients to initiate discussions on coming out and available medications like PrEP, he explained.
One of the solutions White offered was for providers to "routinely take basic sexual health surveys, demonstrating acceptance and non-judgment, to help/encourage LGBT patients to come out to medicine."
Building on a Research Legacy
Some students provided resources or future directions for work on legacy projects. Legacy projects are passed along to rising health justice scholars with the expectation that they will expand upon the research of previous students.
One such legacy project, "Advocacy for Victims of Human Trafficking: Critical Role ED Providers Can Play in Identifying and Rescuing Victims," was taken up by Jin Min Han and Anika Clark. With the assistance of health care professionals including Eileen Moore, MD, associate dean of community education and advocacy and director of the Health Justice Scholars Track, and Ranit Mishori, MD, MHS, FAAFP, professor of family medicine and senior medical advisor with Physicians for Human Rights, the two students were able to create purposeful resources, such as infographics, badge inserts and an educational PowerPoint, to help health care providers in the emergency department identify and assist human trafficking victims, Clark explained.
Han's passion for the work shone through. She acknowledged that the legacy project still had numerous additional components that future students could explore to expand it further.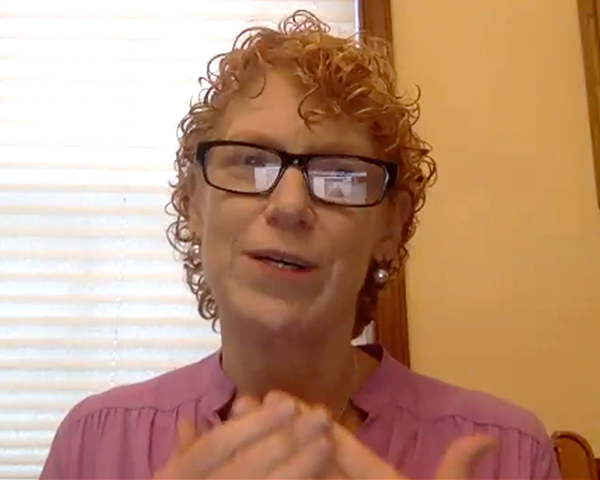 Moore expressed her gratitude for the contributions to the health field that the health justice scholars had made through their work this academic year. "My hope and my prayer is that you carry it forward as you begin your practice as newly minted physicians," she said.
Mitchell, quoting Martin Luther King Jr., told the students, "'The arc of the moral universe is long, but it bends toward justice.' I am going to call on each of you… to bend the arc actively. For the arc fully bent becomes the circle. The circle, if you will, might be the circle of cura personalis — care and formation of the whole person."
Tyisha Henderson
GUMC Communications