Medical Student Makes a Difference by Donating Convalescent Plasma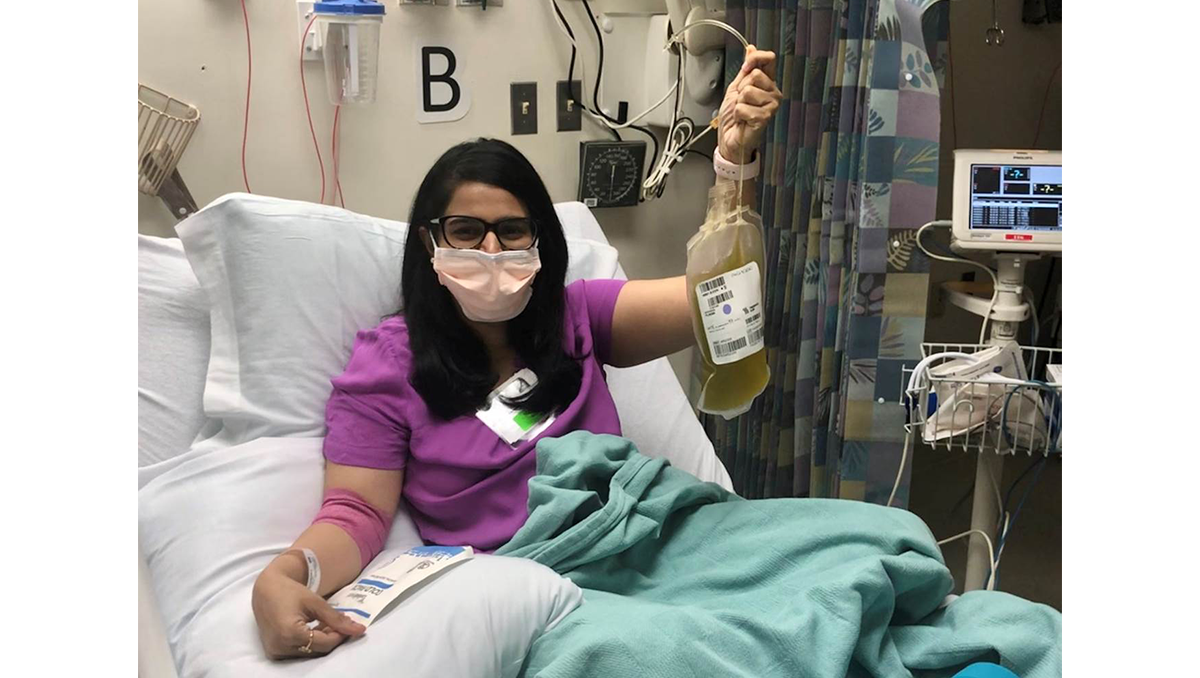 Posted in GUMC Stories | Tagged convalescent plasma, COVID-19, pandemic, SARS-CoV-2, service to others
(July 17, 2020) — When Tanvee Singh (M'22) started feeling sick in March, she thought her asthma was acting up. As her symptoms worsened, she was diagnosed with COVID-19, the disease caused by the novel coronavirus. Determined to find a silver lining in her experience, Singh donated plasma at the NIH Clinical Center when she got better.
What made you think you might have COVID-19? What were your symptoms?

I had read about people with preexisting respiratory conditions being at a higher risk and I have asthma so I was being really cautious. At first, I started feeling very short of breath, fatigued, a persistent cough, and muscle aches. My doctor initially thought it was an asthma flare-up, but when I lost my sense of smell and had high fevers, I knew something was wrong. I was the sickest I have ever been, struggled to breathe because I was so short of breath and coughing constantly, and completely lost my appetite. That is when I went to the MedStar Georgetown ER to get tested.

How did you feel when you realized it might be COVID-19?

My doctors and I tried to find alternative explanations for my symptoms. We didn't want to believe it was COVID-19. Even though nothing else could explain the cluster of symptoms, I felt like I had been really careful in limiting exposure. It was an incredibly isolating experience. I was also anxious about the financial implications of going to the ER to get tested, which is the only place they were doing tests in mid-March. This was before the Coronavirus Aid, Relief, and Economic Security (CARES) Act had passed, which limits out-of-pocket costs for patients seeking COVID testing. This experience really helped me understand the predicament and vulnerable position some patients find themselves in when interacting with our health care system — the bills are often unpredictable, obscure, vary between ERs, and it's really hard to know how much you will owe. My symptoms resolved four to six weeks after testing positive. I don't think any of the medications helped but I slowly got better over time.

What is convalescent plasma therapy?

Convalescent plasma therapy is an experimental treatment approach that has been used historically for viral diseases like polio, measles, and mumps. As you know, there are no FDA approved treatments for COVID-19 right now so some doctors are giving plasma (the liquid portion of blood that has antibodies) of patients who have recovered from COVID-19 to help the immune systems of people who are critically ill. There is no conclusive evidence that this therapy works for COVID-19, but a few studies show it may help some patients. That was reason enough for me to donate!

Why did you want to donate plasma?

I saw this as a silver lining to the ordeal of getting COVID-19. Unfortunately, my parents also got sick, as I was quarantining in their house. Seeing them so sick and not being able to help them made me feel very helpless. So I saw this as an opportunity to maybe offer a glimmer of hope to somebody else's parents or loved ones who are in a similar position. To me, the prospect of helping someone in need was 100% worth the four hours that the donation took.

What was it like to donate plasma?

I had been a summer research intern at the NIH for several summers and donated blood and platelets before at the NIH blood bank so I was familiar with the campus. The process to donate plasma, plasmapheresis, involves separating the plasma from the cells, and then returning the cells (red blood cells, for example) back to the donor after mixing with saline. I was excited to contribute to science and research and I enrolled in a clinical trial that involved donating a few more blood samples. Everyone was very kind and graciously answered all my questions about the donation process and the science behind it. Being able to donate plasma for someone in need as well as contributing to scientific research was very fulfilling.

What do you want people to know about your experience?

I want to emphasize how critical it is to remain vigilant and take precautions, especially given how little we know about this virus. I encourage everyone to continue listening to trusted public health officials, follow the science, and minimize the risk of exposure and spread because none of us is immune to this. I also hope that sharing my experience will inform people about the plasma donation process. Perhaps others who have tested positive will consider donating and helping someone in need.
Kat Zambon
GUMC Communications