MCGSO Welcomes Hardy Middle School During Brain Awareness Week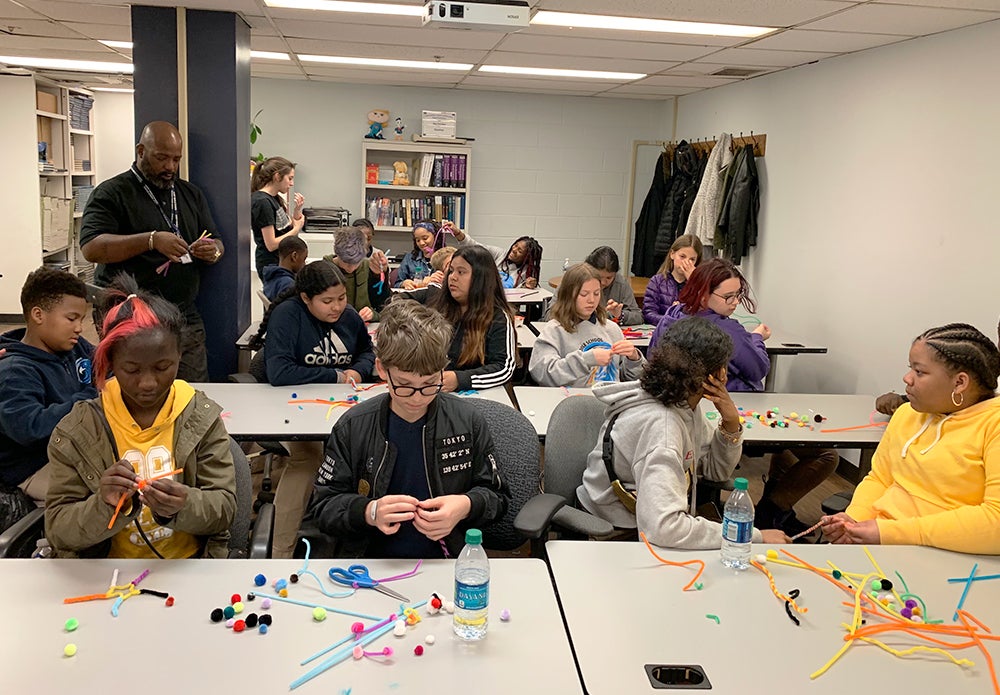 Posted in GUMC Stories | Tagged brain, community outreach, neuroscience, service to others, STEM
(March 29, 2019) — In an effort to promote brain research and awareness, the Medical Center Graduate Student Organization (MCGSO) hosted more than 100 seventh graders from a local middle school for a full day of creative, interactive brain-related activities and demonstrations.

The March 14 visit to Georgetown gave MCGSO members a potent opportunity to encourage students' interest in neuroscience and STEM during Brain Awareness Week, an international initiative founded by The Dana Foundation, a nonprofit organization that supports brain research.

In addition to the Brain Awareness Week activities, MCGSO members have been supporting science programs for students at Hardy Middle School, based just one mile away from Georgetown's campus, for nearly a decade. This includes co-hosting a Science Night in the school's gymnasium, which involves more fun activities and demonstrations encompassing the topics of neuroscience, chemistry and physics.
Changing Middle School Students' Perceptions of Scientists

Committed to promoting the interests of students in Biomedical Graduate Education (BGE) programs, MCGSO is a student-run organization that supports graduate students' professional, social and academic development.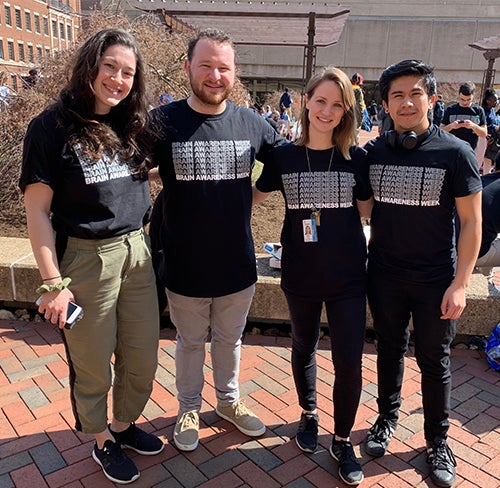 Brain Awareness Week allows graduate students to build their science communication skills, an important aspect of MCGSO's professional development mission.

A fortunate coincidence, several members of MCGSO's leadership team are PhD students in Georgetown's Interdisciplinary Program in Neuroscience (IPN). Each of them combined their passion for neuroscience research with their dedication to promoting the importance of STEM subjects among students in the local D.C. community.

"Among the most meaningful impacts MCGSO, and the numerous volunteers who help out that day, make on the middle school students is changing or shaping their perception of what a scientist looks like or how they approach their work," explained Kelly Martin, a second-year PhD student in the IPN who serves as an outreach coordinator for MCGSO.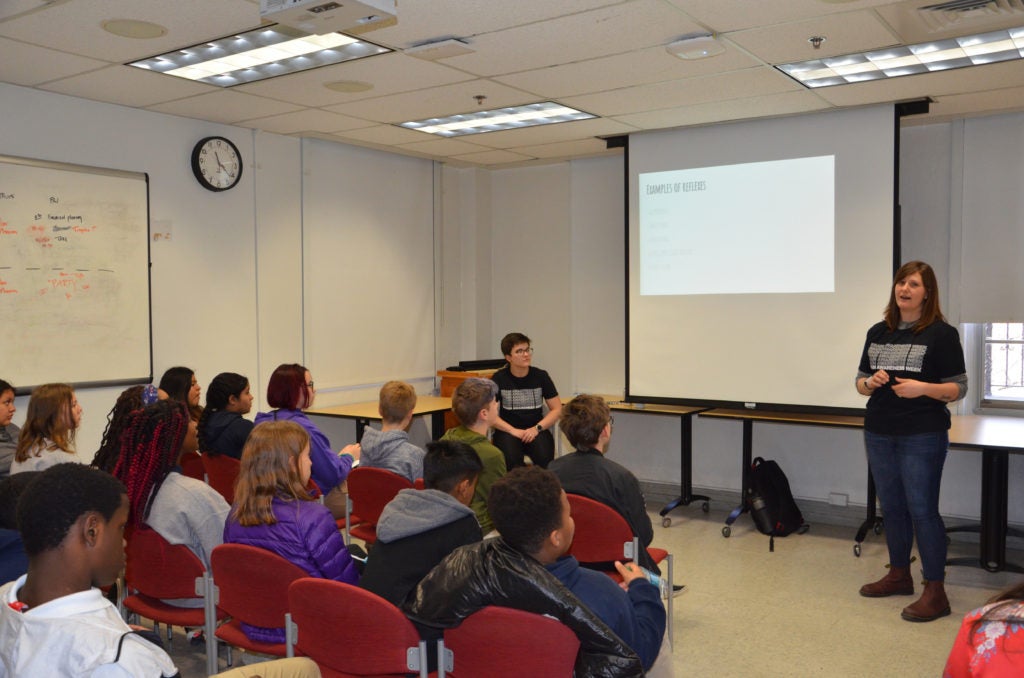 "The effect is meaningful for students who may otherwise be confined — through television, children's books, movies or other aspects of popular culture — to a narrow, perhaps stereotypical vision of scientists as only having a limited number of characteristics, such as being male," added Mondona McCann, who serves as MCGSO's president.
"As a teacher, especially as a teacher of color, it's really heartwarming to see my students become invigorated by science and for them to see that so many of the graduate student volunteers look like them," said Brook Estifanos, who teaches science at Hardy Middle School and chaperoned students during the visit.
"Often at their age, its tough to envision yourself becoming something that you don't see."

Addressing Myths and Misconceptions

Starting in the morning, the Hardy Middle School students rotated through various stations spanning three different buildings and seven distinct topics, including the behavioral and cognitive aspects of the brain, the different components of a neuron, visuomotor adaptation, reflexes and human-human interface.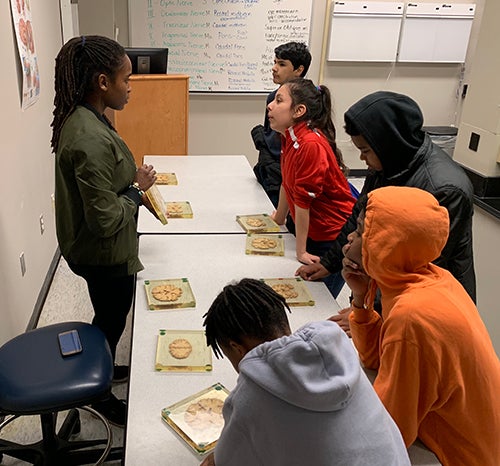 "A favorite every year tends to be the anatomy lab," Martin said, "where students can observe different brain specimens and models, and listen to volunteers compare the sizes and regions of the human brain to those of other species."

An aspect of the day that proves to be consistent throughout the visit every year is the process of discovery and the resultant sense of wonder that takes places as the students come to realize the misconceptions they may have had about the brain — among them the notion that humans only use 10 percent of their brains.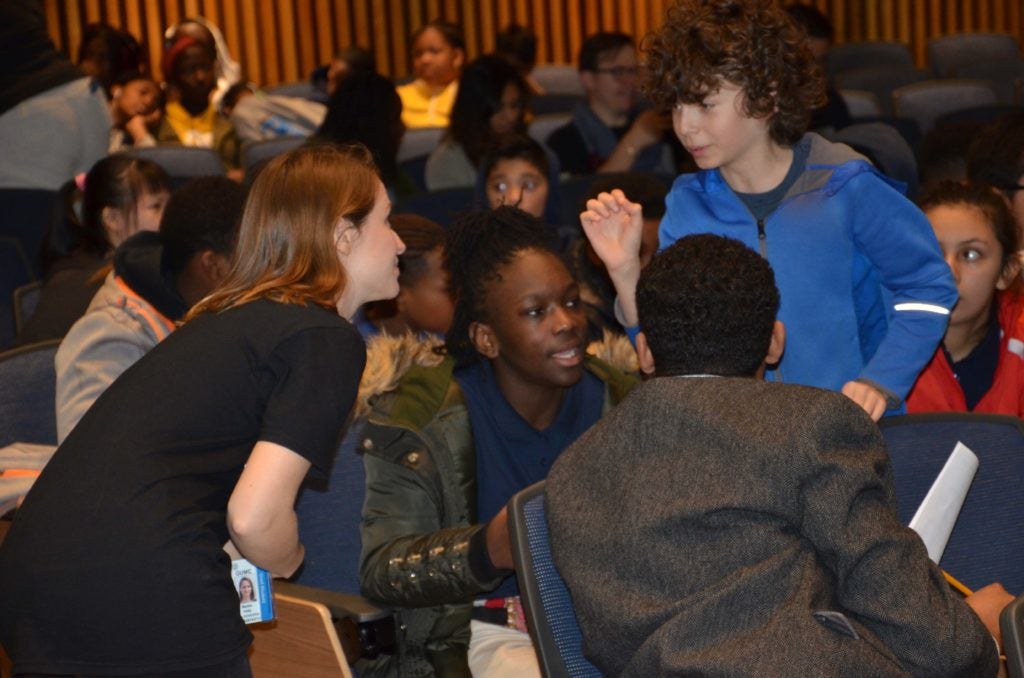 Martin believes clearing up some of these misconceptions, such as the idea that the left and right sides of the brain serve completely independent purposes, is an important goal. "There's a lot more nuance to how the brain works," she said.

But ultimately, one of the biggest goals is to inspire the students, explained George Melchor Jr., a second-year IPN student who, alongside Martin, also serves as an outreach coordinator for MCGSO. "The primary reason why we do this outreach is to provide students that may not have had the opportunity otherwise, an early exposure to the neurosciences," he said.

"If we can get just one student thinking about studying neuroscience as a possible route to pursue, then we have more than succeeded."
Seren Snow
GUMC Communications