Making Medical School a Positive Experience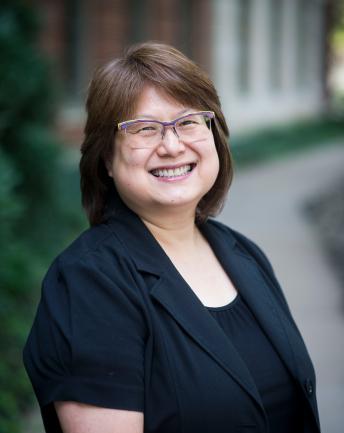 Posted in GUMC Stories | Tagged medical education
(February 23, 2018) — Inspired by her experiences in medical education, Carrie Chen, MD, PhD, has studied learning experiences and the assessment of learning. As associate dean for assessment and educational scholarship, Chen is helping the School of Medicine continue developing a medical school experience that both supports and educates students.
"I think what is important for us here at Georgetown is we want to know that the students have had a positive trip throughout their four years," she said. "That it was very self-affirming, that they have discovered something about themselves, and realized their passions, and that they have been able to define an area of interest."
"Everyone talks about how the journey through medical school is difficult and the journey through medical training is difficult but there is no reason why people need to leave damaged," she added. "It is how do we keep track of that and make it a pleasant experience and make it a self-actualizing experience rather than a demoralizing one."
"… That is not how medicine should be"
As a medical student, Chen sought a residency program known for its teaching. "I wanted to go somewhere with a strong focus on education, where I was going to become part of the educational mission," she said. "As chief resident I was in charge of a lot of the curriculum and implementing it for the residency."
After becoming chief resident, one of the things that Chen was able to influence was the absence policy. Recalling an incident where a fellow resident was told that she couldn't take a day off to be with her husband when he was having surgery, "my co-chief residents and I decided that is not who we want to be and that is not how medicine should be," she said. "We said you should be able to take time off for all things like that, if it is important to you."
Chen and the other co-chief residents created a coverage system with a cushion in case residents needed time off. "That improved the learning environment so that it did not feel so punishing," she said. "I think it was through this idea that staying in education meant that you could really change people's experiences as they progress through medicine and how they learned and how they trained."
Working Toward Evidence-Based Medical Education
One of the reasons Chen came to Georgetown was the opportunity to support the growth of medical education research among students and faculty. Medical students who are interested in learning more about academic medicine can pursue the Medical Education Research Scholar track, which exposes them to the scholarship of teaching and learning in a medical/clinical setting.
"I think what is challenging is that in medicine we talk a lot about practicing evidence-based medicine," Chen said. "Now, there is a whole body of literature and research behind education, but oftentimes people in medicine don't necessarily know that. So we often practice education that is not evidence-based."
The track was previously called the Medical Education Research track, Chen said. "The reason it is called the Medical Education Research Scholar track is that, even for people who go on to become teachers or curriculum developers, we want you to be scholars in your approach and we want you to practice evidence-based education, evidence-based teaching, evidence-based curriculum development."
Assessing Students with Entrustable Professional Activities
In her medical education research, Chen has studied entrustable professional activities (EPAs), which are one way to assess medical trainees' ability to integrate the different skills and knowledge. Under an EPA framework, those assessing learners focus on what tasks a learner should be able to do and whether they would entrust a learner to accomplish those tasks. For example, a hypothetical student training to become an obstetrician may have the skills to deliver a baby but if the same student frequently takes risks, doesn't follow rules and won't wash their hands or wear gloves, they shouldn't be entrusted, Chen explained.
Doctors already ask themselves whether students can be entrusted to complete a task, Chen said. "If my grandmother is going into the hospital, which doctor do you recommend?" she said. "It is not just who has the best ability. It is really about who do you trust to be able to take care of your grandmother in the right way."
Using an EPA framework may reduce grade inflation and help students receive more constructive feedback. The focus on supervision in an EPA framework may also improve patient safety. Moving toward an EPA framework won't change the new School of Medicine curriculum but it may identify gaps in the program, Chen said. "I think the EPAs will allow us to do assessments differently so we may assess the students differently," she added. "Hopefully, in a way that is easier for our faculty to use."
Promoting Professional Identity Formation
The new School of Medicine curriculum supports medical students through their professional identity formation, something very few medical schools are doing, Chen said. "As people come into the world of medicine and join the profession of medicine, then they evolve to become a physician," Chen said. "So their identity changes. Your identity changes from that of a layperson to a student to then a professional."
Part of professional identity formation involves helping medical students become more comfortable making mistakes and asking questions, which can be very difficult for medical students, many of whom are high achievers, Chen said. "You are here to learn so it is okay to make a mistake," she said. "We are here to support each other, to give each other feedback, to get better, and also no one is perfect. We are all going to make mistakes and that's OK."
Kat Zambon
GUMC Communications