HCMP Major Serves Community Through GERMS
Posted in GUMC Stories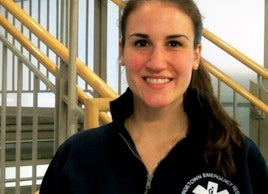 A senior health care management & policy major at the School of Nursing & Health Studies contributed to the recent presidential inauguration events through her leadership with GERMS – a student-run ambulance service at Georgetown.
Lauren Cournoyer (NHS'13), who directs operations for the 120-person organization, coordinated with the D.C. Fire and Emergency Medical Services Department to place a four-person GERMS crew and ambulance at the major event to help respond to incoming 911 calls.
"We had an ambulance with four student EMTs down on K Street at the end of the inaugural parade," says Cournoyer. "That is a big step forward for us as an EMS organization in the District."
Serving Others
Cournoyer, who grew up in Barrington, R.I., trained as an EMT – or emergency medical technician – the summer before she arrived at Georgetown.
That fall, she joined GERMS as a volunteer. "I really fell in love with it," she said. "I really think it's a great organization that allows you to fulfill that Jesuit ideal of men and women for others. On most weekends, I am not going to parties or social events. I am working to help serve the community."
During her junior year, she became a GERMS crew chief – the highest ranked medical position within the organization. Now she is the captain and responsible for directing the work of all of the crew chiefs. She is the third captain in the history of the organization and the first female to hold this position.
Developing Leaders
"I view my current role as fostering new leadership and bringing up younger members of the organization to carry on the ideas we have now and to continue serving the campus and broader Georgetown community," she says.
She notes that GERMS, which just celebrated its 30th anniversary, has really helped her understand the concepts she is learning in the classroom.
"What I've learned in GERMS has translated to the HCMP curriculum," Cournoyer says. "The best example would be Professor [Bernard] Horak's course on organizational theory and behavior. I was able to apply concepts and terms to what I was living and learning through GERMS, especially how to lead, manage, and communicate."
A Future in Medicine
Cournoyer says that the major has helped prepare her for a career in medicine.
For her senior-level internship, she worked within the Department of Surgery at MedStar Georgetown University Hospital – where she engaged issues of workforce engagement, quality of care, and performance improvement.
She also says the interdisciplinary nature of the program, which is housed in the Department of Health Systems Administration, allows students to bring different perspectives to the conversation.
"My classmates share consulting, health IT, and clinical perspectives," she says. "It's very enlightening. Having an interdisciplinary approach in the major and exposing us to many aspects of health care systems really benefit the students. There is so much complexity in the health care system, and everything is interdependent. So it's important to study all of it."
More About Cournoyer
Logged over 450 calls during her time with GERMS
Served as a resident assistant her junior year
Interned at Georgetown's Department of Emergency Management and Operational Continuity
Plans to attend a post-baccalaureate program to continue preparation for medical school
By Bill Cessato, NHS Communications
(Published February 06, 2013)