MAGIS Induction Ceremony Celebrates Excellence in Education
Posted in GUMC Stories
May 19, 2017 - While most commencement week activities at Georgetown celebrate students' achievements, the 15th annual MAGIS Society of Master Teachers induction ceremony recognized the accomplishments of faculty members, including the society's two newest members.
"On Sunday, we will graduate the 165th class from Georgetown University School of Medicine," said Stephen Ray Mitchell, MD, MBA, dean for medical education at the School of Medicine and a 2005 MAGIS Society inductee, at the May 18 ceremony in the Gorman Auditorium. "Tonight, we look back to honor those who trained them."
Mary Beth Martin, PhD, professor of oncology, and biochemistry and molecular & cellular biology,  and John Pahira, MD, professor of urology, were welcomed as the two newest members of the MAGIS Society, which honors physicians and biomedical scientists dedicated to the care of others and the health needs of society.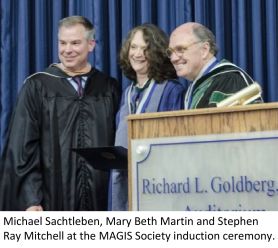 "The MAGIS Society was created to honor master teachers and to recognize their commitment to educating young physicians at Georgetown," said Michael Sachtleben, president of MedStar Georgetown University Hospital and senior vice president of MedStar Health. "In challenging yourselves and your students to deliver expert medical care and to do so with compassion and respect for human dignity in the Jesuit tradition of cura personalis, you, our faculty, make Georgetown a very special place to work, to teach, to learn and to receive care."
Additionally, faculty members were presented with the Kaiser Permanente Award, the 2017 Leonard Tow Humanism in Medicine Award and the 2017 CIRCLE Grants.  
"Tonight as we recognize our newest MAGIS inductees and faculty award winners, we honor them for being standard-bearers and role models in our education, for fostering intellectual curiosity and strategies for lifelong learning and very importantly, for being lifelong learners themselves," said Edward B. Healton, MD, MPH, vice president for health sciences at GUMC and executive dean of the medical school.
 
2017 Master Teachers
Mary Beth Martin, PhD
Professor, Oncology and Biochemistry and Molecular & Cellular Biology
John Pahira, MD
Professor, Urology
 
Kaiser Permanente Awards
Jessica Jones, PhD
Associate Professor, Biochemistry and Molecular & Cellular Biology
Deborah Topol, MD
Associate Professor, Medicine
 
The 2017 Leonard Tow Humanism in Medicine Award
Sarah Kureshi, MD
Assistant Professor, Family Medicine
 
2017 Circle Grants
"Build & Belong: Interventions for Reducing Georgetown Medical Students' Perceptions of Isolation & Stress by Improving A Sense of Belonging"
Susan Cheng, EdLD, MPP; David Taylor, MEd; Kristi Graves, PhD
"Pediatric Resuscitation Reinforcement with a Cognitive Aid"
Sangeeta Wood, MD; Autumn Graham, MD; JV Nable, MD
"Literature and Medicine Track Enhancement and Evaluation: Decreasing Burnout and Increasing Cognitive Empathy in Medical Students"
Daniel Marchalik, MD, MA; Mary Furlong, MD, MSc; Dennis Murphy, MD
 
Mother of Pearl Award
Joe Ferguson, MD
Department of Orthopedic Surgery
 
Kat Zambon
GUMC Communications