'Magical' School of Medicine Class of 2022 Celebrates at the White Coat Ceremony
Posted in GUMC Stories | Tagged School of Medicine
(August 9, 2018) — Friends and family members fanned themselves with programs as they waited in Gaston Hall for the magical moment when their loved ones would walk across the stage, receive their white coats and introduce themselves to the audience, officially joining the profession of medicine and the 167th class to enter Georgetown University School of Medicine.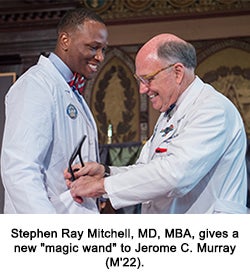 "In a magical room in a magical castle with long traditions, you are magical yourselves, Class of 2022," said Stephen Ray Mitchell, MD, MBA, dean for medical education at the School of Medicine, at the White Coat Ceremony on August 3. "In this magical room, we are driven by our Jesuit principle of cura personalis that drives the faculty towards formation of your whole person to the care of the whole patient with a wonderful team of partners along the way."
Those partners include the members of the learning societies. In addition to their white coats, incoming first-year medical students received pins indicating which of the five learning societies or families they will join for the next four years.
"You'll make the journey ahead with siblings in a long tradition of families," Mitchell said. "They will greet you on the stage. Never forget them. Stay with them. Work with them. Stick together."
Before the future doctors walked off the stage, Mitchell put stethoscopes ("magic wands") in the pocket of each student's white coat. "Listen to every heart within reach — normal, abnormal — and no one will rival your skill," he said.
Changing Demographics, Persistent Challenges
On of the most selective medical school classes in the country, the School of Medicine Class of 2022 is 51 percent women and 49 percent men, representing 34 states and more than 100 different colleges and universities, Mitchell said.
In contrast, when Donald Knowlan, MD, professor emeritus, began medical school in 1950, his class was all male. "We had grown up in the Great Depression and more than half of us had served in the military — World War II," Knowlan said during the Edmund Pellegrino Professionalism Lecture just before the coating began. "Imagine an anatomy lab partner who fought in the Battle of the Bulge or a classmate who, as a Marine fighter pilot, had fought the Japanese kamikazes in the Pacific."
While medical students' demographics have changed over time, the challenges first-year students face persist, and Knowlan encouraged the students to be patient with themselves when they struggle.
"The making of a physician is a long process, and we're naturally of course impatient to reach the end," he said. "So we need to be patient to what's forming within ourselves."
'Bring it on'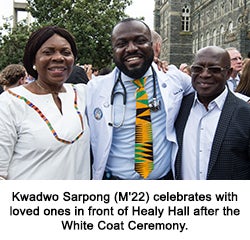 As the field of medicine becomes more personalized, it is more critical now than ever before that physicians dedicate themselves to their patients, Knowlan said.
"In this era of precision medicine, with its complex diagnostic and therapeutic decisions, specific patient-directed decisions, it will be your task to see that your patient receives the best specific care for their illness," he said. "Precision medicine will call for precision diagnosis by future physicians who will need to be strong patient advocates."
"Old-fashioned precision bedside medicine has been waiting for and is ready for precision medicine of the future," Knowlan added. "Bring it on."
Kat Zambon
GUMC Communications