At MedStar-Georgetown Symposium, Jones Discusses Taking Excellence in Medical Education to the Next Level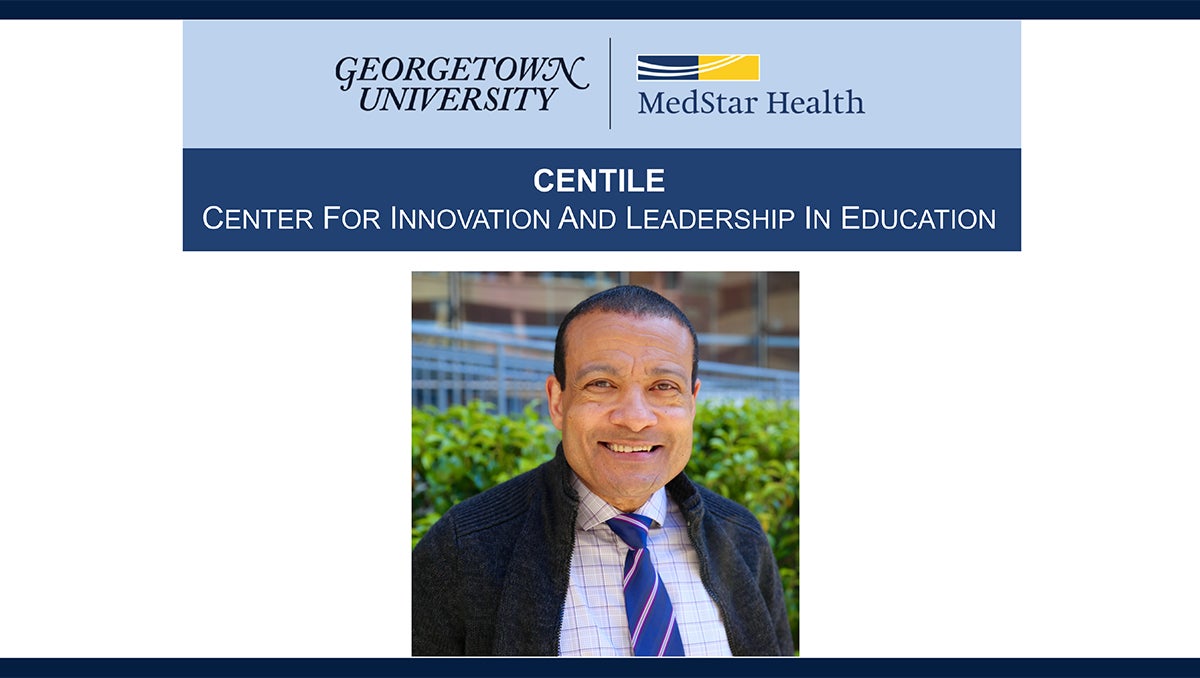 Posted in GUMC Stories | Tagged medical education, School of Medicine
(May 14, 2021) — Declaring that "uncertainty has been the only certainty" during the past year, Leon "Lee" Jones, MD, the new dean for medical education at Georgetown University School of Medicine, sees the COVID-19 pandemic as an important pivot point in his career.
"One of my favorite sayings is 'never waste a good crisis,' and that's a very positive spin on what this last year has been," he said. "I think this is a particularly wonderful opportunity to move forward."
Speaking at a May 11 virtual plenary session at the MedStar Health – Georgetown University Research Symposium, Jones spoke about his decision to come to Georgetown and how MedStar and Georgetown can continue building on their solid foundation of excellence in medical education.
"The MedStar network is phenomenal at training," Jones said. "But thinking about the four missions — education, research, clinical and service — and really being excited about how we could expand a lot of things there, it felt like I was ready to go to the next level. And you all are on such a solid foundation and were interested in going to the next level with the learning environment across the spectrum."
Helping Medical Students Maintain Compassion
Speaking to symposium attendees from northern California with his 200-pound mastiff snoring underfoot, Jones recalled an experience from his medical training. "I remember when I started medical school at Columbia, the then-dean said we were at our most compassionate, and by the time we finished medical training we would be less compassionate," he said.
Jones, drawn to Georgetown by its Jesuit values, wants to help medical students maintain their compassion for their patients and communities throughout their medical education. "Cura personalis is very, very important," he said. "It applies to how we teach, how we give care, how we care for each other and how we approach things, and I extend that to caring for the person and the community. And there are multiple communities hurting around the country now."
"My other thought is thinking about, what is it we want the Georgetown medical school graduate to be?" Jones said. "Who do we want them to be? We want them to have outstanding knowledge and really integrating not just biomedical, but also thinking about behavioral, social and health system sciences, thinking about grounding them in clinical context and the communities they will serve, being able to actively apply the vast fount of knowledge they will begin to get — and I emphasize, begin to get — during their four to six or seven years with us."
Supporting Student Well-Being
Concerns about medical students' well-being predate the pandemic, making it an even more critical topic today. "Well-being has been an issue," Jones said. "How do you address that? How do I know the students I'm working with are okay? They're starting to turn their cameras off because they have Zoom fatigue."
Building community among first-year students who have never met each other and supporting professional identity formation while students aren't interacting with each other were specific issues Jones mentioned.
"One of our biggest challenges, I think, is how do we support students in their growth but also teach them to be resilient and learn how to support themselves as they move forward," he said. "In all honesty, I need to figure out how to do that for myself sometimes. So we need to do that."
Kat Zambon
GUMC Communications