Junior Science and Humanities Symposium Brings High Schoolers to the Hilltop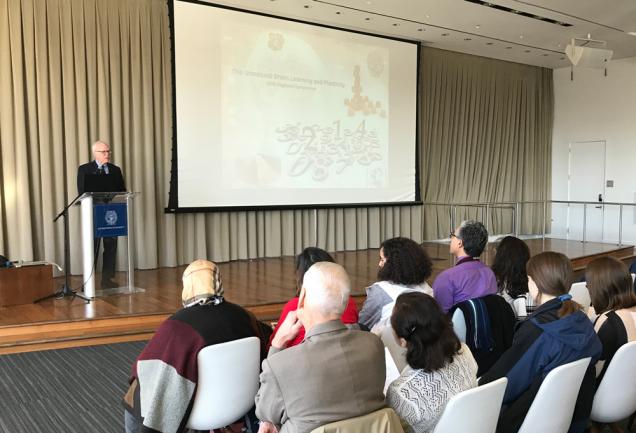 Posted in GUMC Stories | Tagged community outreach
(March 12, 2018) — While Georgetown students were on spring break, about 150 high school students and teachers from 26 local schools came to campus March 8 and 9 for the Junior Science and Humanities Symposium for the greater Washington metropolitan area. The symposium was coordinated by Andria Wisler, PhD, executive director of the Center for Social Justice Research, Teaching and Service and associate teaching professor in the program on justice and peace, and G. William Rebeck, PhD, professor of neuroscience.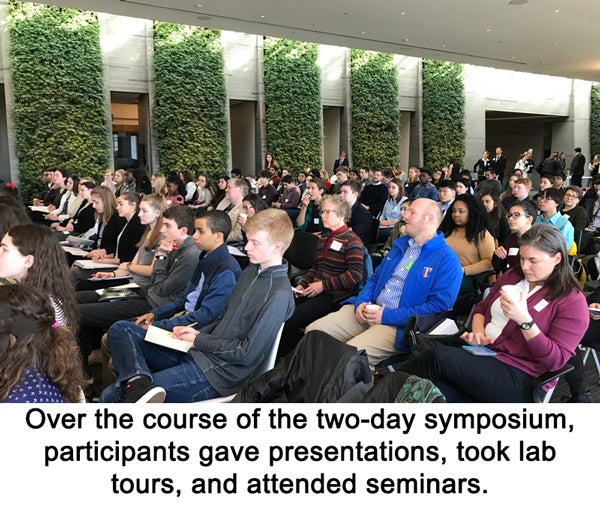 "On behalf of President DeGioia … and all of our senior leadership, I welcome you to Georgetown University and the 56th annual hosting of the regional symposium for the Junior Science and Humanities Symposium," Wisler said during opening remarks in the Healey Family Student Center. "There are not many things we can say that we've done for 56 years like this and I'm really proud to be part of this tradition."
Over the course of the two-day symposium, several student participants gave oral and poster presentations on a wide range of topics including land use and water quality, the antibiotic properties of essential oils, noninvasive glucose monitoring and more. Georgetown faculty and students gave lab tours, and seminars about evolution and the human diet, how the microbiome affects health and how to be an EMT in college.
"I know I speak for nearly 50 faculty and PhD students participating with us in the next two days when I tell you how special it is to be a part of this important milestone and experience in all of your young scientific careers," said Edward B. Healton, MD, MPH, executive vice president for health sciences and executive dean of Georgetown University School of Medicine.
"Maybe we'll see you back here at Georgetown …"
Reflecting on his time as a student at El Camino High School in Sacramento, Calif., Healton said he could picture the periodic table taped to the wall of his chemistry classroom. "Of course, in those years, back a ways, there were 17 fewer elements on that table," he said. "So there have been a lot of discoveries since then."
"I give great credit to my high school chemistry teacher who brought those elements to life and really created my beginning interest in science and in chemistry in particular," Healton added. "But I also credit separately my wonderful English teacher who taught me that the skills we learn outside of math and science are critical to being well-rounded and are necessary to excel in our fields of interests."
Expressing his gratitude for the teachers who made a difference for him throughout his education, Healton encouraged the students to thank the teachers who have made a difference in their lives and asked the teachers at the symposium to share how Georgetown can support their work in educating the next generation of college students.
"I hope you enjoy your time at Georgetown and I wish you great success in all of your endeavors following this week," Healton said. "Maybe we'll see you back here at Georgetown as one of our students and I certainly hope that's the case."
Kat Zambon
GUMC Communications