Jonklaas, Cooper Join MAGIS Society of Master Teachers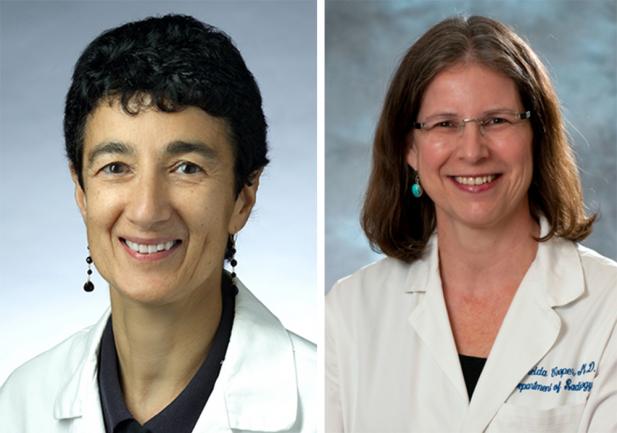 Posted in GUMC Stories | Tagged medical education, School of Medicine, university awards
(May 17, 2018) — Enjoying your subject matter so much that teaching becomes an exciting exchange of ideas is the common denominator for the two Georgetown University Medical Center educators being inducted into the MAGIS Society of Master Teachers on May 17.
The 16th Annual MAGIS Society Induction Ceremony marks the start of a week of celebrations on the Georgetown campus to honor both graduating students and their teachers.
The MAGIS Society of Master Teachers honors exceptional commitment to teaching, as Edward Healton, MD, MPH, executive vice president for health sciences and executive dean of the School of Medicine, said at last year's ceremony.
"We honor them for being the standard bearers and role models for education, for fostering intellectual curiosity and strategies for lifelong learners — and for being lifelong learners themselves," Healton said.
Sharing the joy of the "beautiful" loops
Jacqueline Jonklaas, MD, PhD, MPH, a professor in the endocrinology division, loves talking about endocrinology so much that she often teaches her patients about this "beautiful system" and is glad to pick up fresh ideas from the students she educates.
"Everyone who gets to know about endocrinology loves it," she says. "It has unifying systems that are both logical and complex. I am excited by the loops!"
The thyroid gland, she explains, releases hormones that regulate the metabolism of all organ systems — the brain, heart, reproductive organs, etc. — but the thyroid itself is regulated by pituitary gland hormones that are controlled by the hypothalamus in the brain. In turn, the hypothalamus is affected by various signals occurring within the body, such as stress, illness and so on. So diagnosing disorders often means teasing apart the various negative feedback loops and treating those issues.
In addition to her "local" teaching — Georgetown medical students, interns, residents and fellows — Jonklaas is involved in education on a national level. She helps develop endocrinology board exam questions and loves to participate in the "Meet the Professor" sessions at the national meetings of the Endocrine Society and the American Thyroid Association. She also led preparation of national guidelines for the treatment of hypothyroidism in 2014 — a condition she is expert in, as well as in thyroid cancer.
British born, Jonklaas graduated from Georgetown School of Medicine in 1993, and also completed her residency and fellowship training at Georgetown. She divides her time equally between research, teaching, and patient care — a mix she loves. "I can't resist sharing how basic science principles move into the clinical arena," she says. "I love to bridge the gap."
She views teaching as an exchange of ideas. "There isn't a distinct division between learner and teacher. It is a two-way street. I couldn't do research if I wasn't involved in teaching."
Jonklaas says being named as a MAGIS inductee "is a bit of a mind-blowing honor. There are so many good teachers at Georgetown — all of whom I love learning from."
Teaching the joys of diagnostic puzzles
Cirrelda Cooper, MD, may not recognize her repeat patients by their faces, but she sure knows them by their internal architecture. And she is just plain delighted when the residents she teaches experiences the same "I-know-you!" recognition.
Cooper, an expert in computerized axial tomography (CT) scan of the chest, abdomen, and pelvis, is a professor of radiology, as well as chief vice chair and co-chief of abdominal imaging. She "reads" a lot of CT scans every day and often works side-by-side with radiology residents who are developing expertise in analyzing CT scans and writing reports.
She teaches her students that "bodies vary a lot," she says. "Almost no one is completely 'normal.' Everyone has little variances and I know when I have read a patient before; I recognize a liver or a kidney. So I know what the inside of a patient looks like, but not the outside."
Cooper says the beauty of radiology is that "I often come across things I have never seen — unusual diseases, common diseases that look different."
She laughs at the incongruity and charm of it all. "People looking at what we do think we must be so bored. But I think it is like putting together a medical puzzle. We can figure out what problems a patient has and we can consult with other physicians — facilitate the people on the frontline taking care of patients."
Cooper graduated from Northwestern University Medical School in 1980, did her residency at the University of California hospitals and clinics, and her fellowship at Duke University Medical Center. She joined GUMC in 1989.
During her education, Cooper thought she would be one of those "frontline" caregivers, but found that taking care of patients was "difficult to do; my connection to people was very emotional." She found radiology, which she instantly loved. "It is what makes sense to me, and I know it is what makes sense to my residents.
"I take such satisfaction in teaching," Cooper says. "We start off each day in a huddle, where one person shows a thought-provoking case. Every day, we see things that are very interesting, that might be unusual or are so classic they offer great examples. There is always something to learn."
She admits to being "particularly shocked and touched" to be named a MAGIS inductee. "I always thought MAGIS Society teachers were drawn from people directly caring for patients. I am a facilitator, and so to be named is a huge honor."
Renee Twombly
GUMC Communications