From DC to Zambia and Back, Infectious Disease Expert Keeps Eye on "Big Questions"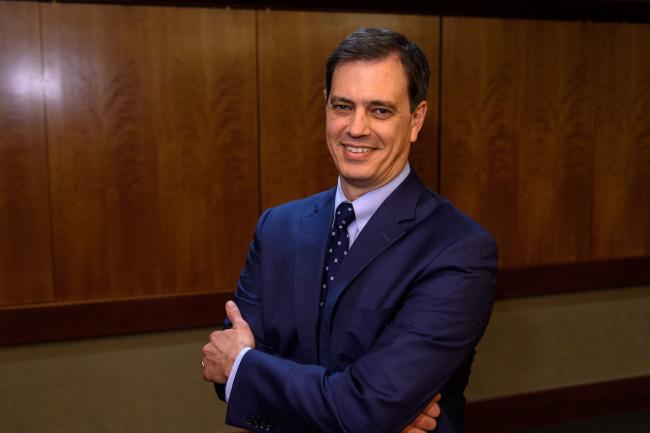 Posted in GUMC Stories | Tagged global health
(Jan. 31, 2018) — Charles Holmes, MD, MPH, has always been driven by what he calls the "big questions."
The infectious disease specialist's unconventional career path — ranging from clinician, to researcher, to high-level policymaker, to CEO of an implementing organization in Zambia — has made him somewhat difficult to pigeonhole.
But for Holmes, now inaugural faculty co-director for the new Center for Global Health and Quality (GHQ) at Georgetown University Medical Center and visiting associate professor of medicine at its School of Medicine, the common denominator and driving force has been tackling the big questions: How can the local and global health communities use data and evidence to deliver care more comprehensively and with greater quality? How can donor organizations best deploy their resources to maximize their impact and support a more sustainable response? How can we translate innovation and creativity at the local level into smarter health policy?
"I have enjoyed having had a balance of academia, applied work in the field, and government — I feel very privileged to have had this combination of experiences in my career so far," says Holmes, who came to Georgetown in mid-2017. "Everything that I've done, I've made the decision to do because I am trying to have as big an impact as I possibly can."
Creating Impact
Holmes is internationally recognized for his technical and policy leadership within the President's Emergency Plan for AIDS Relief (PEPFAR) initiative during both the Obama and Bush administrations, having spearheaded efforts to expand access to HIV treatment and prevention, and to gain efficiencies across the $6 billion program through better use of financial data.
It's at PEPFAR, where Holmes held the position of chief medical officer and deputy U.S. global AIDS coordinator, that he first worked with his GHQ faculty co-director Mark Dybul, MD (C'85, M'92). Dybul, who helped create PEPFAR, returned to Georgetown last year to launch the new center.
"Charles has always had an incredible intellectual curiosity, a pioneering spirit, and the ability to work through extraordinarily tough problems. This combination has served him well in the highest levels of policymaking, in his organizational leadership, and scholarship on the HIV epidemic and other global health issues," Dybul says.
Holmes is currently on leave from Johns Hopkins University, where he is associate professor of medicine and international health.
Prior to joining Georgetown, he decided to put his knowledge into practice in southern Africa — with his wife and young children. He served for four years as chief executive officer of the Centre for Infectious Disease Research in Zambia (CIDRZ), where he led a successful turnaround of the 1,000-person, $35 million organization.
Now, Holmes is a frequent adviser to donor organizations and multilaterals such as the World Health Organization, and is a member of CIDRZ's Board of Directors.
A Platform to 'Think Big'
Holmes sees Georgetown's GHQ as the ideal platform to draw on his experience to advance the center's mission: to transform the financing and delivery of health care in low-resource settings by combining evidence-based strategies with world-class data, business, and management practices.
"What I really appreciate about academia, and in particular what I've seen at Georgetown, is that you have breathing room to delve into issues and 'think big' about the solutions you might want to apply. It's an exciting platform for that kind of thinking," Holmes says.
Together with Dybul and GHQ Executive Director Susan Kim, JD, MPH, MBA, Holmes is looking to engage directly with countries and other stakeholders to facilitate better use of data and evidence, more efficient dissemination of information, and more expedient translation of innovation into policy.
In addition, Holmes values his interactions with students, trainees, fellows, and other faculty members. "Universities play an important role in bringing along the next generation. We have a responsibility to provide trainees with the tools and support to make the next great breakthroughs in global health and development."
Social Justice Roots
Holmes' interest in this type of work began with his parents, whom he credits with modeling involvement with a variety of public health and higher education issues in their Michigan community and beyond.
"Their early influences gave me a basic frame of trying to use my skills to be helpful and to serve others," Holmes says.
While pursuing his bachelor's degree in biology at Kalamazoo College in Kalamazoo, Michigan, Holmes lived with a Nicaraguan family on a coffee cooperative and volunteered in a nearby clinic, assisting with vaccination campaigns in remote jungle areas.
"I got to see there what it means to be exceptionally poor [financially], but exceptionally rich in other ways. This family always insisted on giving me the egg for breakfast early in the day when they clearly didn't have much. Their generosity and their struggles have in so many ways been an inspiration to me over the years," he says.
Just a few years later, while pursuing his master's in public health at the University of Michigan, Holmes did an internship with the World Health Organization's (WHO) Global Tuberculosis (TB) Program in Geneva, Switzerland. This would prove to be a turning point for him, fueled in large part by mentorship from Paul Nunn, MA, FRCP, a leading TB researcher who was then head of WHO's TB Research and Surveillance Unit.
"I was introduced to global health and development at that point," Holmes says.
Holmes further delved into health policy during his residency and fellowship at Harvard, where, mentored by Kenneth Freedberg, MD, and colleagues, he studied questions around the tradeoffs between costs and health outcomes that have remained areas of central interest throughout his career.
Africa Calling
Holmes' four-year stint in Zambia was not the first time he lived on the continent. While in medical school at Wayne State University School of Medicine in Detroit, he and his wife spent several months in Malawi, where he delivered inpatient care. He later returned to Malawi as a resident at Harvard.
"[My wife and I] always said that if we had the opportunity, we would go back to the region for an extended period of time with our family, spend time in a country, get to understand another culture, and see if we could add something," he says.
So when the CIDRZ CEO position in Zambia came up, he and his wife knew what to do.
"It would have been a missed opportunity if I hadn't spent this time living and working on the frontlines of the global HIV response.
"While I felt I had a lot to bring from my years at PEPFAR, I was on a steep learning curve culturally. I learned a lot from my superb staff and CIDRZ board of directors that allowed me to be effective in that environment," Holmes says.
Those years in Zambia also cemented his appreciation for the depth of skills, talent, and capacity in that country, in the face of limited resources and systemic health care challenges.
"I worked with very fine and committed clinicians, managers, scientists and political folks who cared deeply about their programs and wanted to end the HIV and TB epidemics and annual cholera outbreaks, stop Ebola in its tracks, and prevent and manage non-communicable diseases," he says.
Now at Georgetown, the big questions persist.
"The exciting thing now is that I get to take that experience, which is deeply ingrained in my bones, and think about how to apply it. We're fortunate to have at our disposal an unprecedented set of tools to improve health. I hope through our work that we can develop smarter and more sustainable approaches to delivery, financing, and policy that will result in greater public health impact."
Lauren Wolkoff
GUMC Communications