Inaugural Bergeron Lecturer Illuminates Research on Stroke Recovery
Posted in GUMC Stories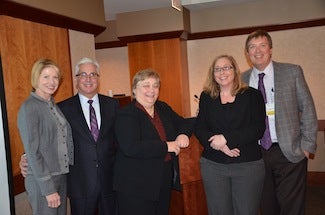 Georgetown University Medical Center (GUMC) faculty and students, researchers from MedStar National Rehabilitation Network (MedStar NRH) and interested community members heard Theresa Jones, PhD (new window), describe exciting research about post-stroke recovery and rehabilitation during the Inaugural George Bergeron Lecture in Neuroscience on Nov. 20.
Jones, professor of psychology at The University of Texas at Austin, is the inaugural George Bergeron Visiting Scholar in Neuroscience, a position supported by the George Bergeron Endowed Professorship in Neuroscience Fund. Doug and Sandra Bergeron created this fund with a generous gift to GUMC in 2012.
"We are incredibly grateful to the Bergeron family for their gift, and to our visitor Theresa Jones, whose work provides fundamental insights into the responses of the brain to injury and the mechanisms we can employ in enhancing recovery," Elissa Newport, PhD (new window), says.
Newport, professor of neurology at GUMC, directs the Center for Brain Plasticity and Recovery (new window). Alexander Dromerick, MD (new window), chair of physical medicine and rehabilitation at GUMC and vice president for research at MedStar NRH, is the Center's co-director.
Jones' research aims to understand brain plasticity and connectivity in animals following brain damage. Her findings indicate that the brain's response to damage depends in part upon behavioral changes the animal makes following injury, including behaviors that compensate for lost or impaired functions. Her work has important implications for patients who have suffered strokes.
The Bergeron family's generous support is in memory of Douglas' father, George, who was diagnosed with multiple sclerosis (MS) in 1973 at the age of 37. He lived with MS for the next 25 years, eventually succumbing to the disease in 1999.
Doug and Sandra Bergeron, along with Doug's mother, Eleanor, sister Colette Elias and daughter Genève (C'10, G'12) attended the lecture as well.
"I was very impressed by the work that Dr. Jones presented. I know my father would be thrilled to see this kind of progress in the search for knowledge about disabling brain disorders — and hopefully some day, cures," Bergeron said.
As a visiting scholar, Jones will conduct research at GUMC in 2014. In her concluding remarks, she cited the unusual nature of the work being conducted at the Center for Brain Plasticity and Recovery.
The Center's unique interdisciplinary approach is harnessing the neuroscience strenths at Georgetown and MedStar NRH, combining research on the plasticity of the brain with clinical research in patients to combat neurological diseases and disorders.
"It is truly wonderful that I will be able to spend more time here next semester, and I'm very grateful to the Bergerons for supporting us," Jones said.
Todd Bentsen, GUMC Communications
(Published November 22, 2013)