In Their Own Words
Posted in GUMC Stories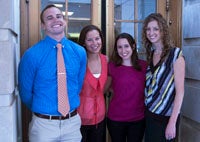 On May 20, 193 medical students will graduate from the Georgetown University School of Medicine. Of the group, nine have chosen to become family medicine practitioners, and will soon be off to residency programs from the west coast to the east coast, from north to south, at urban and rural locations. In their own words, five of these new doctors respond to why they chose to become the givers of primary care ⎯ at a time when the field is under stress due to factors such as the mismatch of the high cost of medical training and the relatively low compensation for services. While some have found innovative ways to help pay for their education, these doctors say serving those in most need ⎯ and providing ways to prevent disease ⎯ provides the real rewards.
Allison Unruh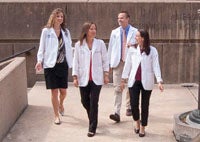 "…my motivation for becoming a physician had very little to do with all the external motivators which seemed to constitute most people's pro/con list[s]. My intrigue with the field of medicine began as I saw a place where beauty and suffering met, poverty and wealth lost their significance, and hope was found amidst human suffering.
"In family medicine, I saw a career in which advocating for the poor and bringing wholeness to those in distress regardless of their socioeconomic circumstance was a part of the job description!
"The amount of debt I incurred through medical school certainly placed reality on the importance of my anticipated salary, but I'd rather do what I love and resonate with my passion than be compensated in such a way where doctoring could eventually fade from a calling to work.
"Thankfully, the government has instituted a public service loan forgiveness program which answered this question perfectly for me."
Allison Unruh will join the residency program at Providence Milwaukie Hospital, Milwaukie, Oregon.
Brian Ford
"For me, family [practice] is the only specialty that allows me to see all ages of patients and pathology across all systems. There is no group of people I could ever imagine not seeing. I love taking care of kids and playing with them, I love the complexity of elderly people, I love delivering babies, and I love adult internal medicine.
"…not only does a family doctor take care of a single patient, they take care of the larger social unit that a person is involved in, a very important consideration that often gets neglected in clinical practice.
"I think that prevention is the most underused tool of the medical practice.
"I think that family doctors are trained to intervene at the individual level, the family level, as well as the societal level. As someone who wants to help the most amount of people that I can, the best I can, it is essential that my training involve intervention strategies at each of these levels.
"I chose to join the Navy because I want the opportunity to serve those who so bravely serve our country.
"Going to a private institution such as Georgetown and wanting to go into primary care is not an easy path to take. I joined the Navy to help defer some of the costs of my education, and to participate in their excellent family medicine training programs."
Brian Ford will join the residency program at Navy Hospital Camp Pendleton, California.
Shoshana Aleinkoff
"I always knew I wanted to provide medical care to underserved communities. At the end of my clinical rotations, work in Africa and a leadership role at the HOYA free clinic, it became clear to me that the physician best able to serve these underserved communities was a family physician: one who could evaluate a teen patient in labor, who could bandage the wounds of an IV drug user, who could manage a patient with severe depression, who could start a chronic smoker on a smoking cessation program, and who could conduct a four-week-old well baby exam.
"I chose Swedish Cherry Hill residency program because of the mission of the program to train physicians to provide full spectrum care for the underserved.
"At Swedish I will get to take care of refugee patients and Spanish speaking patients, two patient populations I am very interested in serving."
Shoshana Aleinkoff will join the residency program at Swedish Cherry Hill, Seattle, Washington.
Christine Marschilok
"Some people enter into medical school knowing they want to do orthopedic surgery or pediatrics; I had no idea. It wasn't until half way through my third year of medical school that I had the idea of going into a primary care specialty. I was on a vascular surgery rotation, watching multiple sick patients undergo the knife to have their arteries scooped out, only to have their plaques accumulate again. At this point, we were trying to prevent the late, end-stage complications of the common diseases that plague Americans, for example hypertension, high cholesterol, and diabetes. This type of care is important, preventing complications of disease and prolonging lives, but it will not improve America's overall health. Primary prevention – preventing diseases from occurring – is what will.
"As a country, we cannot continue down the same trajectory of unhealthy lifestyle[s] leading to chronic diseases, astronomical medical spending, and poor quality of life. We also cannot let our children grow up where health isn't a priority. This is what I want to dedicate my life to – promoting health from birth to death, bettering individual and population health, and improving quality of life, one patient at a time.
"So, could I have gone into a more 'lucrative' specialty? Sure. I worked my derriere off in medical school to be able to have a choice in my career. But I cannot think of a more worthwhile and rewarding specialty than family medicine."
Christine Marschilok will join the residency program at Thomas Jefferson Family and Community Medicine Residency Program, Philadelphia, Pennsylvania.
Emily Lawson
Family medicine combines "my interests in clinical medicine and public health. I also believe strongly in the value and importance of primary care, and I believe in many ways, physicians trained in family medicine are ideal primary care providers."
Emily Lawson will join the residency program at Via Christi Health in Wichita, Kansas
(Published May 16, 2012)