Hyundai Hope on Wheels Funds Lombardi Research on Rare Childhood Cancer
Posted in GUMC Stories
September 18, 2017 — On Wednesday morning, a white Hyundai covered in multicolored handprints arrived outside of Georgetown Lombardi Comprehensive Cancer Center. With it came a $250,000 grant for childhood cancer research, awarded to Todd Waldman, MD, PhD.
Hyundai Hope on Wheels, a national nonprofit organization backed by over 800 auto dealers, receives a portion of the proceeds for every Hyundai car sold and passes those funds along to childhood cancer research. During Childhood Cancer Awareness month, Hope on Wheels goes on a national tour, delivering checks to researchers.
Over the years, the organization has donated $1.3 million to Georgetown Lombardi research. This year, Waldman, a professor of molecular oncology, was one of 40 researchers across the country to receive a grant.
"These funds allows us to generate the kind of data that will allow for large research programs to develop," said Louis M. Weiner, MD, director of Georgetown Lombardi. "And for this we are very, very grateful."
A Pivotal Discovery  
As a cancer geneticist, Waldman's job is to identify new genes that cause cancer.
"We were initially looking for genes involved in brain cancer, and we found a gene called STAG2," said Waldman. "Soon thereafter we learned that STAG2 was really important for a rare pediatric bone cancer called Ewing sarcoma."
The Hyundai Hope on Wheels grant will allow Waldman to better understand the role of STAG2 in Ewing sarcoma.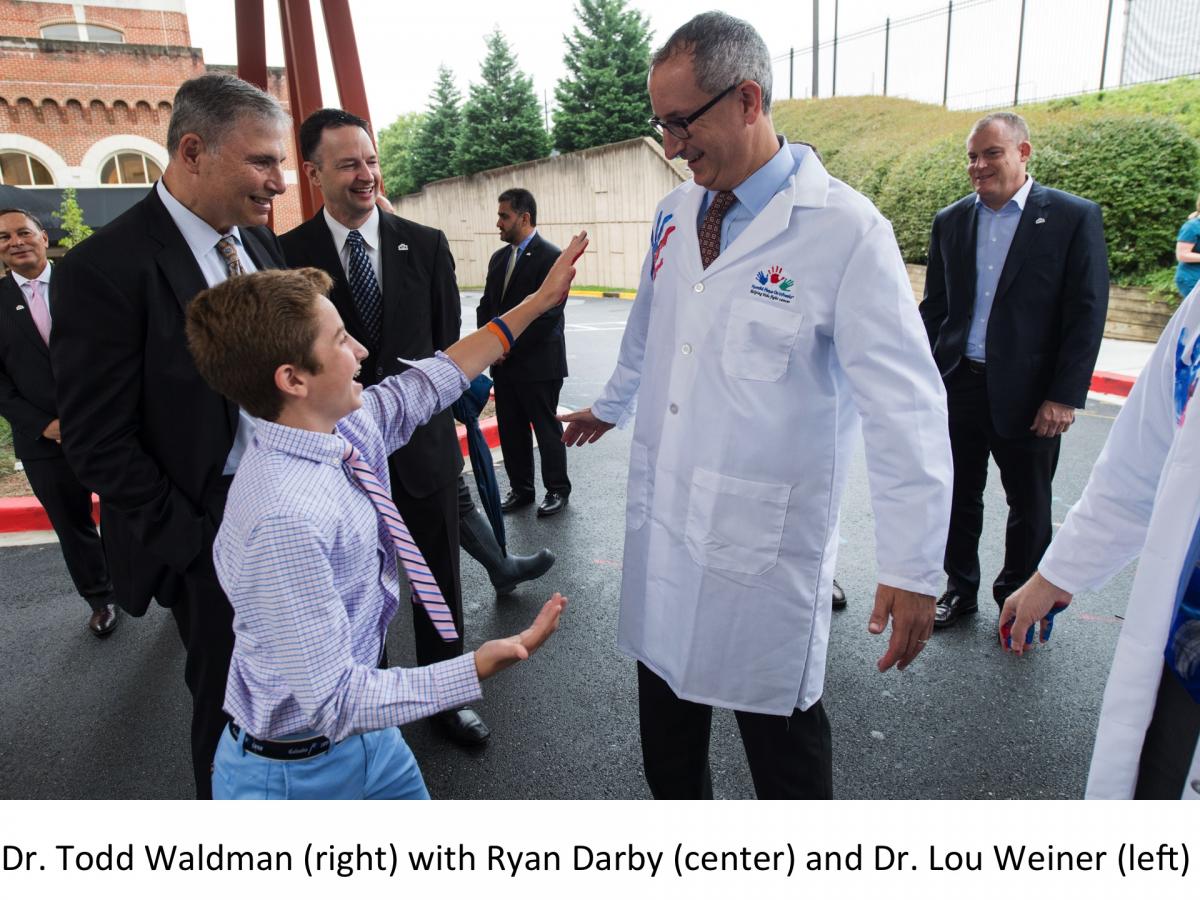 "We're hoping that by understanding STAG2, we may be able to come up with some better therapies," said Waldman. "Without this support we simply couldn't do this kind of work."
Living Proof
As a National Youth Ambassador for Hyundai Hope on Wheels, fourteen-year-old Ryan Darby has told his story countless times to raise awareness and funds for childhood cancer. Darby is a Leukemia survivor.
"Cancer taught me to never give up," said Darby. "Pediatric cancer is a disease, that if we fight together, we will beat."
After speaking at the ceremony, Darby added his handprint to the white Hyundai, a gesture that symbolizes every pediatric cancer patient's unique story.
Leigh Ann Sham
GUMC Communications