HSA Graduate Serves as Hospital CEO
Posted in GUMC Stories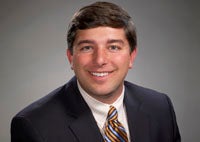 Health systems administration alumnus Thomas Mullin (G'08) credits the graduate program's faculty and residency experience with helping prepare him for his current role as CEO of a long-term acute care facility.
Mullin leads Select Specialty Hospital of Central Pennsylvania, a 38-bed public hospital in Harrisburg that is part of a group of 110 facilities across the United States.
"Georgetown's faculty gave me the classroom experience I needed, and my residency at National Rehabilitation Hospital prepared me to be an administrator in a hospital setting," said Mullin, who is the youngest CEO across Select Medical's nationwide network of long-term acute care hospitals.
A Rewarding Position
Mullin said that the vast majority of patients in his hospital come directly from intensive care units to recover from life-threatening conditions.
Because the hospital is relatively small, Mullin has adopted a hands-on approach, often forming relationships with patients and their families. He said that watching acutely ill patients recover is the best part of his job.
"I see patients come in on ventilators, on critical care drips, or in a coma," he said. "A month later, I often see them sitting in a chair and speaking to family members for the first time in months. Once the patients get better, they will often visit us and say how we helped save their lives. That's what is really rewarding about this position."
Building a Career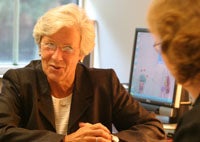 Before beginning his graduate work at Georgetown, Mullin interned within the Select Medical network. That is when his desire to work in long-term acute care began.
"If I hadn't done my internship, I wouldn't have known about opportunities in this field," he said.
At Georgetown, Mullin gained the classroom knowledge and hands-on experience to succeed in his leadership role.
He pointed to the departmental faculty – a number of whom work or have worked in hospital administrative roles – as a major highlight of the program and specifically cited M.J. Mastorovich, assistant professor and former chief nurse executive of Inova Health System.
"What really resonated with me at Georgetown is a lot of the professors were in executive positions at hospitals and had real-life stories, good and bad, to share," he said. "That stuck with me."
Upon graduation, Mullin became chief operating officer of his current hospital, and this position led to his current role. As COO, Mullin went through all of the state and federal regulatory requirements, which led to the hospital's opening in 2008.
Advice to Students
Mullin noted that the program's location in Washington, D.C., provides students with access to the many different types of organizations that make up and influence health care.
"There are lots of great opportunities for Georgetown graduates to get the operational experience they're looking for," he said. "Students need to take time to research what is out there to make sure it aligns with their future goals."
He cited a range of possibilities – everything from long- and short-term acute care facilities and home health agencies, to lobbying organizations and the federal government.
"You can get as well rounded of an experience at Georgetown as you seek out because it's all there in the city," Mullin said. "I have no regrets about choosing Georgetown for my graduate program. It was an invaluable experience."
By Bill Cessato, NHS Communications
(Published January 18, 2012)