HOYA Clinic Serves DC Residents in New Location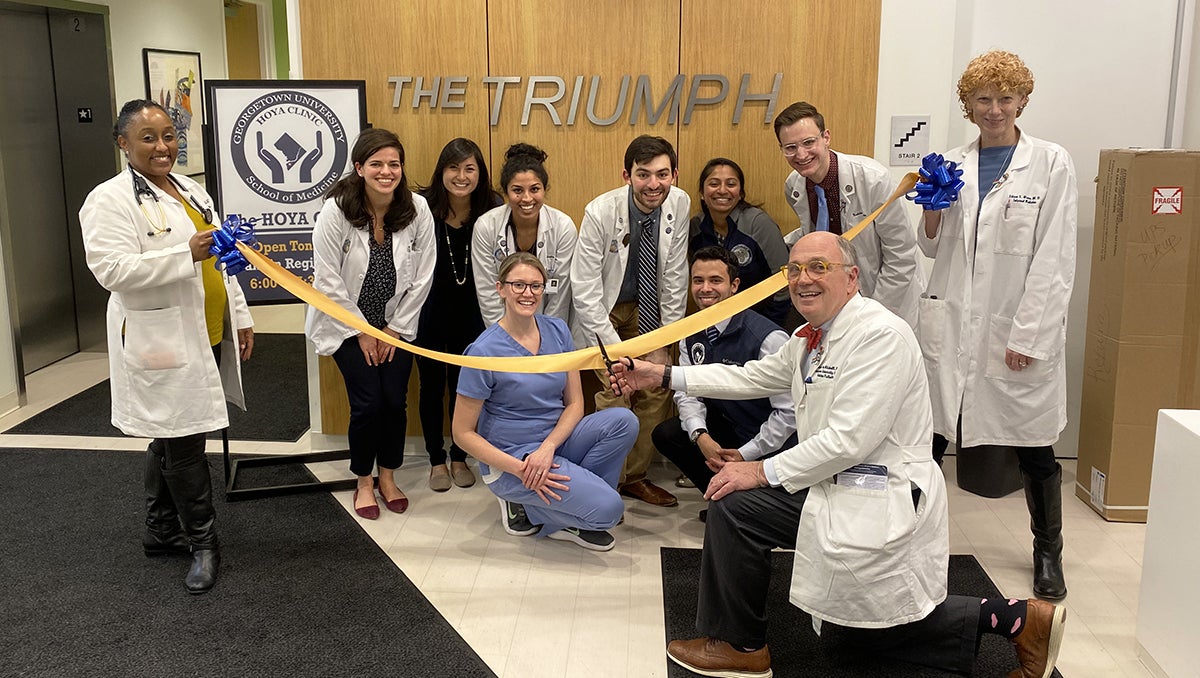 Posted in GUMC Stories | Tagged community outreach, cura personalis, health disparities, health equity, HOYA Clinic, School of Medicine, service to others
(January 3, 2020) — The lobby of The Triumph, Community of Hope's new temporary housing site in the Congress Heights neighborhood of Washington, DC, was buzzing with commotion as residents waited to get care.
It has only been a few months since the reopening of Georgetown University School of Medicine's HOYA Clinic, a student-driven free clinic in DC, but the residents of The Triumph already recognize Georgetown's student and faculty volunteers.
"Every Tuesday night, come hell or high water, we're here," said Eileen Moore, MD, medical director of the HOYA Clinic and associate dean for community education and advocacy at the School of Medicine.
"People are starting to get it, the word is spreading," she added. "We're beginning to get patients coming back to see us."
The HOYA Clinic had been serving patients at the DC General Family Shelter since its establishment in 2007 until the shelter closed its doors in October 2018.
With the closing of the shelter also came the need for the HOYA Clinic to relocate.
Transitioning to The Triumph
After several months of writing grant applications, filing a certificate of need and coordinating with the city, the HOYA Clinic reopened at The Triumph on September 17, 2019.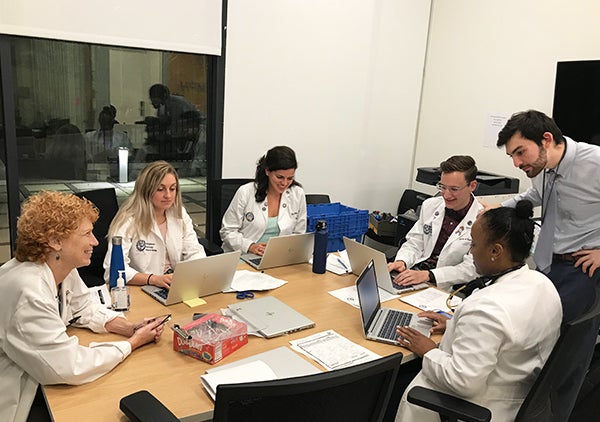 "It's safe to say that we've survived our own bout of homelessness, in a way, as a homeless clinic," said Moore.
The Triumph, a short-term family housing unit, is home to about 50 families and has only one exam room. Compared to DC General's five exam rooms, the coordinators faced a unique challenge: how to create an efficient clinic flow.
Nick Bader (M'22), one of the eight clinic coordinators, said that keeping the patient experience in mind was key to creating a successful plan.
"Throughout the process, I was cognizant of how the actual patient would be experiencing the clinic," he said. "Are they being seen on time? Do they have enough time with the provider? Are they seeing a seamless clinic flow? I think that continuing this way of thinking will only help me as a physician."
Students Step Up to Serve
While the clinic is back on track, the transition was not insignificant, especially for medical students in their preclinical years.
"The students have handled every single portion of this transition," Moore said. "They are truly the ones who made this reopening happen."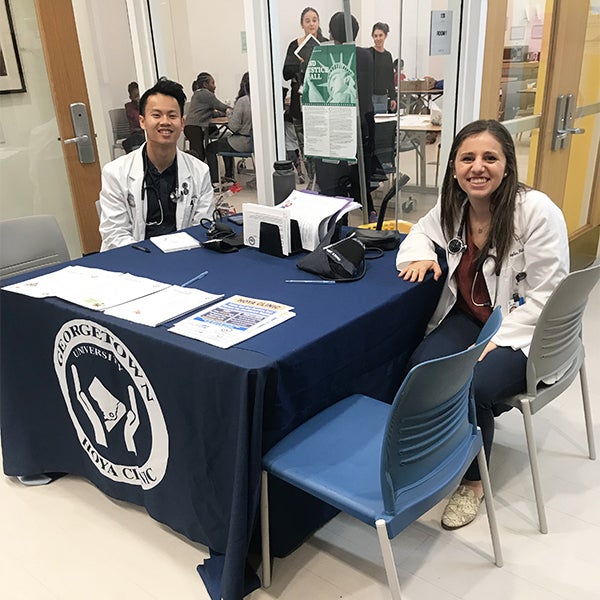 "When they say that HOYA Clinic is a student-run clinic, they mean it," said clinic coordinator Anjani Kapadia (M'22). "It was a lot of teamwork."
With students at the helm, the HOYA Clinic family continues to grow, attracting students interested in social justice.
After working in a similar clinic during her undergraduate years, Julianne Kiene (M'23), an upcoming clinic coordinator, chose to attend Georgetown for its social justice mission. Her call to work with underserved communities also stems from personal experience.
"I grew up in a small town and doctors weren't really accessible," she said. "When you live in an impoverished, rural community, there aren't many places to go. It's like a double-edged sword: people don't have money and don't have doctors. So I'm very passionate about working with underserved populations."
The Hope to Reach More People
While the HOYA Clinic has found a new home at The Triumph, Moore is always thinking about ways the clinic can evolve to serve even more members of the community.
Her ideas include a mobile clinic and partnering with health centers offering long-term care, such as the Community of Hope's Conway Health and Resource Center. The plan is to continue expanding HOYA's services in several ways — "a multidirectional and intentional expansion," she said.
As the clinic continues to evolve, it's clear that one thing remains the same: the dedication Georgetown students have to the DC community.
"There's a magical interaction that happens when you take a bright, eager Georgetown student, with a social justice mission deep in their heart, and a patient living in suboptimal circumstances, and put them together in a room," Moore said.
"The patient knows that the person really cares to be there with them. They can feel that — and that's a wonderful chemistry we have to keep alive."
---
Related Stories