Healthy Aging Symposium Promotes Collaboration Across Disciplines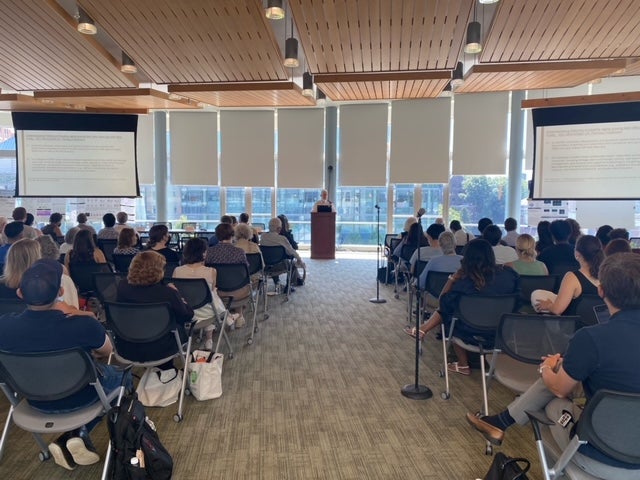 Posted in GUMC Stories | Tagged aging
(July 22, 2022) — With more than 300 registrants in person and via Zoom, the first annual Healthy Aging Symposium at Georgetown brought together students, faculty, researchers and those who work in the field of aging for panel discussions, poster presentations and networking.
The July 14 symposium took place in the Fisher Colloquium at Georgetown's McDonough School of Business and was sponsored by the GUMC Center for Healthy Aging, the Georgetown Lombardi Institute for Cancer and Aging Research, the Georgetown Aging & Health Program, and the Aging and Alzheimer's Research Training Program.
"Georgetown is undergoing an expansion of research emphasis into diseases and disorders that impact our aging population in addition to educational opportunities in this field," said Moshe Levi, MD, Georgetown's dean for research and director of the Center for Healthy Aging. "Together, the centers and programs represented at the symposium represent tremendous opportunities for collaboration."
"Attendees came because they all share our belief that maximizing health as we age is possible and necessary, and recognize that we are facing a worldwide crisis of aging societies," said Jeanne Mandelblatt, MD, MPH, professor of oncology and medicine, and director of the Georgetown Lombardi Institute for Cancer and Aging Research.
"This challenge won't be met by traditional mechanisms and silos," Mandelblatt added. "True solutions rest in coming together to collectively address all aspects of aging."
"Something for Everyone"
The symposium's attendance, both virtual and in person, was especially gratifying for organizers. "The large turnout demonstrates the wide interest in the general subject of aging, including those in early to mid-career stages," said Ken Kellar, PhD, professor and chair of the department of pharmacology & physiology, a member of the Center for Healthy Aging.
The attendees also reflected the multidisciplinary nature of the field of aging with participants from students to seasoned faculty from departments including biology, pharmacology & physiology, linguistics, law, business, public policy, theology and more.
"It was exciting to see the people doing research at Georgetown, including the basic research, the clinical and translational science and the policy side of it," said Pamela Saunders, PhD, associate professor of neurology and director of the aging & health master's degree program. "That was really important to me, to see the range of research and all different aspects at the table."
As an organizer, Saunders ensured the panelists approached the discussions from a variety of perspectives. "We designed the panels to be inherently interdisciplinary," she said. "People were uncertain of how to talk to each other and make connections at first but I think they really learned from one another."
Learning from presenters in different disciplines was a highlight for Levi. "I'll say about 75% of the meeting was different from what I do," he said. "The meeting had something for everyone. It was all inclusive."
"There were great questions for the speakers and panelists, and there was an amazing hum of conversation between sessions in the hallways and around the posters,"  said G. William Rebeck, PhD, professor of neuroscience and a member of the Center for Healthy Aging.
Continuing the Conversation
Highlighting Georgetown's innovative research on aging was a goal for symposium organizers.
"I really see our center as bridging from bench to bedside and from bedside to the community," Saunders said about the Center for Healthy Aging. "This is an opportunity for people from across the university and our community to communicate, talk with one another and collaborate."
"I hope people are now imagining new things that the Center can accomplish, both at Georgetown and in the community, and that they will become active in the Center," Rebeck said.
All of the organizers said they were looking forward to hosting a similar event in the future and each of the co-sponsoring entities will have regular ongoing events.
Learn more about the Center for Healthy Aging.
"There is so much important work being done across disciplines in the area of aging," Rebeck added. "We need to continue to come together to address the needs of our aging community."
Kat Zambon
GUMC Communications