Health Disparities Initiative Launched
Posted in GUMC Stories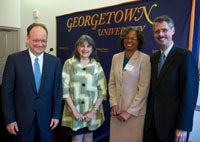 The university today launched the Georgetown Initiative to Reduce Health Disparities designed to identify, reduce and ultimately eliminate health and health care disparities by conducting interdisciplinary research and providing education and community engagement. 

Two Georgetown scholars noted for their expertise in the field – Lucile Adams-Campbell, Ph.D., and Phyllis Magrab, Ph.D., will serve as co-chairs of the initiative.
"What's important to understand about our initiative is that we're not just focusing on race and demographics," Magrab said in a ceremony in which President John J. DeGioia, Ph.D., announced the initiative. "It's also about gender, age, disabilities and a whole range of individuals who are subject to disparate levels of care – this touches a lot of people in this country."
Interdisciplinary Platform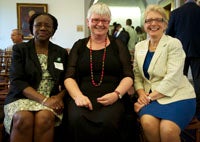 Adams-Campbell is an epidemiologist and expert on health disparities who serves as associate director of minority health and disparities at Georgetown Lombardi Comprehensive Cancer Center. Magrab is a well-known pediatric psychologist who directs the Georgetown University Center for Child and Human Development (GUCCHD).
"When you look across the whole spectrum of health disparities centers in the country, you don't see it university-wide, so this is a different platform that we are starting," said Adams-Campbell, speaking of the interdisciplinary aspect of the initiative.
The initiative defines a health disparity as "any inequity of treatment or services that may based on ethnicity, gender, physical or mental disability, occupation, geography, age or educational level. It may also refer to differences in health conditions attributed to environment, or other social issues – such as poverty – that create inequality." 

The university-wide effort is expected to enhance current programs and resources and attract additional outside funding to support future work in the field.
Serving the Community
Three proposals have been chosen as interdisciplinary pilot projects.
One of the projects will create a Multidisciplinary Diabetes Education and Medication Therapy Management Service involving faculty from the Medical Center and the College and the existing HOYA Clinic in Southeast D.C.
Another project will fund the development of a Georgetown domestic and global health disparities course, while a third provides funds to develop a research agenda through participatory action research with immigrant youth in Washington, D.C.
"We're always striving to enact and imagine how we can best serve this mission and integrate this value into the life of the community," DeGioia said. "This initiative to reduce health disparities models this effort. It's driven by the interest and expertise of our community, and it's animated by the principles of service and social justice."
Deliverable and Meaningful
Howard Federoff, M.D., Ph.D., Georgetown's executive vice president for health sciences, said health disparities are just as much a problem nationally as it is for Washington, D.C.
He said that roughly 48 percent of African-American adults have a chronic disease, a seven-fold greater incidence of HIV infection and higher rates of diabetes.
"[The initiative] has a real potential to do something that is deliverable, meaningful, and which can be measured locally, nationally and maybe globally," Federoff said.
For Adams-Campbell, the effort is a dream true.
She said she came to Georgetown in 2008 "in hopes of doing exactly what we are doing today – launching a university wide platform for reducing health disparities."
(Published April 17, 2012)