GUMC Staff/AAP Caucus: A Voice for GUMC's Staff and AAPs
Posted in GUMC Stories | Tagged diversity, Staff/AAP
(November 6, 2020) — Never before the COVID-19 pandemic has the Staff and Academic and Administrative Professionals (AAP) Advisory Council, which includes representatives of the staff and AAPs of the medical center, played such a crucial role for Georgetown University employees.
Established in 2011, the Staff/AAP Advisory Council represents staff and AAPs in discussions with university leadership. Since March, those conversations have centered on the enormous work changes at Georgetown University created by the pandemic.
Council Composition
Thirty-one members make up the Staff/AAP Advisory Council, representing Georgetown's five campuses: main campus, law center, medical center, university services and GU-Qatar. Seven advisory council members represent the medical center caucus:
Alexis Ahmad, director of clinical trials, Department of Neurology (term ends 2022)
Afton Boles, health justice administrator, Health Justice Alliance (term ends 2021)
Venishea Butler, director, budgeting & analysis, Medical Center Finance (term ends 2021)
James Granlund, Jr., director of facilities management, Medical Center Operations (term ends 2022)
Mesky Lloyd, director of student research, School of Medicine (term ends 2021)
Isela Melendez-Carpio, director of diversity and inclusion, Office of Diversity, Equity and Inclusion, School of Medicine (term ends 2022)
Jasmine Rogers, director of finance and administration, School of Medicine (term ends 2021)
Following the September election, Jasmine Rogers was selected to lead the medical center caucus, replacing Karen Bokoski, faculty development coordinator, whose term ended September 30.
"The point of the council is to represent the interests of staff/AAP," Rogers said. "It's really important for us to be able to express the concerns that staff/AAP have. We're here to be able to affirm their concerns and also bring them up to leadership."
Making Staff/AAP Voices Heard
After nearly 10 years of working at GUMC, Rogers learned firsthand the benefit of staff members working together to make their voices heard. A recent example was the effort to have the university recognize Juneteenth, a date that commemorates the end of slavery and the freeing of more than 250,000 enslaved Black people in Texas in 1865.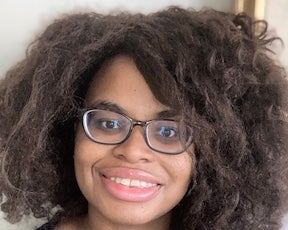 She decided to speak up on behalf of her like-minded medical center colleagues by reaching out directly to Georgetown University President John J. DeGioia, joining others who requested the university acknowledge the important date.
Rogers said she was surprised when the university not only recognized Juneteenth, but also designated it a university holiday.
"I wish to express my gratitude to our colleagues who brought forth this idea, and to the many colleagues across our community who have brought new urgency to our efforts to build a more inclusive community and to provide a context that supports the flourishing of our Black students, faculty, staff and alumni," DeGioia said when announcing the new holiday.
Communicating During COVID
The coronavirus pandemic amplified the value of the Staff/AAP Advisory Council, Bokoski said. "I think it was a catalyst to the need for us to partner with our leadership, whether it be GUMC or GU."
After the implementation of telework and virtual learning in March, Georgetown University and GUMC leaders started holding biweekly calls with caucus leaders.
The calls were "very helpful in helping to discuss, advise, and provide consultation on how to communicate with our staff/AAP," Bokoski added. "It brought about the opportunity to work together, because that's the only way we're going to get through it."
Building a Bridge Between Staff/AAP and Leadership
As GUMC staff/AAP's newly elected caucus leader, Rogers hopes to "establish our presence so that all staff knows that we are available as a resource, rebuild community cohesion, establish policies and procedures that are beneficial to both faculty and staff, and are as inclusive as possible."
Bokoski mentioned that the caucus had similar goals during her tenure and has a tremendous opportunity to help improve the work culture at GUMC. "I think there were a lot of great ideas and initiatives, and I think Jasmine's going to do a great job of continuing that momentum," she said.
In early November, Rogers joined Mary Glasscock in asking medical center staff/AAP to consider taking part in Redeploy Georgetown. The Redeploy Georgetown program matches emerging university needs with staff members currently affected by a reduction in available work due to the pandemic. It includes temporary reassignments in which Redeploy Georgetown connects eligible, available staff members with opportunities for temporary projects or assignments that support the university's public safety principles.
Additionally, a newly created ex-officio Staff/AAP Advisory Council representative position was recently added to the medical center Executive Committee to strengthen the relationship between the Staff/AAP Advisory Council and medical center. Alexis Ahmad is the first to hold the position on the Executive Committee, which is an advisory body to the executive vice president and executive dean of the medical center to provide recommendations on major medical center initiatives.
How to Get Involved
Staff and AAPs can connect directly with the caucus to express all their needs, questions and concerns by emailing gumcstaffaapcouncil@georgetown.edu. The GUMC staff/AAP caucus is also working on other ways for individuals to share ideas and concerns. For example, Rogers is interested in creating a form to submit issues to the caucus that would allow its members to "either provide advice or support, or alert leadership to issues that the staff was concerned about," she explained.
"The point of the council is to represent the interests of staff/AAP," Rogers said. "It's really important for us to be able to express the concerns that staff/AAP have. We're here to be able to affirm their concerns and also bring them up to leadership."
Tyisha Henderson
GUMC Communications