GUMC Events Keep Martin Luther King Jr.'s Message Alive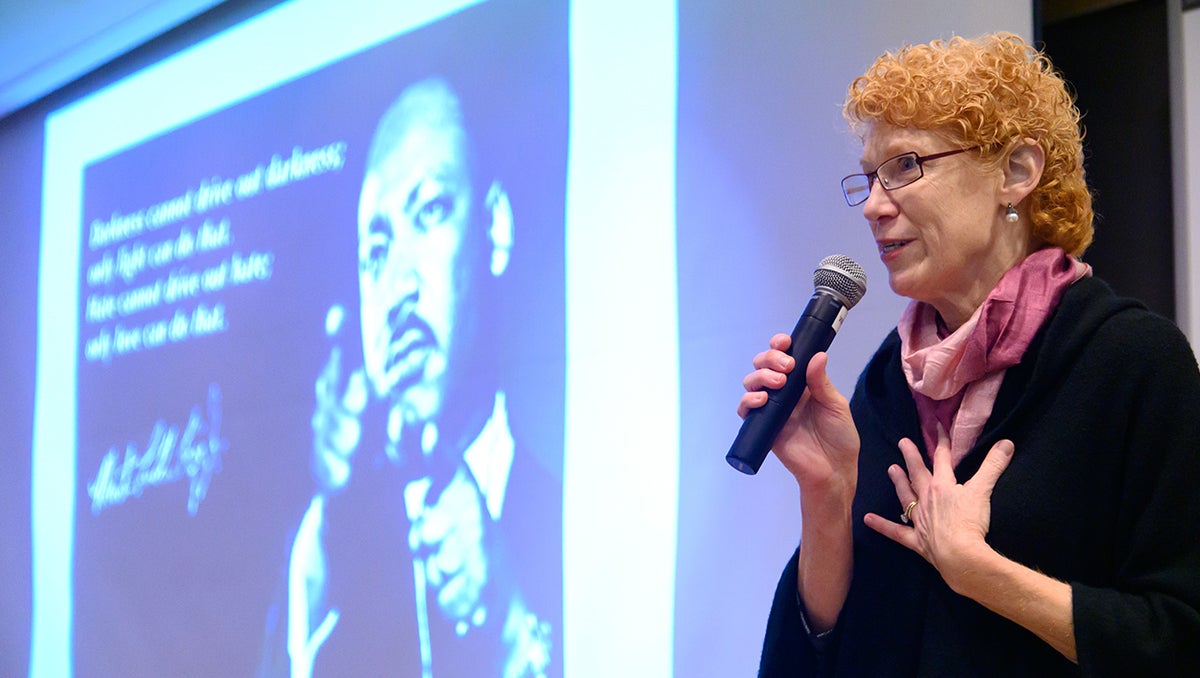 Posted in GUMC Stories | Tagged diversity, health disparities, health justice, medical education, School of Medicine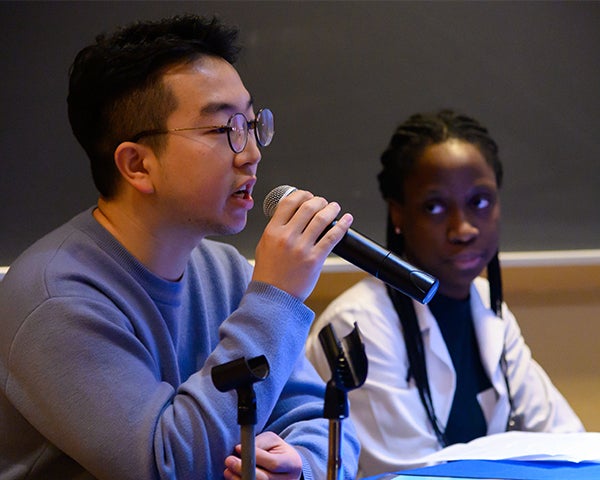 (January 31, 2020) — The words and examples of Martin Luther King Jr. came alive again in the GUMC community through several events held on the campus in the days before and after the January 20 holiday. Among the events organized by the School of Medicine, including the Office of Diversity & Inclusion, were a talk about how human rights pertain to medicine, and a discussion of how physicians can help ensure equal access to health care for immigrants.
"There is such an obvious connection between the white coat and the work of Dr. King," Eileen Moore, MD, associate dean of community education and advocacy, told attendees at "Health Justice for All," a lunchtime discussion on January 21. Physicians can be educated to become advocates to correct injustice in health care, Moore said, which King described as "the most inhumane" form of inequality.
Overcoming Barriers Immigrants Face in Health Care
Jai Won Jung (M'22), who immigrated to the United States as a child, told the approximately 50 medical students, faculty and staff attendees how his family avoided the health care system while they were undocumented and uninsured. When his mother had a small stroke, "instead of going to the hospital, my father called our pastor to come pray for her," he said. She ended up recovering, but even after becoming citizens, "my parents sometimes regret coming to the United States… because health care in South Korea is so much cheaper," Jai said.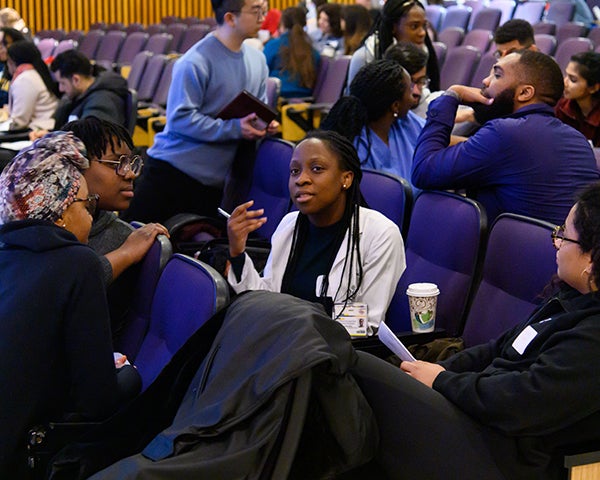 Attendees later discussed how they can help immigrants and people with economic or socioeconomic barriers access health care. Finding ways to overcome the financial barriers to treatment is a challenge, even for people with insurance, said Suraya Poian (M'24) during a small-group discussion. "I know people who go to Mexico to buy insulin, and it's not that expensive to make," she said.
Students enrolled in the Health Justice Scholar Track, which Moore directs, do learn to help patients overcome barriers to care, but the system is difficult even for physicians with training to navigate, Moore said.
Moore and Jessica Beer (M'21), director of the Georgetown Chapter of Physicians for Human Rights (PHR), encouraged students to take at least one step to help address health inequalities now and during their future work, such as joining the PHR listserv, volunteering at immigrant health clinics, and participating in advocacy work.
Physicians Can Help Protect Human Rights in Health Care
During a January 17 talk, Ranit Mishori, MD, MHS, FAAFP, professor of family medicine, described how human rights relate to health care. She was born and raised in Israel — the granddaughter of refugees — but it wasn't until she became a journalist that she came face to face with the realities of the occupation and the hardships faced by neighboring Palestinians as a result of Israeli policies. "It made me start thinking about what is our own personal responsibility in addressing human rights issues?" Mishori said.
Now a senior medical advisor for PHR, Mishori also teaches students about the role of human rights in health care. While she supports the current focus in medical education on teaching about the social determinants of health, Mishori said human rights offers a broader framework through which to view social justice, health, well-being and health care. Of all the basic human rights adopted by the United Nations in the 1948 "Universal Declaration of Human Rights," the right to health is the most obvious. But other articles in the declaration also affect a person's health, including the right to leisure and rest, the right to education, the right to be employed, and the right to seek asylum, she said.
All types of physicians can include human rights in their daily practice, Mishori said. Physicians can be more aware of the external factors in patients' lives that could be affecting their health, including immigration status, a history of incarceration, violence or discrimination. Georgetown students can also be trained in how to conduct exams to document abuse, torture or other maltreatment that would support immigrants' asylum claims.
Support Policies and Leaders Who Support Human Rights
However, Mishori said, "all the work we do won't make a dent unless we look at the real causes of what is happening around the world, and particularly in the U.S. Political decisions have very real consequences," so physicians need to also focus on the political determinants of health, in addition to the social determinants of health. Laws that increase or decrease funding for health care for children and the poor, for example, have a very direct effect on health outcomes. Mishori also encouraged attendees to participate in advocacy and the electoral process.
Mishori underscored her point by citing one final quote from Martin Luther King Jr.: "Our lives begin to end the day we become silent about things that matter."
Kathleen O'Neil
GUMC Communications