Giuseppe Giaccone: Leading Clinical Oncology Research Expansion
Posted in GUMC Stories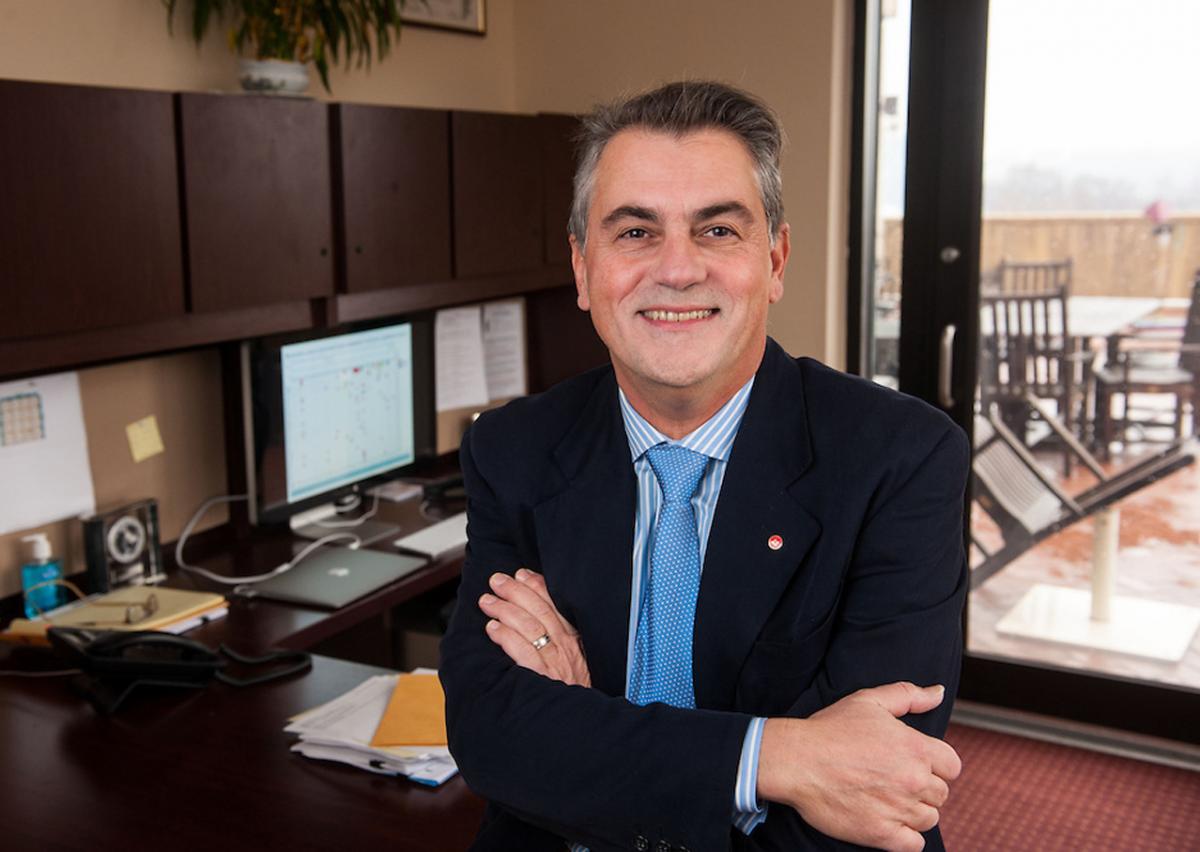 Giuseppe "Beppe" Giaccone, MD, PhD, known internationally for his knack for developing clinical trials in both the U.S. and Europe, has found what he calls a sweet spot at Georgetown Lombardi Comprehensive Cancer Center and its clinical affiliates within the MedStar Georgetown Cancer Network.
His task is to rev up drug discovery and clinical research by working with physicians and investigators on the medical center campus and with the MedStar network of hospitals. The goal is to offer more cancer patients being treated at selected MedStar hospitals the opportunity to participate in new clinical trials, either those conducted solely by Georgetown Lombardi researchers or as part of a multi-institutional study.
Giaccone's broad-reaching mission requires four titles — associate director for clinical research at Georgetown Lombardi, co-leader of its experimental therapeutics program, director of clinical research for the MedStar Georgetown Cancer Network, and is nominated to be professor in the departments of oncology, medicine and pharmacology at Georgetown University Medical Center. But he says that long string of words after his name just reflects "the dynamism of this place."
The District of Columbia and surrounding areas in Maryland are ripe for this kind of clinical research, he says.
"I see an institution where one is allowed to — in fact, encouraged — to make a big difference, and that is both fun and really interesting," Giaccone says. "There is a lot of opportunity to succeed at Georgetown Lombardi and MedStar.
"I also believe there is an interesting vacuum in terms of clinical research in the D.C. area," he says. "This is the perfect time to fill it."
The Right Challenge
Giaccone, a native of Italy, is well aware of the clinical research landscape in D.C., because he moved to Georgetown from the National Cancer Institute (NCI) in nearby Bethesda. There he was chief of the Center for Cancer Research's Medical Oncology Branch, and is credited with helping transform the NCI by reorganizing its clinical infrastructure and recruiting strong new faculty.
That was the second time Giaccone had served at the NCI. He spent two years (1988-1990) there in the lab, focusing on understanding the biology of lung cancer, and testing drugs in human lung cancer cell lines. This training occurred after he started his career at the Torino Institute of Oncology, where he designed and led a number of phase II clinical trials of new drugs and new combinations of existing drugs in solid tumors.
His main research interest has been on early clinical research, "trying to bridge the gap between preclinical and clinical research in the study of new anticancer agents and the biology and treatment of lung cancer and other solid tumors."
In 1990, Giaccone moved back to Europe to conduct both lab and clinical research at the Vrije Universiteit in Amsterdam, which was known to be one of the most important centers for drug development in Europe. By 1992, he was in charge of the university's section of molecular pharmacology and the following year, he took the reigns of the lung cancer cooperative group within the European Organization for Research and Treatment of Cancer. There he focused on development and execution of phase I and phase II clinical trials.
But then drug development and clinical research began to shift from Europe to the United States, due to the superior research infrastructure here, Giaccone says. So he shifted, as well, to the NCI, and was the first scientist from outside the U.S. to be named chief of the medical oncology branch.
While the breadth of the research underway at the NCI was exciting, he was ready for a more nimble, fast-paced environment he feels will be afforded outside the federal government. Hence his decision to move to Georgetown, which he describes as "small enough that we can grow. Ideas make a difference, and while it is important to follow the right processes, you can do that faster and with more dynamism here."
Giaccone and the cancer network leadership are gearing up to recruit a bevy of new medical oncologists to Georgetown Lombardi and the MedStar network, and he envisions a day when phase I and II cancer clinical trials will be offered to oncology patients throughout the entire MedStar Georgetown Cancer Network. "We can provide speed and quality, and, in my estimation, we can double the number of patients now accrued to Georgetown-led trials in as little as one or two years."
He also plans to continue his own research into the basic biology and treatment of chest malignancies, and will bring some of the projects he was working on at the NCI to his new laboratory.
"The opportunities are vast here," Giaccone says, "and I find that very energizing."
By Renee Twombly, GUMC Communications
(Published February 14, 2013)