State Department Grant Funds Bioethics Program Development
Posted in GUMC Stories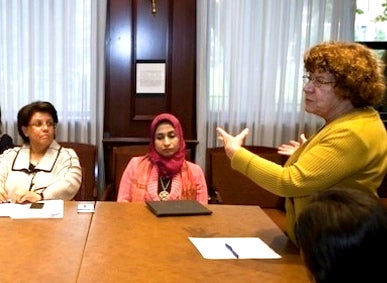 A professor at the School of Nursing & Health Studies has received a federal grant to develop bioethics certificate programs in Tunisia and Yemen.
Irene Jillson, PhD, assistant professor in the Department of Nursing, was awarded close to $555,000 from the U.S. Department of State to design the programs in collaboration with academic institutions in both countries.
"In Tunisia and Yemen, there are individual courses in bioethics and no certificate or degree program in any academic institution in the field of bioethics," Jillson says.
Tunisia Program
Jillson notes that there is an increased interest in this field among health care professionals and scientists and a recognition that capacity must be built to deal with pressing and complex bioethical matters.
"The need to strengthen bioethics capacity is based on a number of factors, including for example, increased research related to human subjects, carried out by Tunisians researchers and increased biomedical research in the country," she says.      
In collaboration with the Faculty of Sciences at the University of Tunis El Manar, Jillson will work to establish a certificate program and design at least four required courses. 
"Ultimately, this program could serve as the basis for development of a graduate degree in bioethics," she says.
Yemen Program
The grant will also help develop a similar certificate program in Yemen, which also faces a growing need for formalized training in bioethics, Jillson says.
"There is keen interest on the part of three universities in Yemen in partnering with Georgetown University to develop a certificate program that would be offered in each of the universities," she says.
As in Tunisia, the certificate program in Yemen could serve as the basis for a graduate-level program.
By Bill Cessato, NHS Communications
(Published October 18, 2013)