Georgetown Women In Medicine Celebrates Women in Leadership at Welcome Reception
Posted in GUMC Stories
September 22, 2017–It was standing room only at the annual Georgetown Women in Medicine Fall Welcome Reception earlier this month as the organization's leaders set the tone and priorities for the academic year ahead.
More than 100 women faculty, their colleagues, and students packed the Lombardi Comprehensive Cancer Center's atrium Sept. 14 for the event co-sponsored by the School of Medicine's Office of Diversity and Inclusion and GUMC's Office of Faculty and Academic Affairs.
GUMC Executive Vice President Edward B. Healton, MD, MPH, opened the evening by recommitting to one of GWIM's long-time goals of increasing the number of women in positions of leadership. 
Women in Leadership
GWIM's goal is that women make up 25 percent of GUMC departmental chairs by 2025.  
"That seems like, to me, a long way away. So, I would certainly like to reach that goal or come close to that before I step down. That is a really important goal," Healton said.
"We will be a better organization for our efforts in actively promoting a process that advances the recruitment, nurturing, and retention of diverse leaders that embody the qualities and characteristics that have made this organization great," added Lisa Boyle, MD, vice president of medical affairs for MedStar Georgetown University Hospital. "I look forward to the challenge."
Patricia Cloonan, PhD, RN, dean of the School of Nursing & Health Studies, pointed out that the next generation of health professionals are looking to she and her colleagues for leadership on the issue of diversity.
"I am especially pleased to have had the opportunity working with medical students and nursing students and a whole variety of people who I think are looking at all of us with respect to the ways in which we engage our energies and creativity and passion for celebrating women in leadership," she said. "It is important for us as energized and activated women and men for others to not be complacent about the extraordinary amount of work left to be done."
Women on the Walls
GWIM President Kristi Graves, PhD, outlined three priorities for the organization for the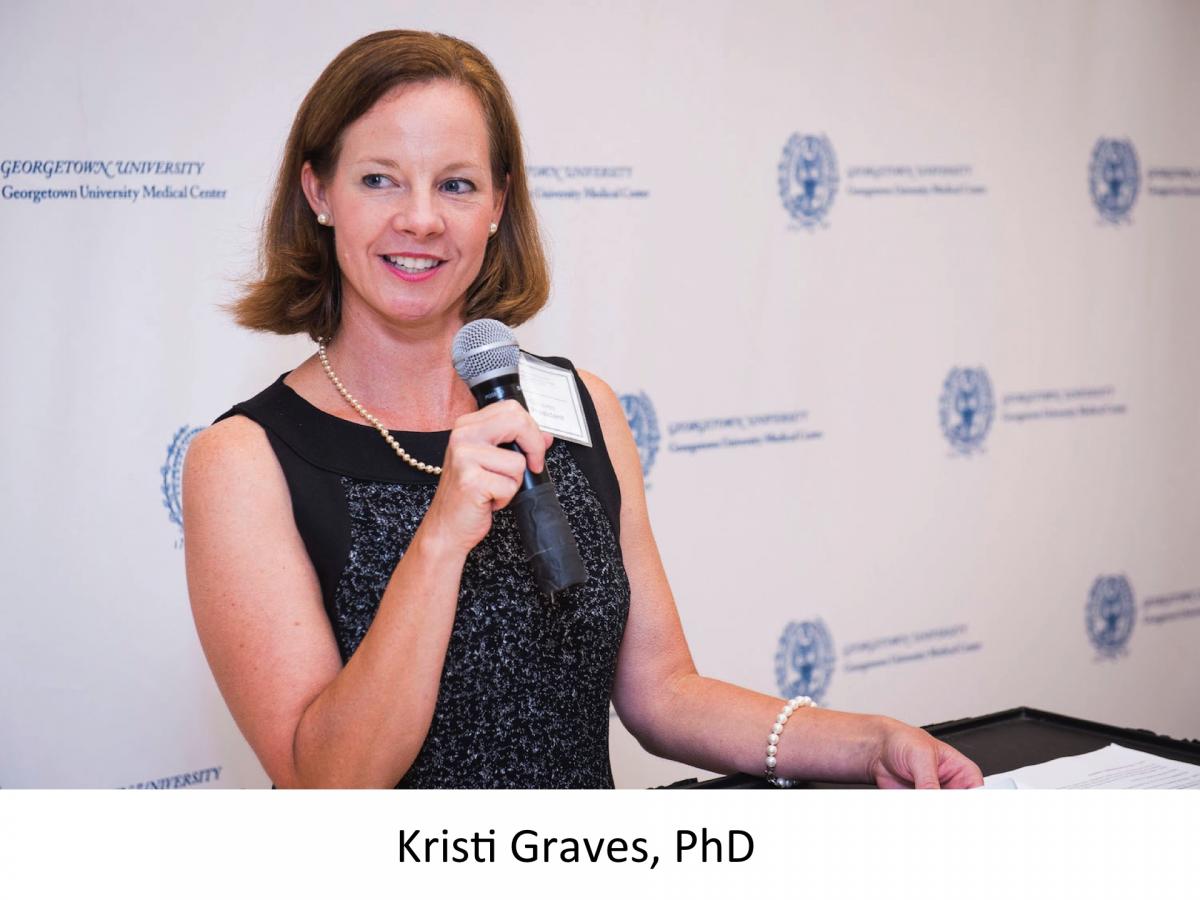 2017-2018 academic year: visibility, policy and outreach.
Graves explained that GWIM would work to institute clear faculty search procedures and policies with the goal of increasing the number of women in leadership positions.
She also announced a new outreach effort to engage individuals from across the Medical Center and MedStar network in partnership with the GUMC Office of Faculty and Academics Affairs, MedStar leadership and through use of social media.
But it was Graves' announcement about literal visibility that garnered the most buzz: Women on the Walls campaign (new window).
"The goal of [the Women on the Walls] campaign is to generate awareness and funds so that we can get more portraits of women leaders on the walls in our buildings here at GUMC," Graves announced.
"By increasing the visibility of women and individuals from under-represented backgrounds not only do we demonstrate our recognition of the diversity in our leadership but we also indicate to students, junior faculty, and one another that it is possible to aspire to a position of leadership and authority no matter what you look like."
Stephen Ray Mitchel, MD, MBA, dean for medical education announced the first woman who would launch the Women on the Walls campaign – Dean Emeritus Joy Phinizy Williams. Williams led the Georgetown Experimental Medical Studies (GEMS) (new window)program for 35 years before retiring in 2014.
Celebration of Women in Leadership
During the reception, GWIM honored Michelle Roett, MD, MPH, FAAFP, CPE, and Edilma Yearwood, PhD, PMHCNS-BC, FAAN, – both appointed recently as GUMC academic department chairs.  Both women were recognized for their appointments and outstanding leadership at GUMC.
After accepting the award, Roett, chair of family medicine at the School of Medicine said, " We want our positions and [our] institution reflect our community, and that has always been my goal. I always say it is my not so secret passion."
"Part of my purpose as an academician and a leader is to work hard and to be useful in service to others," said Yearwood, chair of the department of professional nursing practice at the School of Nursing & Health Studies said. "My engagement with the faculty, with students, and communities throughout my research and academic life informs and affirms my commitment to give back what I have received and to continue to receive from mentors and my guiding angels."
Karen Teber
GUMC Communications