Georgetown Pediatrics Gala Celebrates 20 Years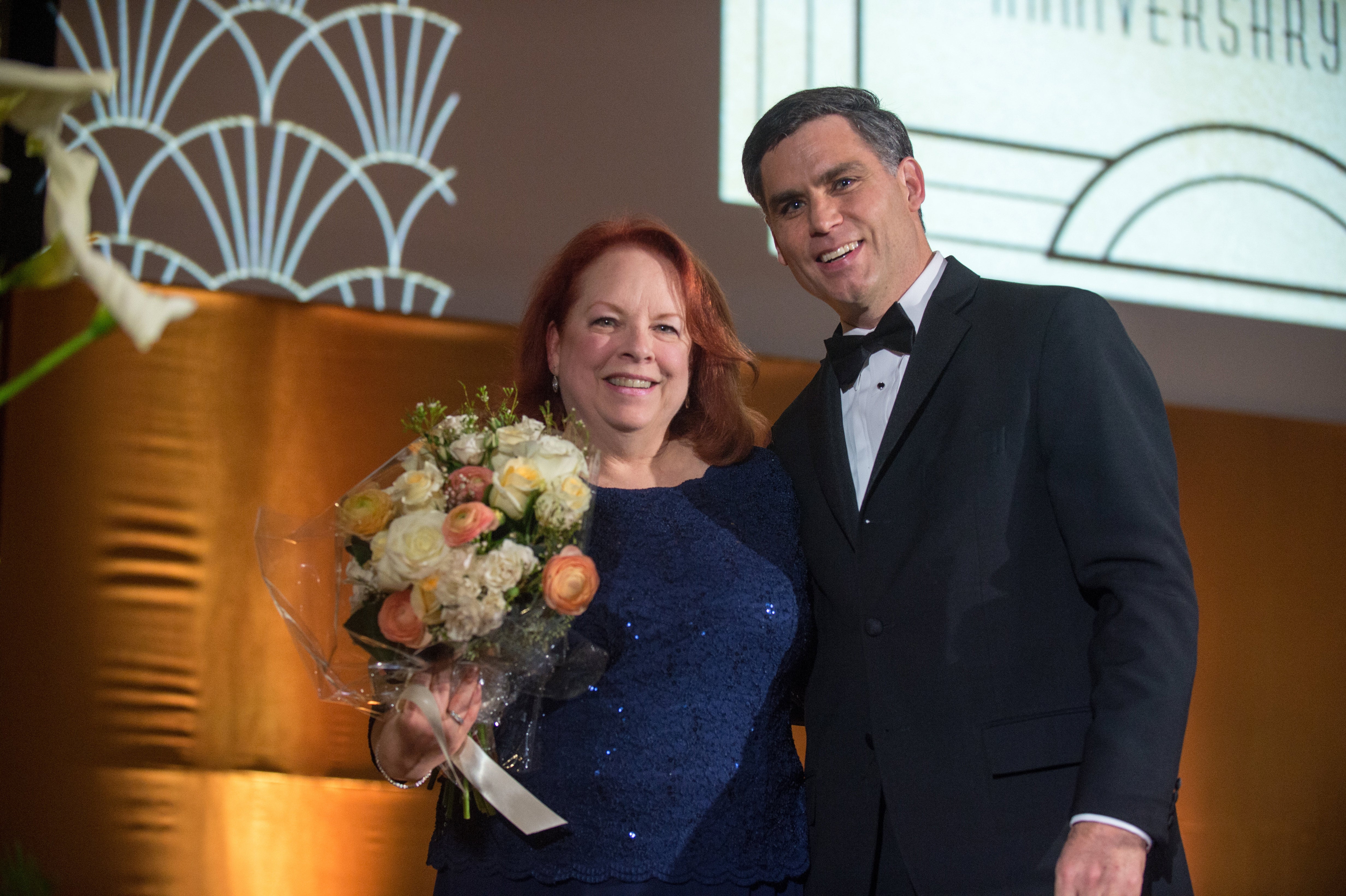 Posted in GUMC Stories | Tagged advocacy, MedStar Georgetown University Hospital, pediatrics
(April 12, 2019) — Stories of sacrifice, hope, loss and triumph were told and honored at the 20th Annual Georgetown Pediatrics Gala.
Donors and other supporters, including foreign dignitaries, business leaders and prominent figures in Washington's health, medicine and law communities, gathered at the historic Andrew W. Mellon Auditorium on April 6 to celebrate at the annual fundraiser.
The over half-million dollars in proceeds raised during this year's gala will support Georgetown Pediatrics patients and families, and local schools and neighborhoods across the District of Columbia who benefit from its comprehensive community pediatrics programs, which include education, research and patient care.
Founder Honored
The evening was illuminated by the department's storied past as told by former patients and their loved ones, among them the moving account of Mary Hoobler, the gala's founder, whose enduring presence each year serves as a reminder of how far it has come.
"This 20th anniversary gala signals the culmination of a lot of hard work and tremendous accomplishments achieved because of the vision of one person, who was the founder of this gala, Mary Hoobler," said Michael J. Donnelly, MD, FACP, FAAP, academic chair of pediatrics for Georgetown University School of Medicine and chief-of-service for MedStar Georgetown University Hospital, respectively.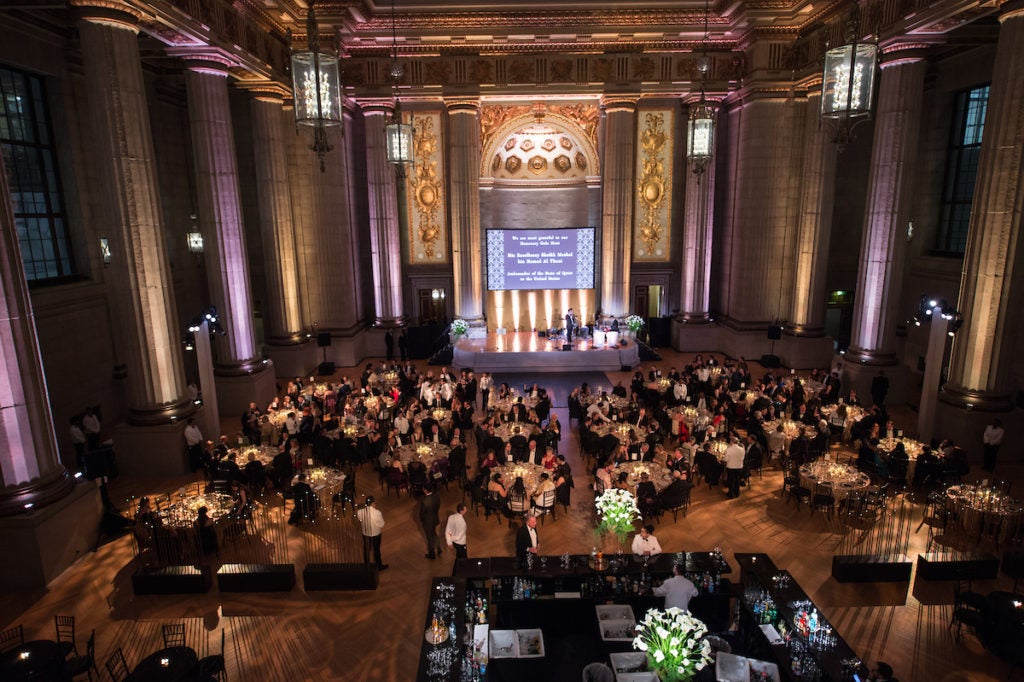 Hoobler's late husband, James "Jim" Hoobler, had been a patient at Georgetown's Pediatric Intensive Care Unit, receiving a specialty treatment for his lungs typically only administered to children but calibrated for adults in serious need. During this time, Mary developed a strong bond with his care team.
As it became clear that Jim, a longtime, dedicated, career public servant, was not going to live much longer, his lead physician offered to do something that astonished Mary: delay her own Christmas travel plans to visit her family in Michigan to instead be by Mary's side when Jim died.
"It was at that moment that I said, I have to do something to repay these dedicated professionals, who tried so valiantly to save Jim's life," Mary recalled.
After Jim died on Dec. 22, 1997, from compromised lung function, Mary channeled her sorrow into action, galvanized by the overwhelming compassion and resolve with which her husband's physicians, nurses and entire care team approached both his treatment and their family's ability to deal with the resultant distress they were experiencing.
"I thought, what do I know how to do? I know how to throw a party. So let's have a gala," Mary said in a video shown at the event, followed by laughter from the audience.
"With the continued support from many of you here tonight, we're thrilled to share that Mary was right, this gala has raised millions of dollars over the past 20 years," said Donnelly, inviting Mary onstage to be recognized after the video concluded.
Continuing a Tradition
The death of Mary's husband was a personal tragedy and deeply devastating — feelings unfortunately all too familiar to 24-year-old Claire Romansky and her mother, who were present for this year's gala.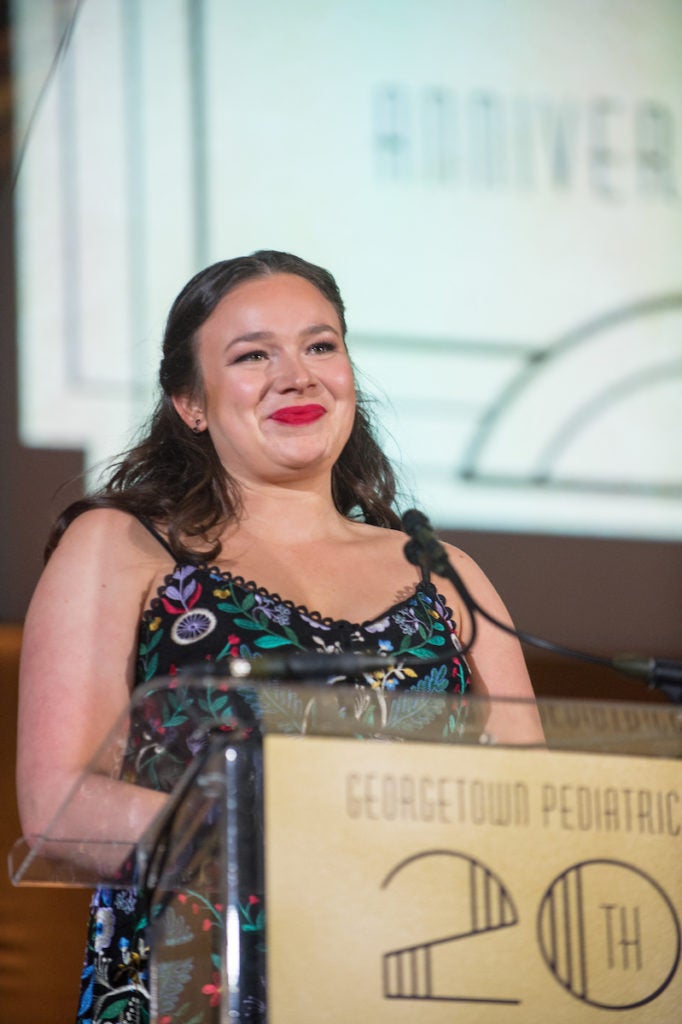 Romansky carried on a gala tradition of having a former patient serve as emcee. Fifteen years ago, she received urgent, lifesaving treatment from the pediatrics team at Georgetown.
"Claire was a very vivacious third-grader, enjoying school, swimming, playing basketball, and then one day it all turned and we were told she wouldn't live," her mother, Gail Romansky, recalled.
Claire had been diagnosed with Streptococcus pneumoniae toxic shock syndrome, a condition that can be fatal within only a few hours of presenting in the body. She arrived at Georgetown in a medevac helicopter for emergency treatment in the Pediatric Intensive Care Unit. Her life would be saved.
Having graduated with a bachelor's in fine arts degree from Hofstra University, Claire is now living in Manhattan and pursuing her dream of becoming an actor. "If it hadn't been for Georgetown Pediatrics, that dream would not be happening today," her mom said.
"I truly do wake up every day and feel blessed to be living this beautiful life of mine. The past 15 years have been a gift to me, given by the very people in this room," Claire said.
Awardees Demonstrate Shared, Lifestyle-Based Vision of Childhood Health
The 2019 Flame of Hope, presented to an individual or company who has improved the quality of life for children, was awarded to Norah O'Donnell (C'95, G'03) and her husband, Geoff Tracy (C'95).
Longtime Washingtonians, O'Donnell and Tracy have not only led thriving careers — O'Donnell is an Emmy Award-winning journalist and co-host of "CBS This Morning" and Tracy is a chef and the owner of several establishments in the D.C. area — but they have also become strong advocates of childhood nutrition and healthy eating, leading a campaign to raise awareness about the issue that started with a New York Times best-selling cookbook they co-authored, Baby Love: Healthy, Easy, Delicious Meals for Your Baby and Toddler, in 2010.
The couple's work in nutrition and health accords well with the work of Georgetown Pediatrics, particularly its Division of Community Pediatrics, which is operated by MedStar Health. For example, in 2014, Tracy cooked in the East Room of the White House as part of the First Lady's Let's Move! Initiative, and recently became an ambassador of La Cocina, which focuses on alleviating food insecurity and other social issues through culinary training and empowerment.
Honorary Host
Among the gala's distinguished guests was His Excellency Sheikh Meshal bin Hamad Al Thani, Ambassador of the State of Qatar to the United States.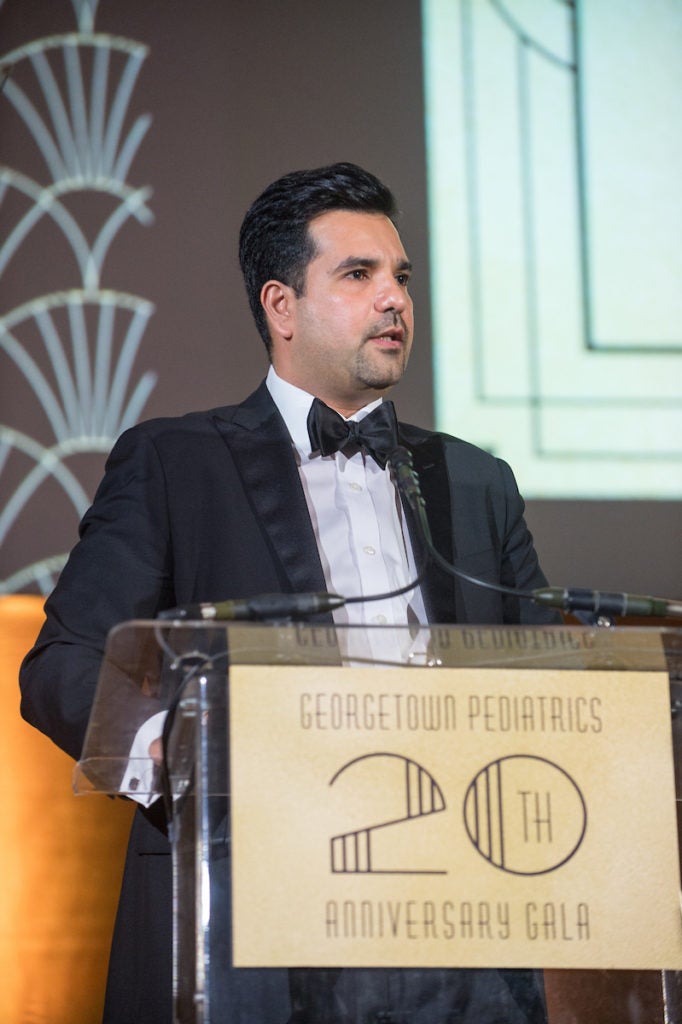 For the second year in a row, Al Thani has been Honorary Gala Host, and the Embassy of the State of Qatar the Presenting Sponsor. In his remarks, Al Thani reflected on the history and strength of the relationship between Georgetown University and the state of Qatar, including Georgetown's Qatar campus, established in 2005.
"This gala has raised funds to support groundbreaking pediatric research and to help advance the health and wellness of children in the District," said Ambassador Al Thani. "Health care is one of the essential elements of human development. Investing in the health of our kids and their well-being is an investment in the future."
In addition to supporting research, education and care, a portion of the funds raised at the gala provides families from the MedStar Georgetown Pediatric/Adolescent HIV Program, which supports children living with HIV, with resources such as psychosocial support and the opportunity to attend a camp that provides them with unique experiences to be with kids also affected by the virus.
MedStar Georgetown University Hospital Pediatrics and the Department of Pediatrics at Georgetown University Medical Center wishes to thank this year's sponsors and all others who helped make the gala a success. View the complete list of sponsors.
Seren Snow
GUMC Communications