Georgetown Hosts Flu Clinic Amid Early Surge in Cases on Campus
Posted in GUMC Stories | Tagged flu, flu shots, public health, School of Nursing & Health Studies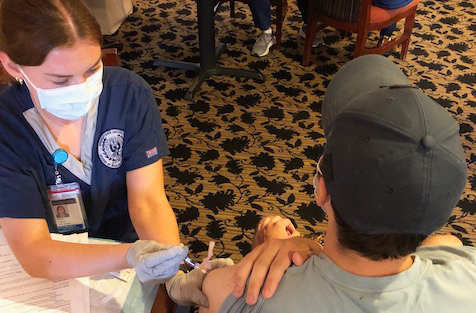 (September 19, 2021) — Following a reported uptick in flu cases among undergraduates on Georgetown's campus, the university hosted an influenza vaccine clinic on Sunday for its students.
About 400 undergrads were vaccinated at the Leavey Center clinic organized by the Student Health Center, in partnership with the School of Nursing & Health Studies (NHS) and the University's Public Health team. Sixteen senior students in the NHS's Bachelor of Science in Nursing program volunteered to deliver the jabs at the clinic; NHS students volunteer every fall to administer vaccines, answer questions and other clinic-related activities.
'Get a Flu Vaccine'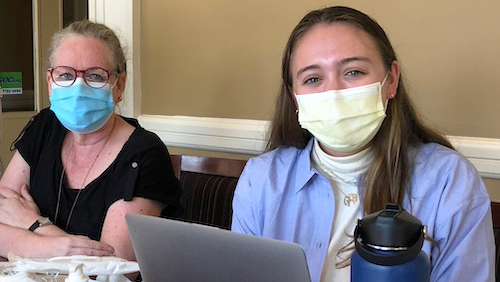 "We are currently experiencing a significant increase in the number of influenza (flu) cases on the Main and Medical Center campuses… as well as many cases of presumed influenza, earlier than expected in the season," Ranit Mishori, MD, MHS, FAAFP, vice president and chief public health officer, announced in a letter to the university on Sept. 10. "Please get a flu vaccine at your earliest convenience."
The Centers for Disease Control and Prevention recommends that everyone six months of age and older get a flu shot every flu season, with rare exceptions.
"Flu vaccination can prevent you from getting the flu and reduces flu-related hospitalizations," Mishori explained.
The U.S. Centers for Disease Control and Prevention (CDC) recommends that individuals get vaccinated in September or October.
Stay Home if Sick
Mishori urged those with symptoms of the flu or COVID-19 to stay home from work and school.
"Symptoms are very similar to COVID-19 and other upper respiratory diseases such as the common cold, and prevention measures are the same: staying home and limiting contact with others, washing hands and masking, among others," she wrote.
A second clinic for undergraduates will be held Sept. 23; additional flu vaccination clinics for faculty, staff and graduate students will be announced soon.