Frederick National Laboratory and Georgetown Launch Research and Education Collaboration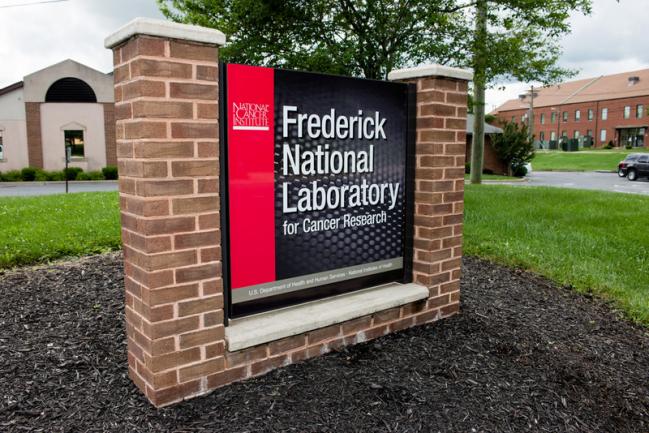 Posted in GUMC Stories | Tagged cancer, cancer research
(February 27, 2018) — A new collaboration between Georgetown and the Frederick National Laboratory for Cancer Research in Frederick, Md., aims to expand both institutions' research and training missions in the biomedical sciences.
The university and the laboratory signed a memorandum of understanding (MOU) that paves the way for appointments and exchange of scientific staff, sabbatical opportunities, student training, postdoctoral fellowships and student internships.
The MOU aims to enhance the institutions' quality of science, technology and education, and formalizes a history of past collaborations between Georgetown and Frederick researchers.
Extensive Research
Georgetown is home to more than 550 scientists working on basic and clinical research projects and 300 active clinical trials based at Georgetown University Medical Center.
These scientists conduct research on cancer, neuroscience, infectious disease, population health, global health and other topics, and join scientists across the university in applying knowledge from chemistry, biology, physics, mathematics, statistics and computer science.
The Carnegie Foundation for the Advancement of Teaching has designated Georgetown as "a very high research activity university."
"Georgetown is very pleased to develop this strategic partnership with Frederick National Lab to further animate our commitment to developing solutions to the most pressing challenges in human health and well-being," Georgetown President John J. DeGioia says.
Benefitting Patients
Sponsored by the National Cancer Institute and operated in the public interest by Leidos Biomedical Research, Inc., the federal national laboratory in Frederick is the only one of its kind wholly focused on discovery and innovation in the biomedical sciences with the aim of improving human health.
The laboratory is working at the forefront of basic, translational and clinical science with a focus on cancer, AIDS and emerging infectious diseases.
Ethan Dmitrovsky, MD, president of Leidos Biomedical Research and laboratory director of the Frederick National Laboratory for Cancer Research, says, "Frederick National Laboratory uses advanced technologies to combat the most difficult public health challenges. We are fortunate to partner with Georgetown University to serve the public's interest."
Many Opportunities
Noting the close proximity of Georgetown to Frederick, DeGioia adds that the collaboration "allows us to bring together talents from many different disciplines and accelerate our collective research efforts."
"We also look forward to the many opportunities this relationship will provide as we engage in training the next generation of researchers and health care providers," he says.
"At the Frederick National Laboratory, we believe this relationship will expand our ability to work in the public's interest to benefit patients and assist in the cancer research efforts in the academic community," says Barry Gause, MD, chief medical officer and director of the clinical program at the Frederick National Laboratory.
A significant aspect of the collaboration will focus on cancer research, since Georgetown is home to Washington's only National Cancer Institute-designated Comprehensive Cancer Center.
"I join my colleagues at Georgetown in celebrating this important collaboration," adds Louis M. Weiner, MD, director of Georgetown Lombardi Comprehensive Cancer Center. "Frederick boasts an outstanding group of scientists working with the most advanced technologies and a vast array of research materials, which will greatly enhance the work we do here at Georgetown Lombardi and across campus."
"We continue to build unique and important external partnerships as part of our strategy to position the Medical Center for future success," explains Edward B. Healton, MD, MPH, executive vice president for health sciences at Georgetown University Medical Center.