Focused on the Future While Looking Back
Posted in GUMC Stories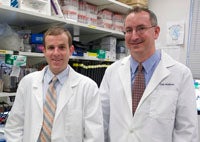 David Solomon's eight years of training at Georgetown University School of Medicine (GUSOM) has prepared him to practice at the ideal nexus between clinical medicine and biomedical research.
Solomon, who will leave Georgetown this May with dual M.D. and Ph.D. degrees and two highly regarded awards for his research, believes nothing can be more challenging and rewarding than to examine cancer cells taken from surgery on patients with brain tumors.
That's because the characteristics of these brain tumors will tell the story of what kind of cancer it is, why it developed, and, most importantly, what the best treatment options are ⎯ or if, and how, better therapy can be developed. Relatively little is known today about brain tumors, and Solomon is focused on making a difference in a field where there is so much to discover.
"We need to understand the disease, which will reveal biomarkers that help us diagnose particular subtypes and will point us to new and better treatments," he says.
Tackling brain cancer is compelling to Solomon because there are no known risk factors, either environmental or due to lifestyle. The cancer arises out of the blue, for no known reason. And it is, in most people, quickly, and shockingly fatal, he says.
In many ways, Solomon reflects the founding principle of Georgetown University Medical Center – cura personalis – care for the whole person. He says he wants "to help those stricken with these tumors. My research is very health-care focused, and my clinical training was excellent. What I hope to do is direct the care of patients in great need."
"Something about the Georgetown mentality…"
Solomon admits he is tired. Little wonder ⎯ a typical February day for him included three hours in the neuroradiology unit of MedStar Georgetown University Hospital, a lunchtime visit to his lab to pipette DNA from bladder tumors, five hours at the hospital, home at 9 p.m., back to the lab at 11 p.m., and home again at 3 a.m. for a bit of sleep.
But he clarifies that he is not tired of Georgetown and will miss the medical center greatly when he leaves. "I don't know what it is like to study and work at any other place, but there is something about the Georgetown mentality ⎯ I am not sure what it is ⎯ that attracts talented people, who are happy to be here and very interested at being at the forefront of medicine."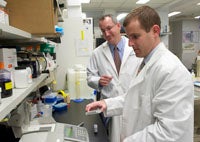 Solomon attended the College of William and Mary, graduating in 2002 with majors of chemistry and molecular biology. He worked two years as a research assistant at the University of Cincinnati College of Medicine, before entering the M.D./Ph.D. program at Georgetown in 2004.
He says there were several things that helped him thrive at Georgetown: a core curriculum strong in basic science during the first two years of medical school; a comprehensive cancer center that has abundant cancer research and a busy patient clinic; and a small, focused research laboratory with a hands-on mentor.
That mentor is Todd Waldman, M.D., Ph.D., associate professor of oncology at Georgetown Lombardi Comprehensive Cancer Center and director of GUSOM's M.D./Ph.D. program.
Solomon worked one on one with Waldman and colleagues, and found his niche researching ways to target and treat glioblastoma multiforme, the most common and aggressive form of brain cancer.
"The research laboratories at Lombardi are intentionally relatively small, with lots of daily interactions between the faculty and students," says Waldman. "In this way the environment at Georgetown is conducive to really high quality graduate training, and also promotes a level of scientific focus that makes high quality science possible."
"I felt I was treated well as an M.D./Ph.D. student at Georgetown," Solomon says. "The assumption was that I was dedicated and enthusiastic about what I was doing ⎯ which I was."
Waldman knows it is true. "David brings an amazing amount to the table⎯ he is super smart, incredibly meticulous, and passionate about biomedical research. He works nights, weekends, any time he has available. I am constantly getting emails from him at 2 a.m. [And] working with David is great fun."
Brain tumor genes identified, resulting in a clinical study
Solomon's research has focused on the identification of new cancer genes in human tumor samples and the translation of these findings into new-targeted therapies. His work has led to the identification of two important tumor suppressor genes in glioblastoma as well as advancement of a potential drug into a clinical trial in patients with recurrent brain cancer. He recently discovered recurrent mutations in a gene (STAG2) in multiple human tumor types.
This work resulted in a first-author paper in the preminent journal Science, five first-author papers in the journal Cancer Research, and several additional co-author publications.
On April 2, Solomon presented his work on cancer genes and new treatments before thousands of clinicians and researchers at the Future Leaders in Basic Cancer Research special symposium during the annual meeting of the American Association for Cancer Research (AACR) in Chicago. He was one of four outstanding early-career scientists honorees nominated by their institutions competing for this highly prestigious honor. And of the four, he was the only American ⎯ and the first person from Georgetown University to receive the award.
He has also been selected to receive the 2012 Harold M. Weintraub Graduate Student Award this May sponsored by Fred Hutchinson Cancer Research Center in Seattle, Washington. Nominations were solicited internationally, and the winners were selected on the basis of the quality, originality and significance of their work.
Solomon will soon head to the University of California, San Francisco, to start a two-year residency in surgical pathology, followed by a two-year fellowship in neuropathology, where he hopes to improve the identification and treatment of brain tumors.
"I will miss it here," he says, looking back while focusing on the future. "I had ⎯ fair to say ⎯ an outstanding time."
By Renee Twombly, GUMC Communications
(Published April 4, 2012)