Family Medicine Professor Vows to 'Take COVID Down' One Question at a Time
Posted in GUMC Stories | Tagged community outreach, racial disparities, School of Medicine, service to others
(November 5, 2021) — Family medicine physician LaTasha Seliby Perkins, MD, feels a strong sense of responsibility to improve the health of people in the D.C. community.
"I believe that Georgetown has a responsibility to Black people and underrepresented minorities, and service to this city because of the resources that we have," said Seliby Perkins, an assistant professor of family medicine and course director of community-based learning at the School of Medicine. "We have to take care of and give resources and information to folks who don't normally have access."
To that end, Seliby Perkins has participated in in-person town hall meetings at various organizations across the city to answer questions about the COVID-19 vaccine. "Folks have questions and they just want to be taken seriously," she said. "They just want to be heard. That keeps me going. That makes me want to be heard on a bigger stage."
Helping People Make Informed Decisions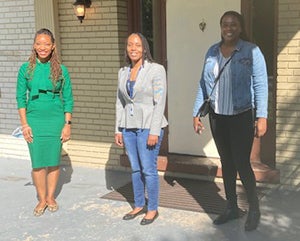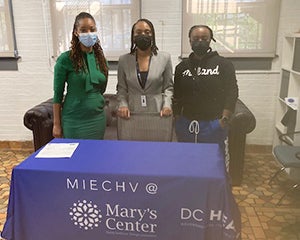 Motivated by a televised town hall with doctors talking about the vaccine, Seliby Perkins volunteered to answer questions at a town hall first with her church. She then participated in a September town hall at House of Ruth, an organization that provides services for women and families who have been impacted by domestic violence and homelessness.
An existing relationship through community-based learning led to Seliby Perkins' most recent town hall with staff at Sasha Bruce Youthwork, a shelter and service provider for young people experiencing homelessness. "They know that I'm a family physician and I'm an African American female and I've expressed a willingness to help with anything they need," she said.
Employees at House of Ruth and Sasha Bruce Youthwork are subject to an August 10 order that requires D.C. government employees, contractors, interns and grantees to be fully vaccinated against COVID-19 or submit to weekly testing. Not complying with the order may lead to adverse action for staff, such as being placed on unpaid leave or having one's employment terminated.
"I wanted to emphasize that it's your choice," Seliby Perkins said. "If you don't get it, understand that you may lose your job, and be OK with it."
Staff members from Mary's Center offered the vaccine to the House of Ruth town hall attendees, 11 of whom chose to get vaccinated on-site. "To me, even if one person got it, that's a win, and even if the other ones didn't, my job was to inform them so they could make an informed decision," Seliby Perkins said.
Addressing Questions and Concerns
As a Black woman in medicine, Seliby Perkins was well situated to respond to the town hall attendees' questions and concerns. Most in the audience were from Black and Brown communities.
"The question came about the historical context about how Black and Brown bodies have been used by medicine in this country and how that could cause you to have some questions," she said. "But by not getting vaccinated, what you're deciding to do is take the chance with the virus instead of taking the chance with the vaccine."
Town hall attendees asked about the vaccine's side effects, prompting a discussion about the immune system and why side effects occur. When asked about natural immunity, Seliby Perkins explained that the vaccine gives recipients a more robust immune response than a previous COVID-19 infection.
Regarding the long-term safety of the vaccine, Seliby Perkins acknowledged the limited availability of long-term data, while pointing out that there is also little known about the long-term impact of the virus.
In her experience, concerns about long-term safety have been raised by individuals who Seliby Perkins described as vaccine resistant, not hesitant. "If I'm answering all of your questions and you're still saying you're not going to get it — we can debunk all the things that concern you — then that is resistance," she said. 
"Some of that decision is understandable and it's a personal choice, but my job is not to convince you but to provide you with the most information you have to make that decision," Seliby Perkins said. "You can't say that it's because you didn't know any better."
Sharing Her Experience
Seliby Perkins also shared her experiences at the town halls. "I had questions but I did not pause on getting it," she said.
Soon after Seliby Perkins received her first dose of the vaccine in December, her husband and toddler daughter tested positive for the virus. At the end of her daughter's quarantine, Seliby Perkins was tested for COVID-19. Even though she had had only one dose of the vaccine, she tested negative. "That definitely made me a believer," Seliby Perkins said.
In addition to her feeling of responsibility to D.C. residents, talking to her relatives in Mississippi motivates Seliby Perkins to answer questions about the vaccine locally. "If I can't help everyone back home, I can help people here," she said. "Because I am constantly having this conversation with family members."
In the near future, Seliby Perkins has been asked to participate in vaccine town halls by a member of the D.C. State Board of Education, the D.C. Department of Human Services and CASA for Children of D.C., an organization that connects vulnerable and at-risk youth in foster care with court-appointed special advocates.
"I'm trying to take COVID down," Seliby Perkins said. "I'm not going to stop working against misinformation and working to dispel these myths and help people make informed decisions."
Kat Zambon
GUMC Communications