Facing a Difficult Diagnosis, Why One Patient Chooses to Confront Cancer at Georgetown Lombardi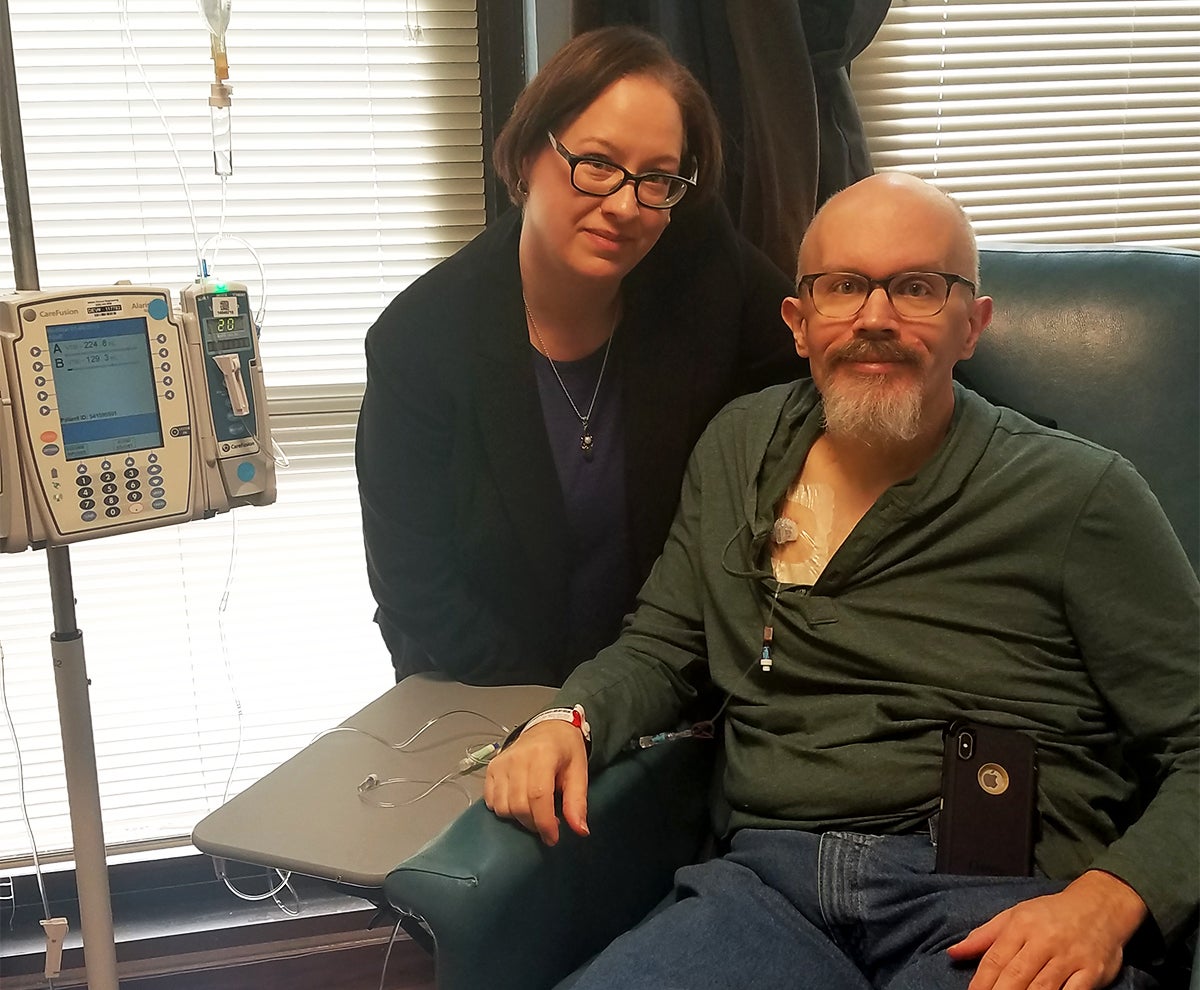 Posted in GUMC Stories | Tagged biomedical research, cancer, cancer research, Georgetown Lombardi, pancreatic cancer
(March 7, 2019) — While living in Chattanooga, Tenn., Adam Skipper was one of the primary caregivers for his 69-year-old mother before pancreatic cancer took her life. In October 2018, almost two years to the day of his mother's death, Skipper was diagnosed with the same disease.
"It was just a massive blow," says Lee Holland-Skipper, Adam's wife. "After Adam's mother died, we moved to D.C. and were looking forward to resuming our lives together. We knew Adam was at risk for pancreatic cancer, but we thought it might be something we'd have to face 20 years from now."
They quickly decided it was well worth braving D.C. traffic for Adam to receive treatment at Georgetown Lombardi Comprehensive Cancer Center.
"We are only two miles away from another hospital and Adam could be receiving the same type of chemotherapy there, but the fact that Georgetown Lombardi is a research center is important to us," says Holland-Skipper.
'Amazingly Rare' Expertise
The couple moved to Alexandria, Va., in the summer of 2018 so Holland-Skipper could pursue a research fellowship with the Pharmacy Quality Alliance after earning her doctor of pharmacy and master's in public health degrees at East Tennessee State University. When Skipper started experiencing digestive and intestinal symptoms, his primary care physician attributed them to irritable bowel syndrome or stress. After moving to Alexandria, he took the initiative to find a gastroenterologist on his own. Based on initial tests, his gastroenterologist offered him a referral to the Medstar Georgetown University Hospital gastroenterology department, where he underwent advanced diagnostic testing.
The tests revealed a 9-by-3-cm tumor in the head and neck of his pancreas, and the biopsy identified the tumor as pancreatic adenocarcinoma, the deadliest form of pancreatic cancer. Follow up CT scans revealed that Skipper was in Stage IV. The tumor had encased several of the major blood vessels in his abdomen and had metastasized to his liver and bones. Surgery was not an option, so Skipper is being treated with FOLFIRINOX, a four-drug chemotherapy regimen for metastatic pancreatic cancer.
The couple are especially grateful for Skipper's oncologist, Sunnie Kim, MD, who is the sub-investigator on clinical trials involving pancreatic cancer. "She not only sees patients, she's a researcher," says Holland-Skipper. "It's amazingly rare to find someone who has one hand on patient care and one on research in the field."
"Dr. Kim and the team at Lombardi are also in touch with other cancer researchers all over the world, so if there is the slightest chance of Adam being eligible for a clinical trial anywhere in the country, we would find out about it," Holland-Skipper adds.
Choosing Lombardi 'For the Entire Family'
Skipper also underwent genetic testing at the Georgetown Lombardi Comprehensive Cancer Center. After receiving results from genetic counselor Kavitha Kolla, MS, MPH, CGC, at MedStar Georgetown Cancer Institute's cancer genetics program, they were informed that Skipper was eligible for the PROMPT study. The study's research focuses on identifying how genetic variants affect cancer risk.
Participating in this type of ongoing research is extremely meaningful for Skipper and Holland-Skipper. In addition to Adam's mother, who had survived breast cancer before developing pancreatic cancer, another close relative is currently undergoing tests for what could be pancreatic cancer.
"We are concerned for Adam's relatives, given that there seems to be a genetic predisposition for pancreatic cancer in the family," says Lee. "We didn't choose Lombardi just for Adam, we chose it for the entire family in the hope that the clinical trials will lead to better prevention, earlier diagnosis, and new treatments. We hope that Adam is the last person in his family to receive a terminal cancer diagnosis."