Georgetown Students' Essay Selected for '10 Ideas' Journal
Posted in GUMC Stories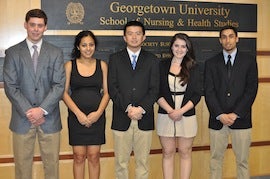 Low health literacy often comes from a lack of communication between health care providers and their patients, according to a newly published essay by five Georgetown University undergraduates.
Nadeen Hussain (NHS'15), Yuhao (Tom) Shi (NHS'15), Collin Smith (NHS'15), Sonia Vora (F'15), and Ishan Tatake (C'15) published their article, "Effective Communication: Health Literacy and Continuing Medical Education," in the Roosevelt Institute's 10 Ideas for Healthcare publication.
"The low health literacy problem often results from a lack of communication between health care providers and patients," the authors say. "The average American cannot comprehend medical terminology and diagnoses without training."
A National Competition
The institute, according to the organization, received 175 submissions for the 2013 journal series, which covers six topical areas, including health care. Sixty articles were selected for the series, and student authors from 30 schools are represented.
"Each year, the 10 Ideas journals provide a vision for change that addresses the needs of our neighborhoods, our cities, and our country," write institute Campus Network representatives Alan Smith, program and policy director, and Lydia Bowers, deputy program and policy director, in the publication's introduction. "Working with community members, local nonprofits, professors, and lawmakers, these student authors have identified the policies that can make the most difference."
Hussain, Shi, and Smith are human science majors at the School of Nursing & Health Studies, Vora is a science, technology, and international affairs major at the School of Foreign Service, and Tatake is a biology major at Georgetown College.
"As a patient, you should leave the doctor's office knowing exactly what's wrong with you, exactly how they're going to fix it, and exactly why this is happening," Smith says. "You should have a firm grasp on that."
A System-Wide Issue
"Health literacy is basic knowledge," adds Vora. "It's what medicine you should take, what symptoms are caused by, and even basic nutritional information."
In addition to lacking basic preventative information and understanding, low health literacy has also contributed significantly to health care costs, the students say.
They have proposed the solution of continuing medical education (CME) classes for physicians. Classes would work to assist doctors with effectively providing important health information to patients.
Students note that health literacy is broader than the physician community and impacts health care at large.
"It's not only with physicians," says Hussain. "It's a system-wide issue. It's even about understanding the paperwork you fill out when you go to the doctor's office. Everyone can benefit."
'Elephant in the Room'
The students were advised by Joan Burggraf Riley (NHS'76, G'97), MS, MSN, RN, FNP-BC, FAAN, assistant professor of human science and nursing; Patricia Cloonan, PhD, chair of the Department of Health Systems Administration; and Jason D. Ormsby, PhD, MBA, MHSA, assistant professor of health systems administration.
"I get excited when one student's learning is so engaging that it is contagious to their peers and they want to learn more," Riley says.
Shi says that the group was inspired to address the issue after he took Riley's course on health promotion.
"We wanted to do something different, and when Tom introduced us to the health literacy issue we realized it was kind of the elephant in the room," Smith says. "No one is talking about it, and it's a huge problem."
By Tiffani Haynes, NHS Communications
(Published April 03, 2013)