End of Life Can Be Meaningful, Richly Textured
Posted in GUMC Stories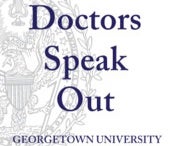 Not a battle to be fought and won, death is a natural human health process enhanced by planning, communication and one's own enduring ethical value. 
That was the take-home message delivered by a physician bioethicist, a moral theory ethics scholar and a Jesuit priest scientist and bioethicist at a community education panel titled "Living and Leaving with Dignity: The Vital Role of Bioethics in Clinical Care." 
The April 16 event hosted by Georgetown University Medical Center was part of the "Doctors Speak Out" series of medical science panel discussions featuring eminent Georgetown scholars, scientists and physicians.
"Advanced illness occurs when one or more conditions become serious enough that general health and functioning decline, and treatment begins to lose its effect — a process that extends to the end of life," began the panel's moderator, William "Bill" Novelli, as he opened the discussion with the definition upon which the panel had agreed.
Novelli, a professor at Georgetown's McDonough School of Business, is co-chair of the Coalition to Transform Advanced Care.
"Dignity, a big concern, is something not that you find at the hospital but that you bring to the hospital," said G. Kevin Donovan, MD, MA, professor of pediatrics and director of GUMC's Edmund D. Pellegrino Center for Clinical Bioethics.
"Ethics is not a subspecialty of medicine," he added. "In reality, it's part of every interaction with every patient every day. It should be considered part and parcel of the medical milieu."
Generally, people want to exit life as they lived it, shepherded by lifelong ethics, values and, perhaps, faith, the panelists agreed. Planning for a loved one's end of life starts with a conversation with a family member, a beloved spouse, a trusted friend, a physician or even an attorney.
"It's never going to be fun, but it can be loving, meaningful and richly textured," said Kevin T. FitzGerald, PhD, SJ, an associate professor of oncology and the Dr. David P. Lauler Chair for Catholic Health Care Ethics.
FitzGerald pointed out that there are many opportunities to open such a conversation such as engaging in family traditions or the funeral of another community member's death; even repeated occurrences of "senior moments" can initiate the conversations.
The panel also conveyed that the end of life is a process, propelled by enduring human values and ethics that can be — but does not have to be — based on a faith tradition. It involves family and other loved ones but the patient's wishes must direct all action. 
"Give someone you trust durable power of attorney: doctors can be the midwife to a meaningful death," urged Margaret Little, PhD, an associate professor of philosophy and director of Georgetown University's Kennedy Institute of Ethics.
Donovan emphasized, "You [should] have many conversations [regarding your end of life wishes], not just one when you can't find the car keys. The conversations are best begun at your kitchen table…. when the family is not in crisis."
By Victoria Churchville, GUMC Advancement
(Published April 29, 2013)